A ski holiday is one of my favourite types of holiday; the mountain air, the adrenaline, and the crisp white snow beneath your feet.
At the start of January I headed for a weekend break skiing in Méribel and it was exactly what the doctor ordered. I spent four days in this magical place with fellow bloggers Sabrina from Clutch and Carry On and Macca from An Adventurous World.
Skiing is one of those things that every travel lover should try out once. Sure, it looks quite daunting from the sidelines (and from the ski lift itself) but it's a great experience and one that will definitely tick all of your boxes if you're an adrenaline junkie.
Whilst it is good for thrill seekers, there is also a lot out there for beginners, so don't fret if you're not a pro just yet.
Meribel, situated in the French Alps, is the perfect ski resort if you're an intermediate level skier, and you're looking to dust off your gear again and get back out there. The scenery is divine and truly something that you have to witness in your lifetime, and the architecture and food is second to none.
I've put together a guide to visiting Meribel, for those looking to take a trip to the Alps.
Skiing in Méribel
Chalet-style architecture
Over 600 km of piste across the Three Valleys
Close to Geneva and Chambery airport
Extensive slopes for all abilities
Access to Val Thorens and Courchevel
There are plenty of reasons to love Méribel, not least for its pretty, chalet-style architecture, wooded surroundings and friendly, village atmosphere. But the prime reason is its central position within France's huge Trois Vallées ski area – it's the biggest collective ski area in the world with over 600 km of piste.
The ski area includes resorts Courchevel and La Tania, and to the west, Val Thorens. By combining all three of these resorts it makes it the perfect place to head on your ski holiday this year.
The history
Meribel was first developed in 1936, by a Scottish man named Colonel Peter Lindsay. He was an avid skier and didn't want to continue visiting the resorts of Austria and Germany, due to the tightening grip of the Nazi regime. Whilst the war would interrupt Lindsay's dream for Meribel, he would later finish the project, and it has since become one of the cornerstones of the skiing world.
The architecture
The resort was designed to incorporate Savoyard architecture, and as such, there are many beautiful chalets to be found nearby to the slopes. Lindsay had strict rules when it came to the architectural style that could be used here, and it's something that is still enforced today, in order to preserve the history of the resort. This only adds to Meribel's rich and interesting past (and present) look.
The slopes
Access to Méribel's neighbouring resorts is amazing with both ski lifts and the new Saulire Express gondola which whisks up to 2,400 people an hour from the centre to the Saulire peak at 2,700m and takes only 12 minutes to get there! This is a must-do if you are in the area as the views are breathtaking! The combination of extensive slopes, superb location and attractive chalets dotted up the mountains, makes Méribel one of Europe's best places for a ski trip!
After my knee accident last year in Sweden whilst skiing, I was super nervous to get back on the slopes but I needn't have worried as Meribel was the perfect resort to get my confidence back and get back on my skis. There were so many green runs throughout the resorts, as well as some tougher blue runs, and of course the harder red and blacks. It's a great resort for all abilities!
The accommodation
When you're booking your Meribel trip, you'll see a lot of different accommodation options out there. Whilst it can be difficult to decide where to go – especially if you're a newbie to this area – Purple Ski in Meribel is a luxury, catered option if you're looking to relax after a long day in the cold, and there are a variety of other chalets if you'd prefer self-catering. Let's be honest, though, a catered chalet is just what you need after hitting the slopes!
The food
Speaking of food, there are a lot of delicious offerings in Meribel if you're looking for some delicious cuisine when the evening comes around. You can head to the village if you want to, but the centre of the resort has more than enough restaurants to boast; most of them with the impeccable view of the Alps readily available. The food here really is delicious, so you can look forward to your fulfilling evenings.
The nightlife
If you're thinking about hitting the hay a little later than some of the other skiers, then O'Sullivan's is the place to be. They put on parties here, there is usually some live music on offer, and it's a great place to grab a beer if you want to unwind and meet other skiers. It's open until 5am most nights, although if you'd prefer something a bit more chilled out, then there are plenty of other options for those visiting the area.
The essentials
Going to a ski resort does require some essentials such as thermals and ski wear. Whilst you can rent equipment from local ski hire shops, you'll still need to take a few things of your own. If you've never been before and are just testing our the waters, then maybe see if you can borrow from friends and family before investing.
I'd also recommend investing in some ski goggles, here are some of the best ski goggles.
Other essentials you should get together beforehand are things like medicine, basic paracetamol and other bits you can get easily in the UK. It's also worth getting travel insurance sorted before you go, especially when doing a winter sport as it can be a riskier than your usual holiday activities. Brands such as All Clear provide policies for people of all ages and they also cover people with pre-existing medical conditions.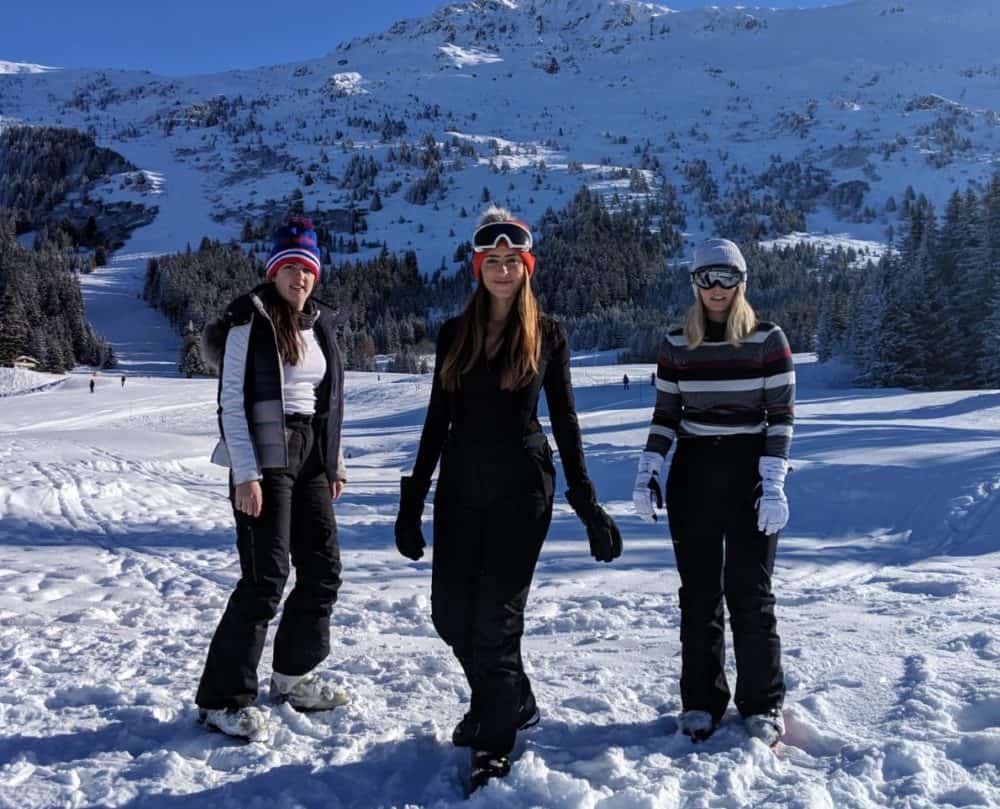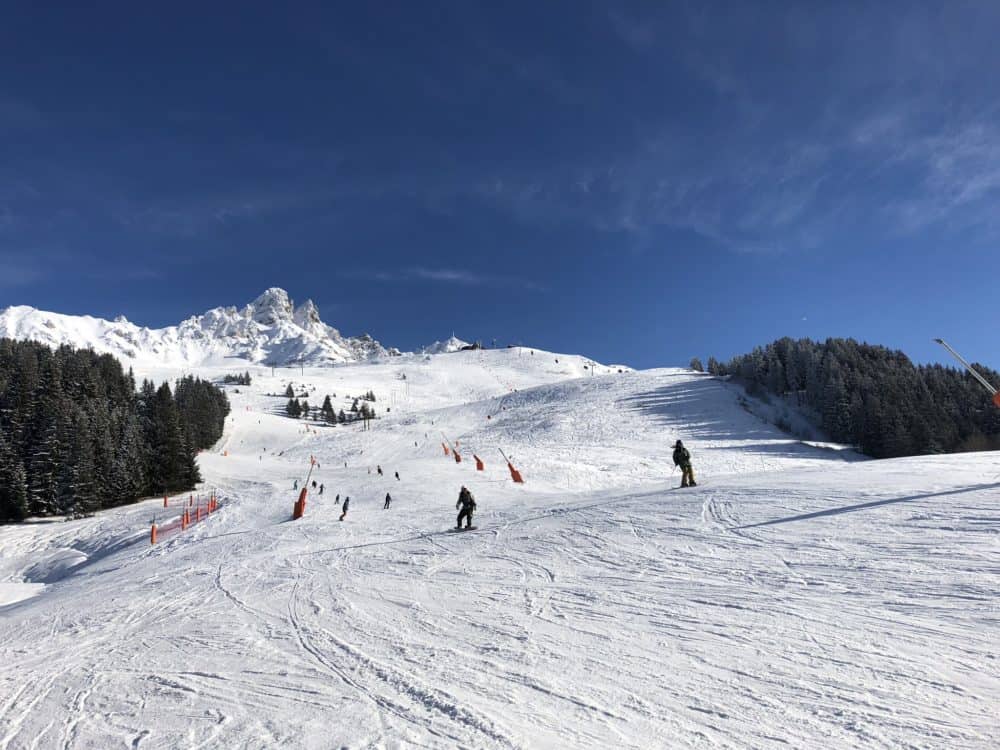 HOW TO GET TO MERIBEL
Nearest airport: Chambéry is the closest (59 miles, one hour and 20 minute transfer) but the low number of flights doesn't make it that attractive. The next best option is either Grenoble (74 miles, two hours and 15 minutes), or Geneva (83 miles, two hours and 15 minutes). But bare in mind you are crossing the border from Switzerland to France and the crossing can take sometime which makes the journey even longer. Or if you can afford it, simply fly in to Meribel to the Altiport!
Nearest station: Moutiers (30 minutes, 18km) and there are regular buses from the station.
WHERE TO STAY IN MERIBEL
Chalet Hotel Alba is in a prime location situated just above the heart of Méribel's resort centre. It's right on the edge of the slopes and with the main Doron piste just 20 metres across the street, and a ski bridge to bring you back to the ski room door, the setting is every skier's dream. The hotel, which is in the style of the traditional Meribel chalet overlooks famous Rond Point and has direct access on to the slopes. Chalet Hotel Alba has a lounge and bar area downstairs next to reception, with a restaurant to the right. In the lounge there are lots of places to relax, and my favourite was in front of the open fire! To complete the whole package, there's a wellness area on the lower ground floor, exclusive to guests, with a sauna, steam room and hot tub, giving you a perfect place to unwind after a day on the slopes and ease those muscles!
Ski-out access
From the Doron blue piste outside the hotel, skiers can quickly reach the resort centre and main lifts, giving plenty of options for exploring all of the Three Valleys. Or start your skiing day from the Adret chairlift, just below the Rond Point. Returning to the Alba is just as easy. From the resort centre the Rhodos 1 gondola brings you straight back to the Rond Point, or if you've been out on the Saulire side of the Three Valleys take the Marmotte and Doron slopes to get back. If your aim is to hit the slopes with maximum ease, you will love the set up here, as equipment hire for our guests is available from beneath the Chalet Hotel so getting kitted out for the slopes is also really convenient.
Bedroom
The hotel sleeps 66 guests, so it's intimate at the same time as having a hotel feel – offering you a more personalised service throughout your stay, with all the added luxuries of a piste-side hotel. My bedroom was lovely, traditional with the wooded effect throughout and two single beds, a separate toilet and bathroom ensuite. I also had the added bonus of a balcony which was wonderful in the morning, as the sun rose above the mountains!
Apres ski
You don't need to go far for après either as there are several restaurants and après-ski cafés close by, plus the bus to and from the village centre runs until midnight approximately, for those wishing to sample Méribel's famous nightlife. Our favourite place to go was Rond Point as it was only across the road, and they also serve the famous Vin Chaud!
WHAT TO DO IN MERIBEL
Skiing in Méribel
As I mentioned above, Méribel Valley, is home to the resort's local slopes and is central to the Trois Vallées ski area, one of the largest linked ski areas in the world. It has around 150km of pistes and then also offers skiers the opportunity to a total of 600km of pistes across the valley, served by 162 lifts. The region's sheltered setting means the blue and red runs leading into resort are protected by the steep-sided mountains, trees and more settled weather conditions than in the adjacent valleys. There are so many pistes to choose from including:
– For beginners and young children: there are many areas also include La Sittelle, accessed by the Plattières gondola, Le Rossignol, accessed by the Chatelet chair and Le Doron at the foot of the pistes in Mottaret. And there are also gentle green slopes at Altiport, reached by the Morel chair from Altiport 1600, and the nursery slopes at Rond Point beneath it make a good starting point. There are also two excellent snow parks; one in Méribel and one in Mottaret, plus more in Les Menuires and Courchevel, where they've added play areas, ski-through ice shelters and places to stop for a rest by the side of the slope.
– For intermediates: you can enjoy some of the area's best pistes south of Mottaret, at the head of the valley, accessed by the Plattières gondola from Mottaret. And generally the whole area is great for those that have skied a few times before!
– For the more experienced: the red Combe Vallon piste from the top of the Mont du Vallon gondola at 2,952m is a good option, or the Face run(created for the downhill races in the 1992 Olympics) from the top of the Roc de Fer at 2,290m. And for those more daring, off piste is excellent however they do advise you to take a specialist mountain guide to make the most of it.
Skiing in Méribel and the 3 Valleys is perfect for intermediate skiers and snowboarders and provide families too a great way to enjoy the slopes for all abilities. If you can afford it I would 100% suggest buying a three valley pass as then you can really get out and explore, but if not, Meribel has more than enough runs to see you through until the week!
SNOW CONDITIONS IN MERIBEL
Lack of snow is very rarely a problem in Méribel, with snowmaking machines increasingly used. Some of the runs that are west-facing tend to get slushy because of the afternoon sunshine; something to take into account if booking a late-season holiday. It is recommended to avoid the west side in the morning, because it gets unpleasantly frozen overnight. The 3 Valleys has a fantastic snow record due to it's high altitude. 85% of the area is over 1800m including 10 summits above 2500m and 6 glaciers. There are 2007 snow cannons across the ski area to increase coverage.
LIFT PASS PRICES IN MERIBEL
The Three Valleys lift pass is: an adult 6 day pass is 289€, a group of 2 for 6 days is 279€ per person, child's 6 day pass is 234€ and senior is 260€. The area isn't cheap, but it's so worth it if you are there to ski and explore more piste than ever before. A six day lift pass includes a days skiing in Val d'Isere and Tignes, which are an hour and half away by car or La Plagne or Les Arcs which are an hour away.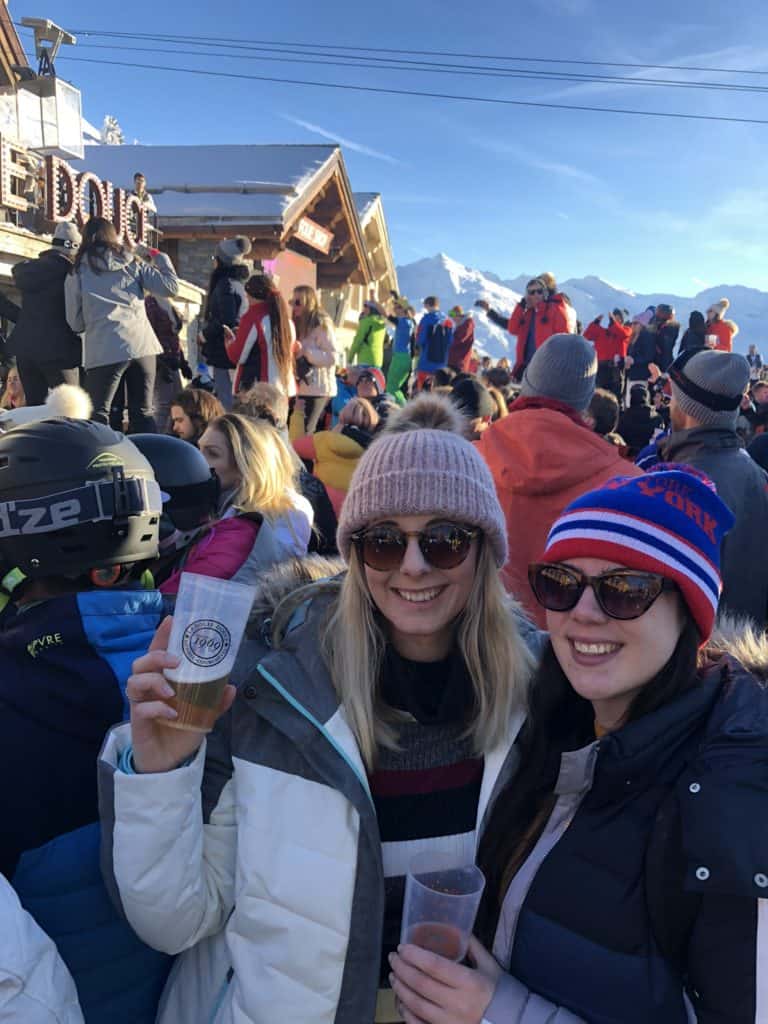 WHERE TO GO FOR APRES SKI IN MERIBEL
Méribel has a lively après scene, and the resort is frequented by a large number of Britons (a plus or a minus depending how you look at it). La Folie Douce is the youth-magnet après bar at the mid-station of La Saulire, and by the end of the day, the mostly British-run bars in the resort centre and around the Rond Point are usually packed with partying youth. Later you'll find them in Jack's Bar for stand-up comedy, live music and plenty of drinks promotions – and much later in O'Sullivans, a 10-minute walk from the town centre, open from 12.30am to 5am, sometimes with DJs or live bands.
AND WHAT ABOUT ANTI-SKIERS?
OK, so not everybody is a fan of skiing. However, Meribel has a lot more to offer than this; if you'd prefer, you can go on a hot air balloon, to a spa, or husky sledding. There is also a cinema for those who are looking to escape from the cold, and if you'd prefer to take the scenery in at a slower pace, you can also go snowshoeing. If you're a real scenery fan, why not take a flight over Meribel in a small plane, and enjoy it from a height?
If you're thinking of heading out to Meribel, then you surely won't regret it. Whether you're an avid skier, or you'd prefer to do something else, the scenery, the architecture, and the food, is second to none, and you can expect to have a brilliant time here that you won't forget in a hurry! We'll see you out there on the slopes…
Ski Total (www.skitotal.com / 01483 791 935) is offering seven nights at the four-diamond plus Chalet Hotel Alba in Méribel, France from £721 per person. Price includes flights, resort transfers and chalet catered accommodation with wine. For more information on visiting Méribel, go to www.meribel.net and to book lessons or guides, go to www.esf-meribel.com.
*I was invited to Meribel as part of a press trip, however all opinions are my own, as always!