When I say Barbados what do you think? White sandy beaches, clear blue waters, clear skies, tasty rum, friendly Bajans, dancing and island life? Yea that's it pretty much. The perfect paradise life!
Barbados is an island in the eastern Caribbean, and is an independent island nation within the British Commonwealth. Their capital is Bridgetown and the city is a famous cruise-ship stop with shopping, colonial buildings and one of the Western Hemisphere's oldest synagogues. Barbados is also known among locals as 'de rock' due to its cliffy formation and beautiful coastline.
Barbadian traditions range from scuba diving on one of their beautiful coral reefs, including Dottins Reef, afternoon tea, playing a round of golf on one of their many courses, and even playing a game of their national sport, cricket!
It's no surprise that Barbados draws in tourists by the bucket load, but if you really want to experience Barbados you need to head away from the tourist traps and uncover the real Barbados.
But how do you live like a local on a trip to Barbados?
EAT ALL THE FOOD
To really feel like a local, you need to eat local. That means going off the beaten track and finding back street cafes and restaurants. Marine life is abundant in the waters surrounding this tiny island, which make for some of the freshest fish dishes that the world has to offer. Why not try some dolphin, swordfish or a traditional Bajan dish!
The local fish markets in each of the towns are a great place to pick up the catch of the day at bargain prices; simply grill them on the barbeque and enjoy while admiring the sunset.
I would recommend Oistins Fish Fry – they serve some incredible food including Mac Pie!
Street vendors – Why not try a fresh coconut or fresh fruit from the street sellers. The food is fresh and tasty!
ACTIVITIES
Sandwiched between the Caribbean Sea and the Atlantic Ocean, the coasts of Barbados offer two contrasting worlds one adored with luxury hotels and tourist spots and the east of the island which is a local's world.
Beaches on the east are wide, empty and untouched, with a beautiful coastline in this area. If you are over this way then head to Bathsheba, home to a small community of fishing families and a number of Bajan visitors.
This is where you'll discover hidden attractions such as Welchman Hall gully, Gun Hill Signal Station, the Morgan Lewis windmill, and the peaceful Joe's River Forest. These areas are best explored by jeep tours, or why not rent a vehicle and zoom along winding paths, brushing past verdant hills, limestone cliffs and river gullies.
Also head further south and you'll discover Foul Bay, a tranquil location with a white sandy beach so vast it will never appear crowded. And if you love the surf scene then don't miss the famous 'Soup Bowl'; one of the top surfing spots in the world!
STAY IN A VILLA
If you want to really feel 'at home' then skip the hotels and hire a villa for a week or two of real Barbados. Barbados is home to some of the world's most incredible houses so you'll be sure to find something to float your boat.
For families: Paynes Bay 9
A stunning 3-bedroom apartment with beautiful views over the beach and private Jacuzzi Pool.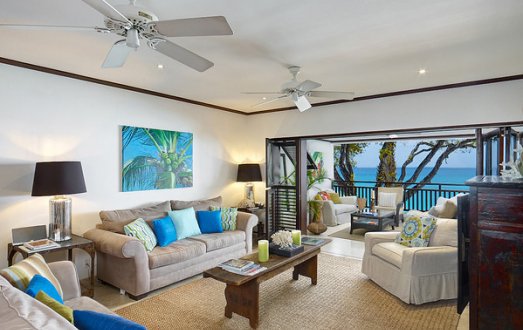 For a party: The Garden 9
This home rests on a magical garden bluff, alongside a natural water course with lush foliage and surrounded by tropical trees. The best bit? I's elevated location acts as a treehouse in the jungle!
For a couple: Royal Westmoreland 14
This exceptional and unique golf villa has an extended South/West facing terrace with retractable awning and views to die for.
For the blow out: Sugar Hill Resort
An incredible custom built private 5-bedroom villa located in the exclusive Sugar Hill Resort on the West coast of Barbados.
HANG AROUND STREET CAFES
Hang with locals at a roadside rum shops where you'll likely catch people playing dominos, catching up and drinking lots of rum! You may make some incredible friends and you will also get to listen to some amazing stories!
DRINKING ALL THE RUM
Following on from my previous point, drinking is part of the lifestyle. As the slogan goes, "there's a time and a place" for Mount Gay Rum; and in Barbados this means all day, every day.
Barbados is home to the famous rum brand Mount Gay, and you're not a real Bajan unless you enjoy a regular glass of the stuff, sometimes followed by fresh coconut water.
Drinking and partying is a popular Bajan activity, so you'll find no shortage of bars on the island, particularly along Second Street in Holetown and St. Lawrence Gap on the south coast.
RELAX WITH THE STARS
Barbados is also a favourite with British celebs, film stars, reality TV personalities and scary X Factor judges. Simon Cowell is a patron and benefactor of the Hope Dog Sanctuary, a charity that rescues unwanted dogs and strives to educate local owners on pet care. And British blokes Jude Law and Hugh Grant like to let loose Bajan-style on the island, escape from the paparazzi, hide from scandalous tabloid headlines and former nannies.
*This post was in collaboration with Top Villas.
Sophie is a blogger and freelance writer based in the UK. She writes about all things travel on her blog over at Sophie's Suitcase and in her spare time writes for Huffington Post, Elite Daily and The Culture Trip. You can also find her on social media; Facebook, Twitter and Instagram.