Have you ever thought about going to Camp America? This month guest blogger Suzie will be giving you the low down on cultural exchange programme Camp America. She has provided you with her top tips for applying for Camp America, planning for your summer in the USA, and she gives a real insight into what the experience might provide you.
Suzie is an avid fan of Camp America, and she has been going back four years running! She loves to camp, the US, travel, and everything else that comes with it. So, if you are thinking about applying, keep reading…
WHAT IS CAMP AMERICA?
Camp America is a cultural exchange programme that gives you the chance to spend your summer living and working on a summer camp in the USA. They support you from start to finish to make sure you have the experience of a lifetime!
Your chance to spend 9 weeks working abroad in America. Make friends from all over the world, try new things, explore, gain new skills and so much more!
Summer Camps in the USA are a big part of American culture and it's traditional for kids to go camping each year. There are thousands of summer camps spread all throughout the United States. They each offer a unique experience and will cater to different types of campers.
Although summer camp is very much an American tradition, the majority of camps love to have hire staff from all across the world Camps use Camp America to find the very best international staff to who can bring their own culture and traditions to the USA!
Camp America now has offices in Australia, Germany and Poland with head offices in London, UK and Stamford Connecticut, USA. Currently recruiting over 7,000 young people each year from over 25 countries worldwide, Camp America creates a truly international experience that brings all kinds of people together through the power of summer camp.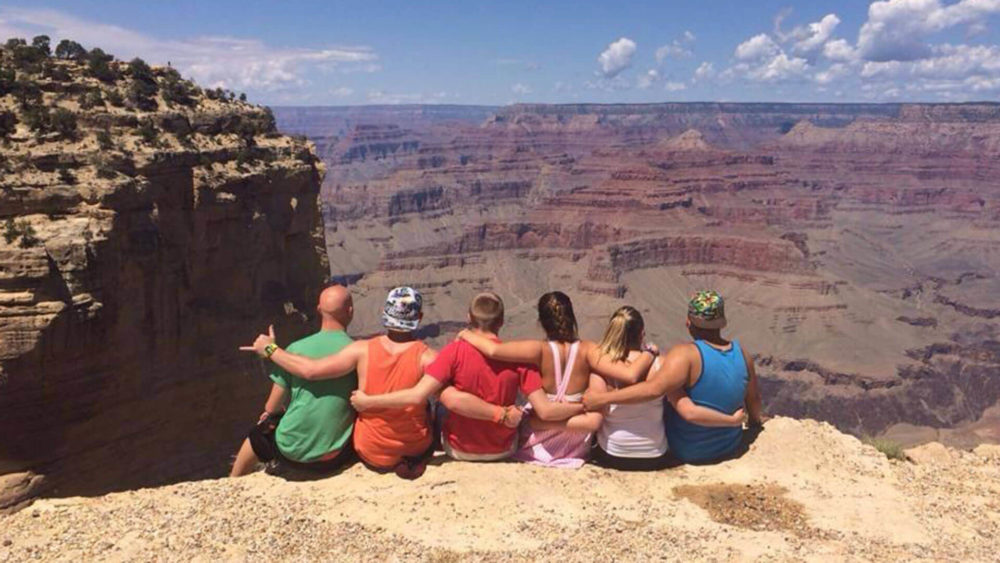 WHY GO TO CAMP AMERICA?
Working with hundreds of summer camps located all over the USA, Camp America offers a huge range of work placements to everyone. From lively private camps to rewarding special needs camps – whatever your skills or interests, we're bound to have a camp to suit you! For more information about the different types of camps, they work with.
It's a very different kind of place to work! Working on an American summer camp offers so much more than just a job – it's an experience like no other and the benefits are endless…
The bonds formed between the staff on camp means you become like family! You'll rely on each other, you'll work hard together, you'll laugh together, you'll learn together and ultimately you'll share the summer together. There'll no doubt be a mixture of personalities, backgrounds and nationalities which is what makes camp so great, however, you will all have one thing in common – the desire to do this type of experience!
Most people are nervous about doing Camp America on their own, but as soon as you get to camp you're never alone! So whilst you might arrive not knowing anyone, you'll leave with a group of new best mates!
The great thing about working on a summer camp is that whilst you're having an amazing summer doing something fun and exciting, you'll also be benefiting your future at the same time! Camp America is recognised by employers and academic institutions across the world, so it will be a great addition to your CV and make you a stand out applicant. Not only will it demonstrate that you had the drive to do something different with your summer, but it will also show independence, responsibility and ambition.
Camp enables you to become a role model, a leader and a team player – perhaps without you even noticing! You couldn't gain all of these skills in a normal summer job, so by taking part in the programme you're not only going to have an amazing time, you're also helping your future too!
– You want to work with children or teens
– You are adventurous in the outdoors
– You have waterfront skills
– You have a creative mind
– You want to help your campers grow
– You love to travel
– You want new experiences
– You want to be completely out of your comfort zone
– You want to learn new cultures and religions
– You want to meet people from all over the world (From camp I have close friends from NZ, Australia, Israel, South Africa, Argentina, Mexico and all over the USA)
– You want to learn a new skill (I am trained in Red Cross US lifeguarding, first aid, canoe instructor and summer 2016 I will do a course to become a lifeguard instructor)
– You want to meet lifelong friends (My camp friends are my best friends)
– You want to improve your CV
– You want to broaden your life experiences
– You are good at planning programs
BEING A COUNSELLOR
What does the Counsellor role involve?
What does the Camp Counsellor role involve?
Kids, kids and more kids! You'll be surrounded by campers all the time and this includes living with them for the summer! So firstly ask yourself – can you imagine yourself working with children 24/7 for 9 weeks? If yes, then read on…
As a Camp Counsellor, most of your time will involve taking care of a specific group of campers on a daily basis and sharing accommodation with them. You'll take your group to different activities throughout the day, sit with them at mealtimes, entertain them in the evenings and most importantly, make sure they are always safe.
If you've got good experience in a particular skill, then you might be involved in helping other Counsellors teach that activity to campers. Every Counsellor role is different, so check out the Roles at Camp page to find out more.
What are the benefits of working as a Camp Counsellor?
Going to summer camp is the highlight of the year for campers. It's better than Christmas and birthdays combined! So getting to be a part of this exciting and helping kids make the most of their summer, means you get to make the most of your summer!
You'll meet people from all over the world, make friends for life and experience a different culture. You'll gain confidence and endless new skills and you'll get to be involved in hundreds of different activities. It's non-stop and yes you will get tired! But it's the most rewarding, exciting, and fun way to spend your summer and as previous participants will tell you – it's the best job in the world!
ABOUT NJY CAMPS
I have worked at New Jersey Y Camps (NJY) for the past four years and will be returning for my fifth summer in May 2016. NJY Camps is a Jewish summer camp in America and with my bias opinion the best camp ever!
It is a non-profit camp situated in a tiny town called Milford in the state of Pennsylvania. NJY camps consist of eight sleep-away camps to cater to all ages, abilities and needs. Within these eight camps there are 1200 campers and 500 staff members, with 300 staff who are internationals, just like me.
CEDAR LAKE CAMP
Cedar Lake Camp is for children aged 11 – 14 years of age. This camp has over 75 activities and programs for children to take part in on a daily basis. It has over 600 campers and 200 staff members. I worked at CLC for 3 summers from 2012 – 2014 as a general counsellor, lifeguard and canoe instructor, and I bunked with the Golan girls which were aged 13-14.
In CLC the role is to be a general counsellor who will be living, eating, looking after your campers along with four or five other counsellors and then working in a certain area for the day, for instance, I worked at the lake as a lifeguard and canoe instructor.
During meals, you sit with your campers and have one big family meal. You cheer and chant to get your food, you compete in a friendly manner in chants against the other ages to get your food first and you sing songs at the end of the meal sometimes to keep you in that camp spirit.
CLC has amazing staff members who are chosen from applications from all over the USA and all around the world.
TEEN CAMP – TAC
Teen camp (TAC) is a camp which provides teenagers in a summer program for them to travel, part takes in community support, leadership training and grow as individuals. In TAC the camper's voices are always heard as these campers are mature enough and have great ideas to help make important decisions to improve the way teen camp runs.
In TAC campers get to experience a sense of travelling, and this is certainly one of the biggest highlights for the campers. In 2015 we went to Costa Rica for 5 days, LA & San Diego for 5 days and I was lucky enough to go on a trip to Washington, D.C for 2 days.
During these trips, the campers take part in some kind of community service such as packing food for the homeless this year in LA.
This summer we are off to Montreal, Canada and San Francisco and I could not be more excited for this.
TOP TIPS FOR CAMP AMERICA
– Filling out your Camp America application will make you angry, frustrated and will be the longest part of the entire process but eventually, it will be worth it so stick to it and stay determined.
– Have a folder to keep all your camp paperwork safe.
– Try not to leave all of your paperwork until the last minute and whatever you do DON'T FORGET IT!
– Your Instagram posts will be spot on after camp & full of amazing pictures that make everyone jealous.
– Experience 4th July in the USA is pretty special.
– You can dress up in fancy dress whenever you feel like it, just for fun or just for no reason wear an onesie to dinner one night.
– If you have a bucket list, then going to camp should enable you to tick plenty of amazing things off it.
– If you don't have a bucket list, then make one right now!
TIPS FOR PACKING FOR SUMMER CAMP
Obviously pack your regular clothing, toiletries and others, but there are also bits and bobs that you might not consider taking. Below I have listed the things I would recommend…
1 Rain boots… You will live in these at camp
2 Plenty of sunglasses – you'll probably lose some
3 Raincoat – it does rain out there!
4 Warm clothes for the evenings – it gets chilly!
5 Plenty of swimsuits
6 Laundry bag – you don't know when you will next wash clothes
7 Photos to put up for yourself & they spark conversations
8 Good ol' English tea bags – American versions just aren't the same
9 Chocolate from your home country – you will miss it!
10 Spray deodorant – it's hard to get in the states
11 Your cuddly bear… – or something that reminds you of home!
WHAT ABOUT DAYS OFF?
– The famous Walmart trips
– Go to a bar
– Get some good American food
– Go to the movies
– Do your laundry
– Tubing down a river
– Theme/Water parks
– Shopping
– Day out in New York or Philadelphia
– Stay at an American friend's house
– Hang out on the camp premises with friends & drink tea
– Relax & get an early night because trust me sometimes you'll need it!
HOW MUCH DOES CAMP AMERICA COST?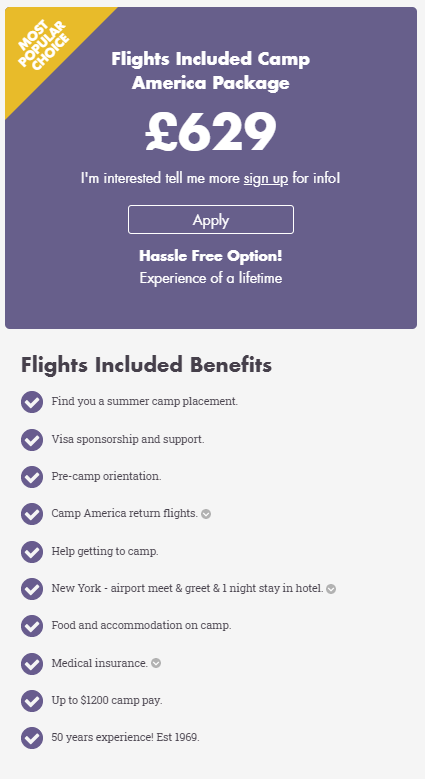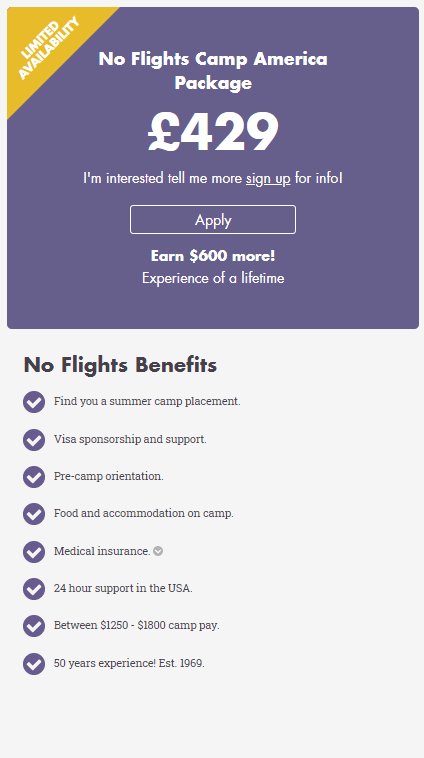 HOW TO APPLY FOR CAMP AMERICA
If you fancy camp, then check it out and apply at https://www.campamerica.co.uk/
On this website, you can find information about costs, flights, placements, medical insurance, references you will need and how to get started with your application.
If you'd like to ask Suzie any other questions about Camp America, please comment below or get in touch!
Photos sourced from Suzie's personal collection and the Camp America website.
---
Thank you for reading and as always happy adventuring!
If you've enjoyed this post, please share it for me with all your friends and family!
Sophie X