Last month I headed off on the trip of a lifetime onboard Crown Princess Princess Cruises, boarding in Barcelona for a week-long adventure around the Mediterranean, stopping at Gibraltar, Marseille, Genoa and Pisa.
As part of my trip around the Mediterranean, I wanted to give provide a quick tour of Crown Princess, including all of these amenities that are onboard this magnificent ship. As you'd expect from the name, Crown Princess, is a beautiful ship with long, spacious decks, an array of restaurants, cafes and bars to choose from, and stunning decor from top to bottom. The ship was recently refurbished in April 2018, and now is in-line with the rest of Princess Cruises' classy fleet.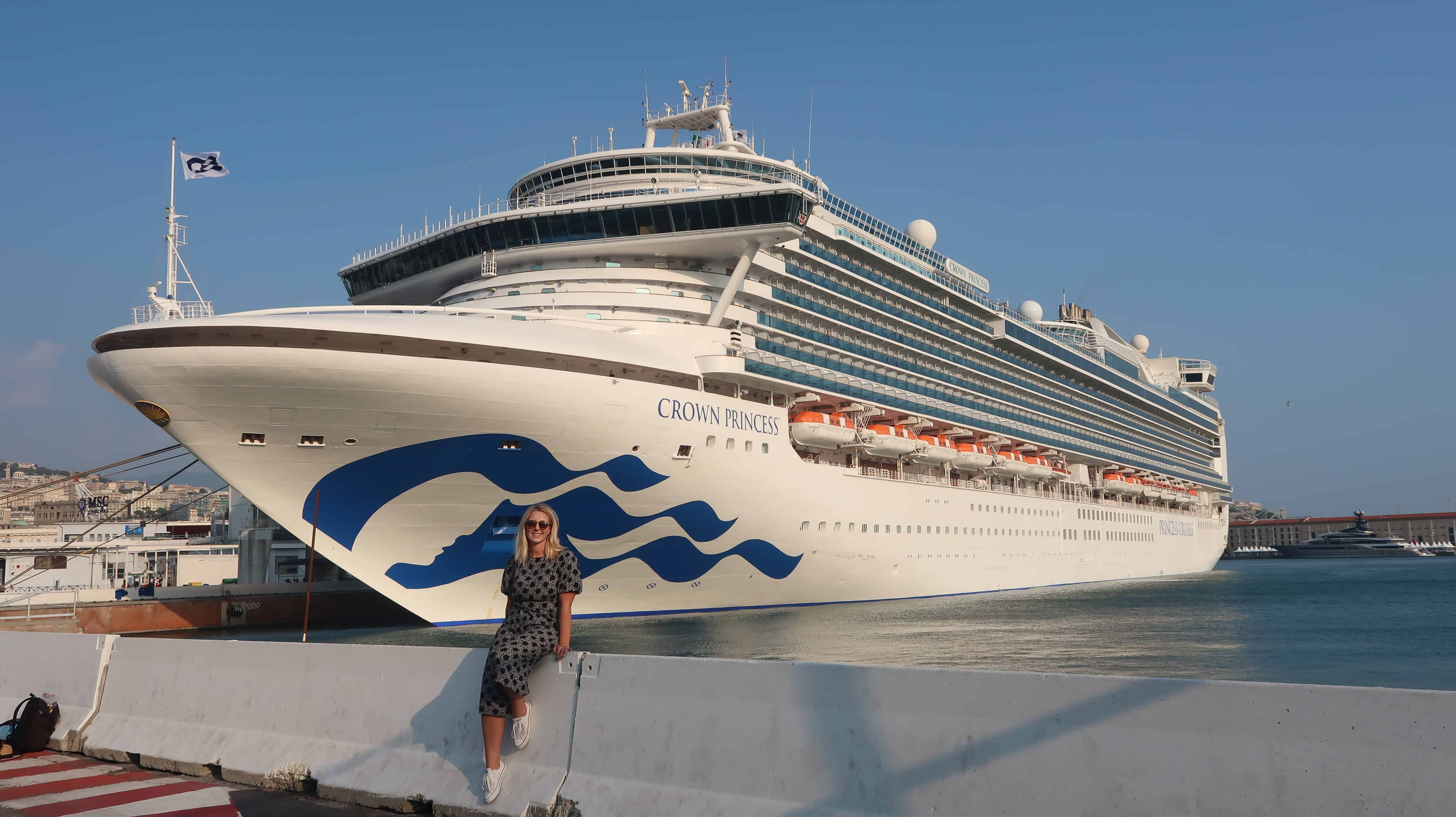 MY BALCONY STATEROOM
For the duration of my cruise I called home 'Stateroom 231' on the Lido Deck. All rooms aboard Princess Cruises are called staterooms and there are a variety of options including interior, seaview, balcony, or if you want to push the boat out (ignore the pun) you can upgrade to suites or even a penthouse. I loved having a balcony on board Crown Princess as it provided me with more room for relaxing, and I spent many evenings watching the sunset from here, or having breakfast in my robe before a day of adventures. The room was compact but comfortable and even the bathroom didn't feel small, with shower area and vanity mirror. The rooms also include: TV, Telephone, Spacious closet, Hairdryer, Fridge, Safe, Desk and Air-Conditioning. By the end of the week it really felt like home!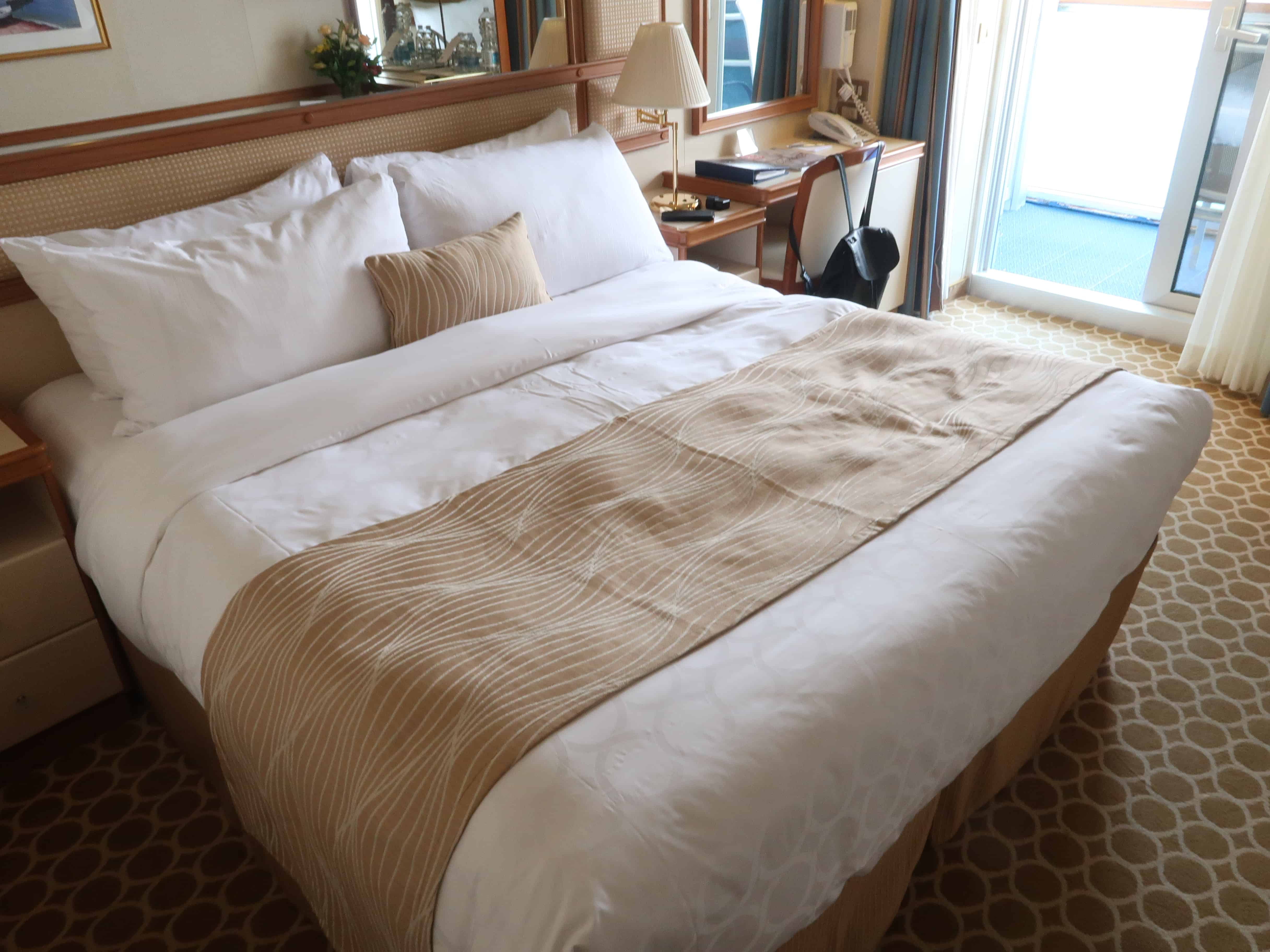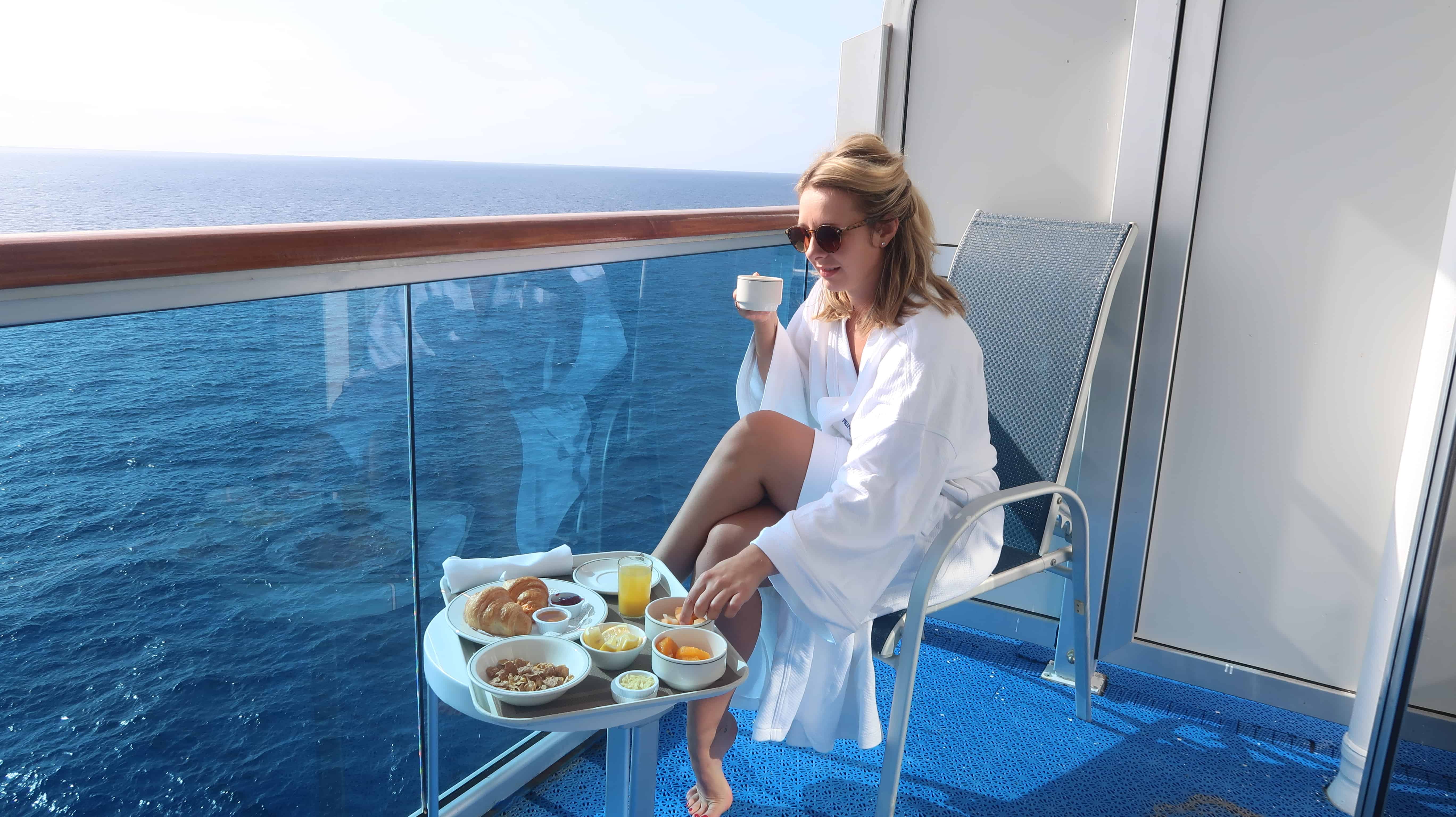 THE POOL DECK
Crown Princess has a string of swimming pools located on her upper decks. Beginning at the front of the ship you will find the adults-only Lotus Spa Pool (above) which is a smaller pool with whirlpool area, and is connected to the ship's spa. Next up along the ship you'll find Neptune's Pool, a large pool accompanied by two whirlpools and there is also a bar and food facilities so it's easy to spend a day here relaxing by the pool with a cocktail.
Next is the Calypso Reef and Pool, as well as another two whirlpools and this is also the area with "Movies Under the Stars", where movies, sporting events and videos are played throughout your cruise. And lastly but one of my favourite pools, at the end of the ship, is the Terrace Pool with its spectacular views over the ship's wake.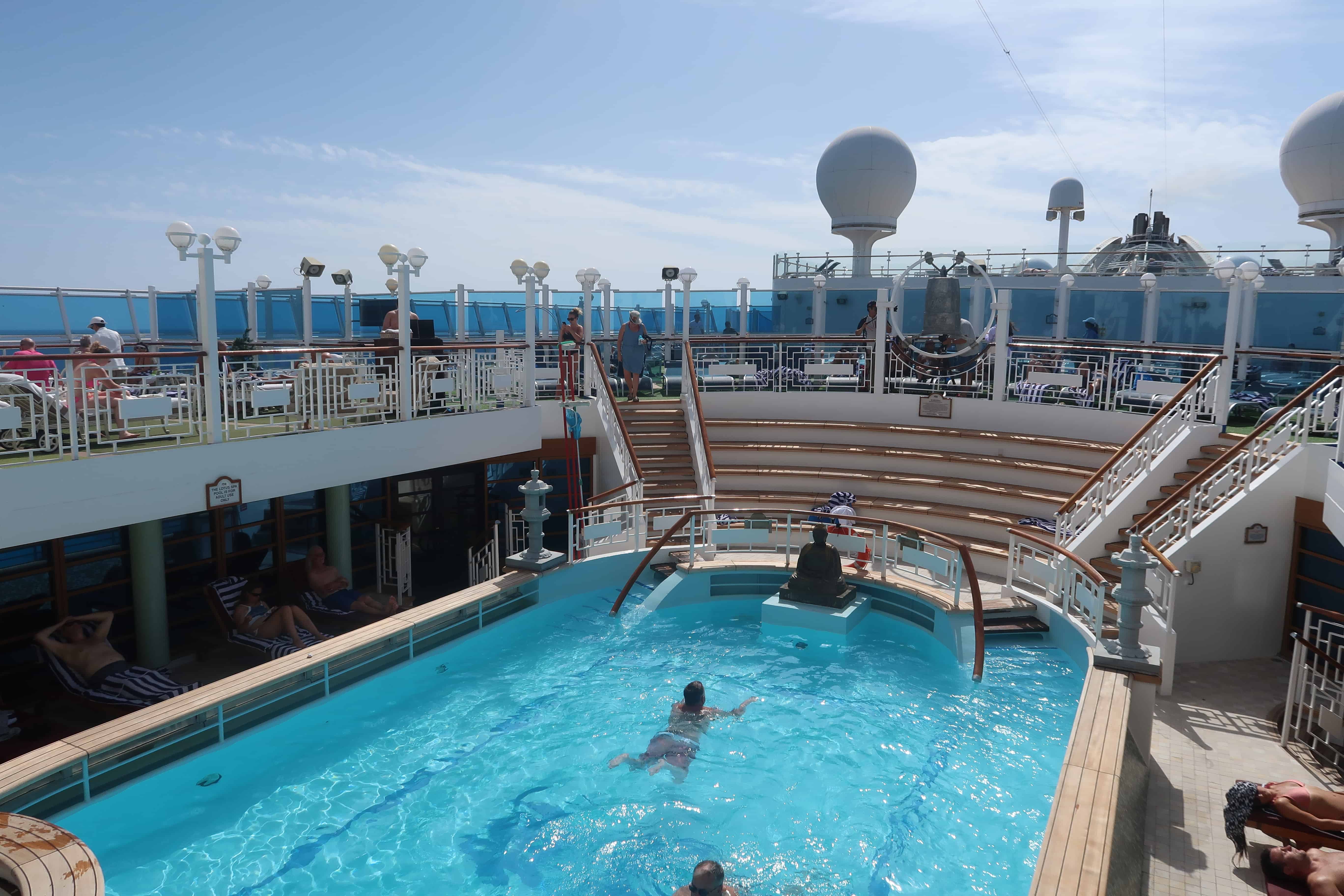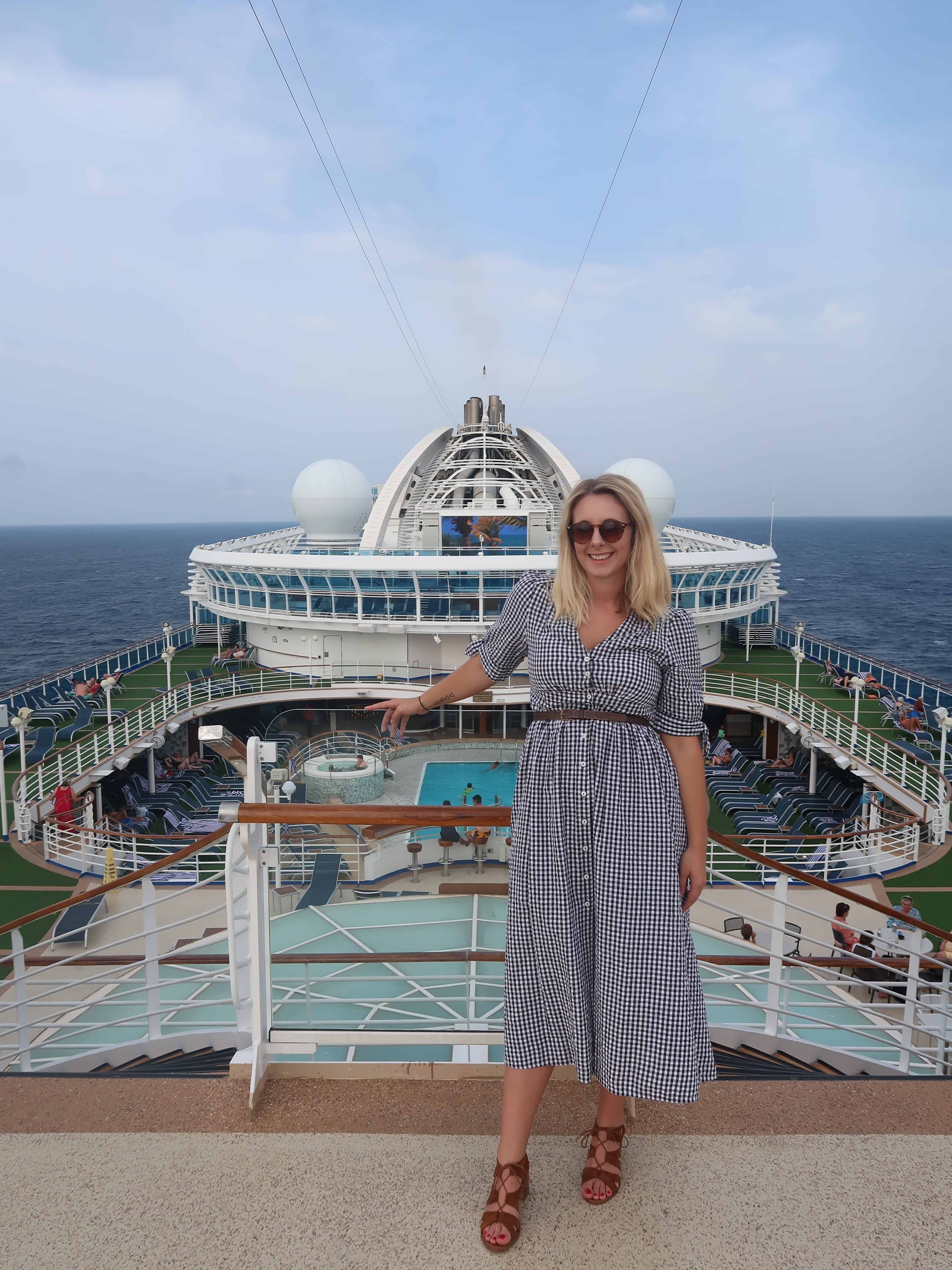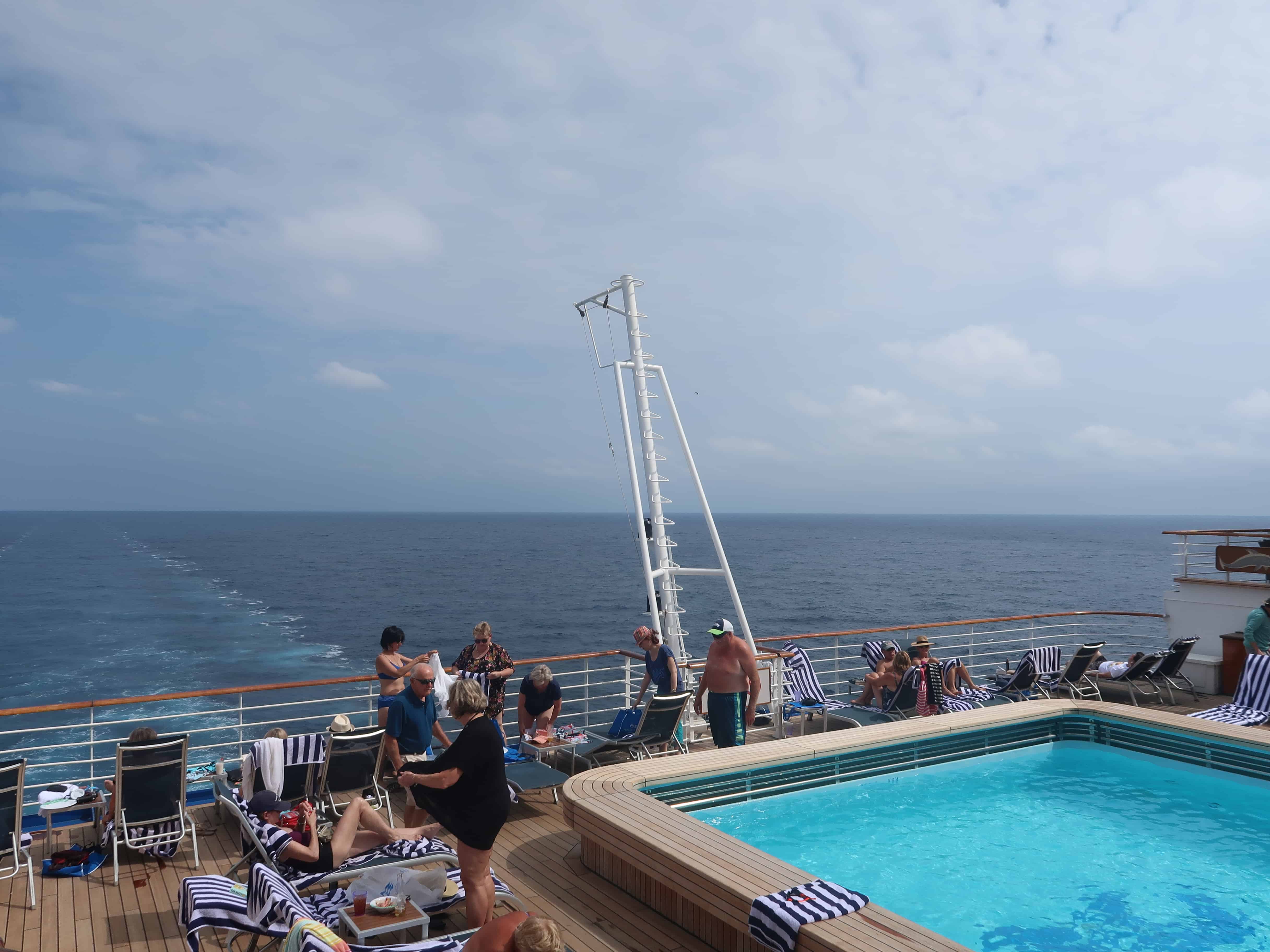 THE ATRIUM
The Atrium is also known as the heart of the ship, spread across three floors with an array of shops, cafes and bars for guests to enjoy. We met here most days for our excursions as you can also disembark the ship here from deck 5. There's a shop for all your amenities, jewelry store and art gallery. And if you want to see the famous balloon drop on your fifth night, this is also where it takes place!
THE BRIDGE
If the Atrium is the heart of the ship, the Bridge is definitely the mind. The bridge of a ship is the room or platform from which the ship can be commanded and is manned by an officer of the watch, and they are usually aided by a seaman acting as lookout. We were lucky enough to get an all access tour of the shop on our first day aboard Crown Princess, and they took us on to The Bridge to meet the Captain and the rest of the crew. I spoke to both the officers and the captain about the sailing of the ship, how they navigate the waters, and what happens when there's a storm. It was really interesting to see how the ships sail the world effortlessly. I loved seeing this side of the ship, the more mechanical side, which gave you a more in depth insight into how the ship really sails the oceans.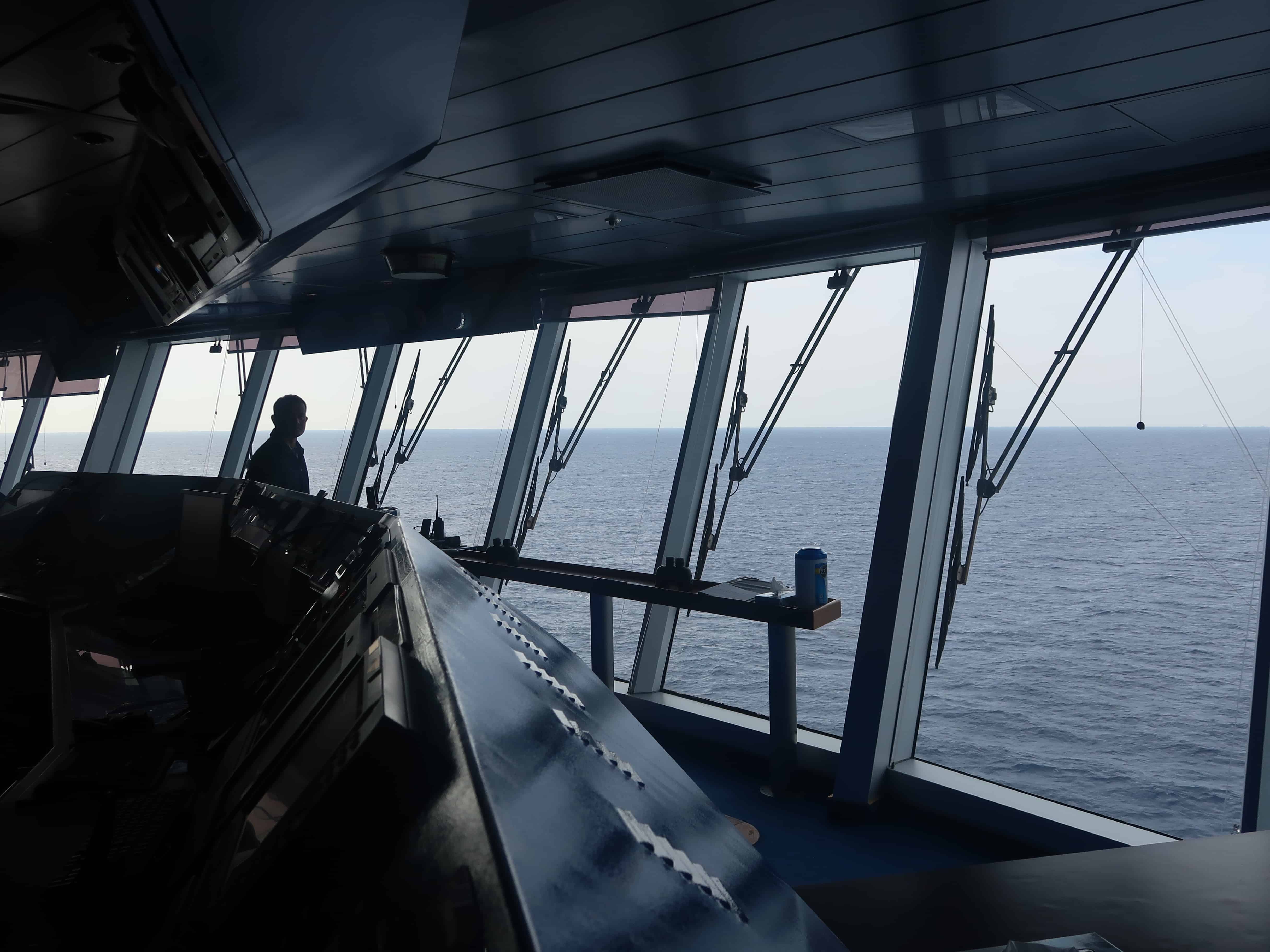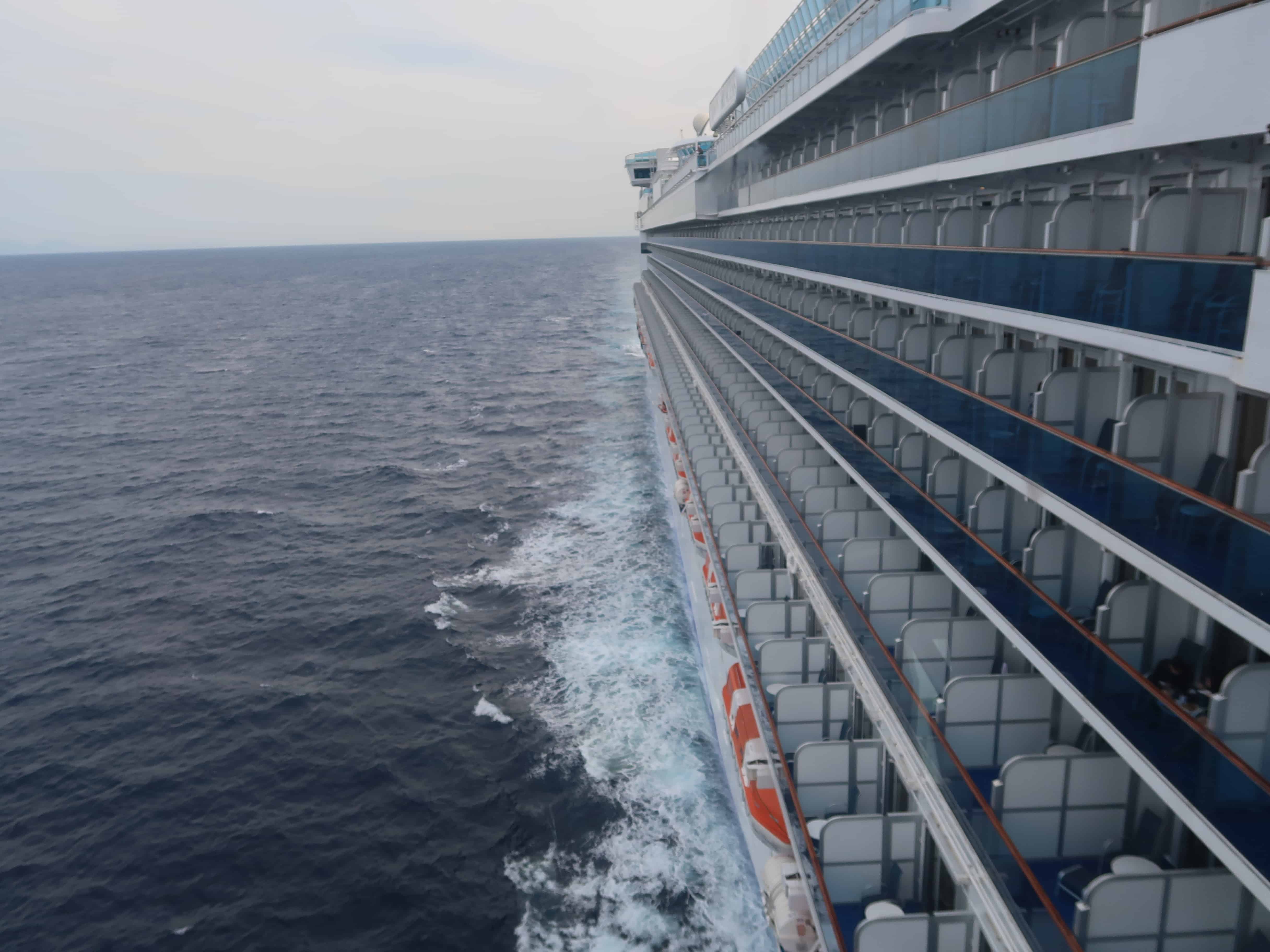 THE RESTAURANTS
There is so much choice on Crown Princess, for all your foodie needs, including 8 restaurants, 4 bars and 5 cafes.
Michelangelo, Da Vinci and Botticelli (Main Dining Room)
These three restaurants are the main dining rooms for all guests, and you can eat here for breakfast, lunch and dinner, depending on which you wish to visit. The Michelangelo Dining Room (Deck 5) is open for dinner only, whereas the Da Vinci Dining Room (Deck (6) is open for breakfast, afternoon tea and anytime dining in the evening. The Botticelli Dining room is the ship's traditional dining room allowing guests to eat at the same time and table each evening and is seen as the more formal dining rooms out of the three. The main dining rooms, even though included, where it is still just as special, offers amazing food and exceptional service.
Crown Grill (Steak House)
Crown Grill located aft on deck 7 (Promenade Deck) is the ship's other additional charge 160 seat restaurant with reservations recommended. We ate here on one of the evenings, and it was possibly my favourite evening restaurant. The service was second-to-none and the food was some of the best steak I have ever eaten! You can also opt to sit at the kitchen counter and watch the chefs custom prepare cooked to order steaks.
Sabatini's (Italian)
Sabatini's Italian restaurant (Deck 16) offers incredible Italian cuisine with an even better view across the wake. It offers speciality (an additional charge) Italian cuisine and seafood on an a la carte menu. The menu did not disappoint either, and the waiters were incredibly helpful helping me navigate the menu and my awkward food intolerances. The three course menu begins with Antipasti, followed by a pasta course, and then the main course is usually meat or seafood.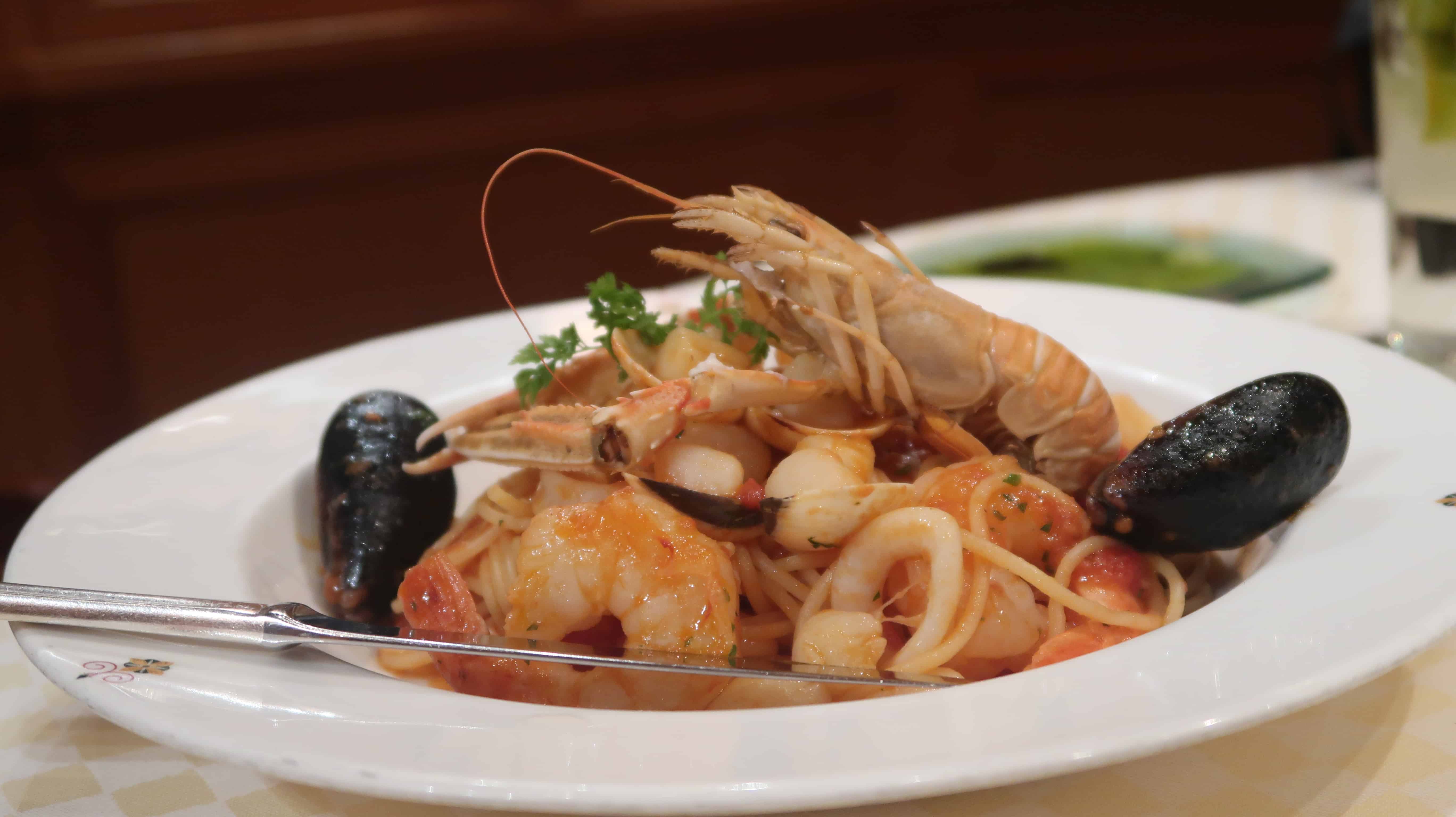 Salty Dog Grill
I didn't eat here myself, but just walking back Salty Dog Grill, you could tell how good the food was from the smell. They do more pub-grub style food, with handmade Gourmet Burgers, including their famous Princess Burger and also offer mexican options such as tacos and Hot Dogs, plus loaded fries with chili cheese.
Horizon Court
We are at Horizon Court for a handful of meals, both breakfast and lunch. It's a self service buffet style restaurant so is incredibly relaxed and offers an endless selection that changes throughout the day. There's a huge array of worldwide cuisine, and to be honest, the hardest thing is not going back for seconds… They've got everything you could think of here and more!
International Cafe
I grabbed a coffee from International Cafe every single morning. My favourite was the Banoffee Blast, a coffee-based drink with fresh banana, oat milk and ice. I actually miss it now I am home… They are open 24-hours a day, and they also do food here, such as salads, sandwiches and desserts in the evening.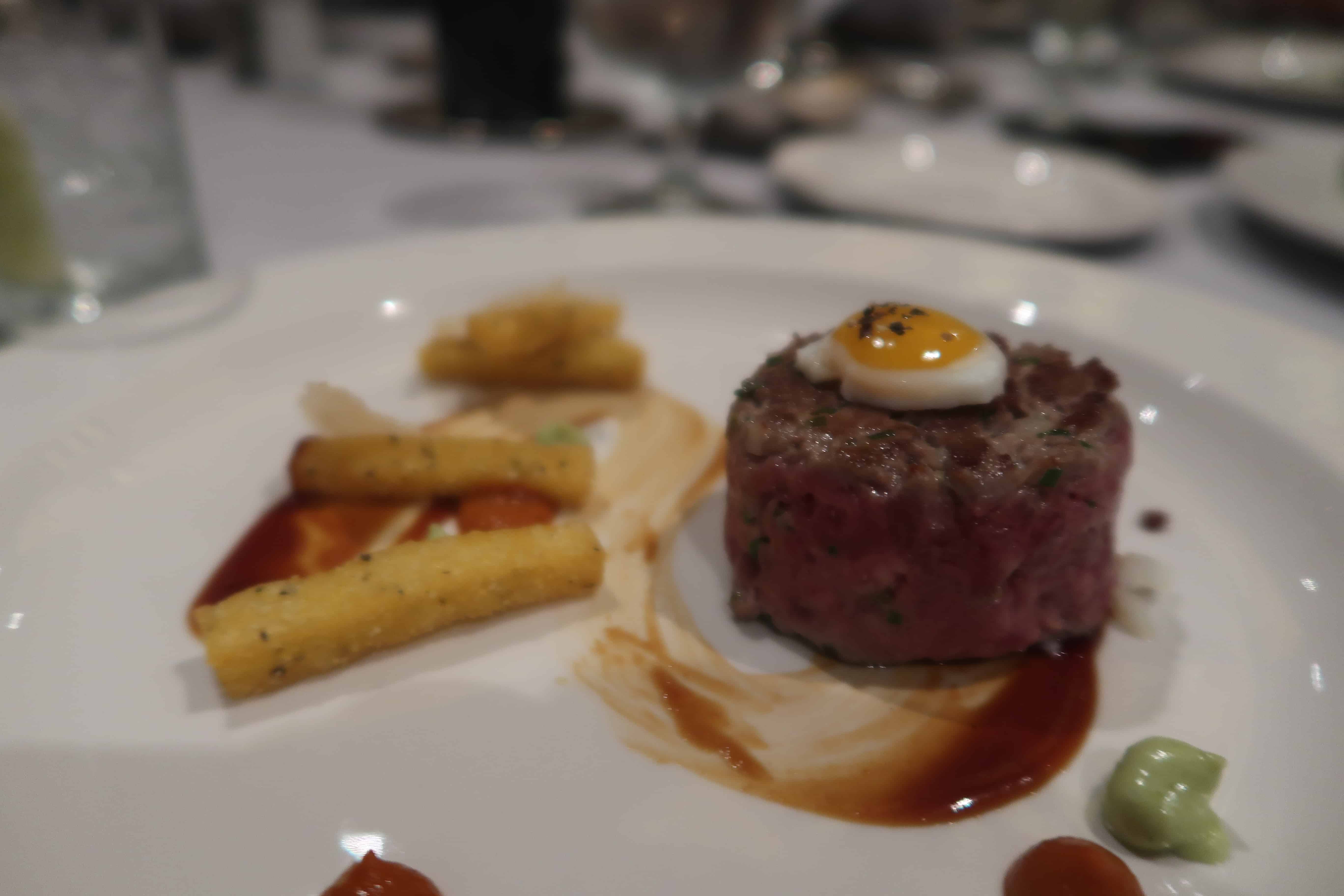 Slice Pizzeria
This restaurant was my first experience of Crown Princes when we boarded in Barcelona and it set the scene for a very exciting week ahead. Brand new to the ship, Slice pizzeria offers an array of pizza and Italian inspired dishes, including focaccia. You can pop by here during the day and within minutes you've got a slice of your favourite pizza!
Balcony Dining
For passengers wishing to enjoy a romantic dining experience (we always ate as a group in the restaurants) with breathtaking views from your own balcony, this option is amazing. It is available for either breakfast or dinner and can even be served with a bottle of champagne. And if you take dinner on your balcony, you will also get a dedicated waiter for the evening to serve your meals on your stateroom balcony.
Crab Shack
Seafood lovers won't want to miss this full crab shack experience. Even though we didn't dine here, I heard great things. An intriguing bistro option housed within the Horizon Court buffet, you can taste the ocean with dishes such as Bayou-style boiled crawfish and spicy sausage, popcorn shrimp or steaming clam chowder.
Wheelhouse Bar
Several times throughout our cruise, Crown Princess' Wheelhouse Bar was transformed into an authentic English-style pub, serving a selection of traditional dishes. On one night we walked past and they were serving a range of British favourites (displayed on chalkboard outside) such as bangers & mash, fish & chips and Ploughman's lunch. Couldn't get more British….
THE LOTUS SPA AND SANCTUARY
On our second day at sea we were treated to a visit to the Lotus Spa and Sanctuary located on deck 16. We spent the day revitalising in the Lotus Spa, and were treated to a Lime and Ginger Exfoliation and Massage, before going in to the Sanctuary for the afternoon to relax. The Sanctuary is an adults-only area available for spa guests and those looking for a relaxing period of time away from the hustle and bustle of the rest of the ship. It's an amazing place to unwind after a treatment and it was definitely a highlight for me on the cruise, providing me with some proper downtime between adventures off board. There's also waiter-service so you don't have to venture too far for your next cocktail and they serve Afternoon Tea too!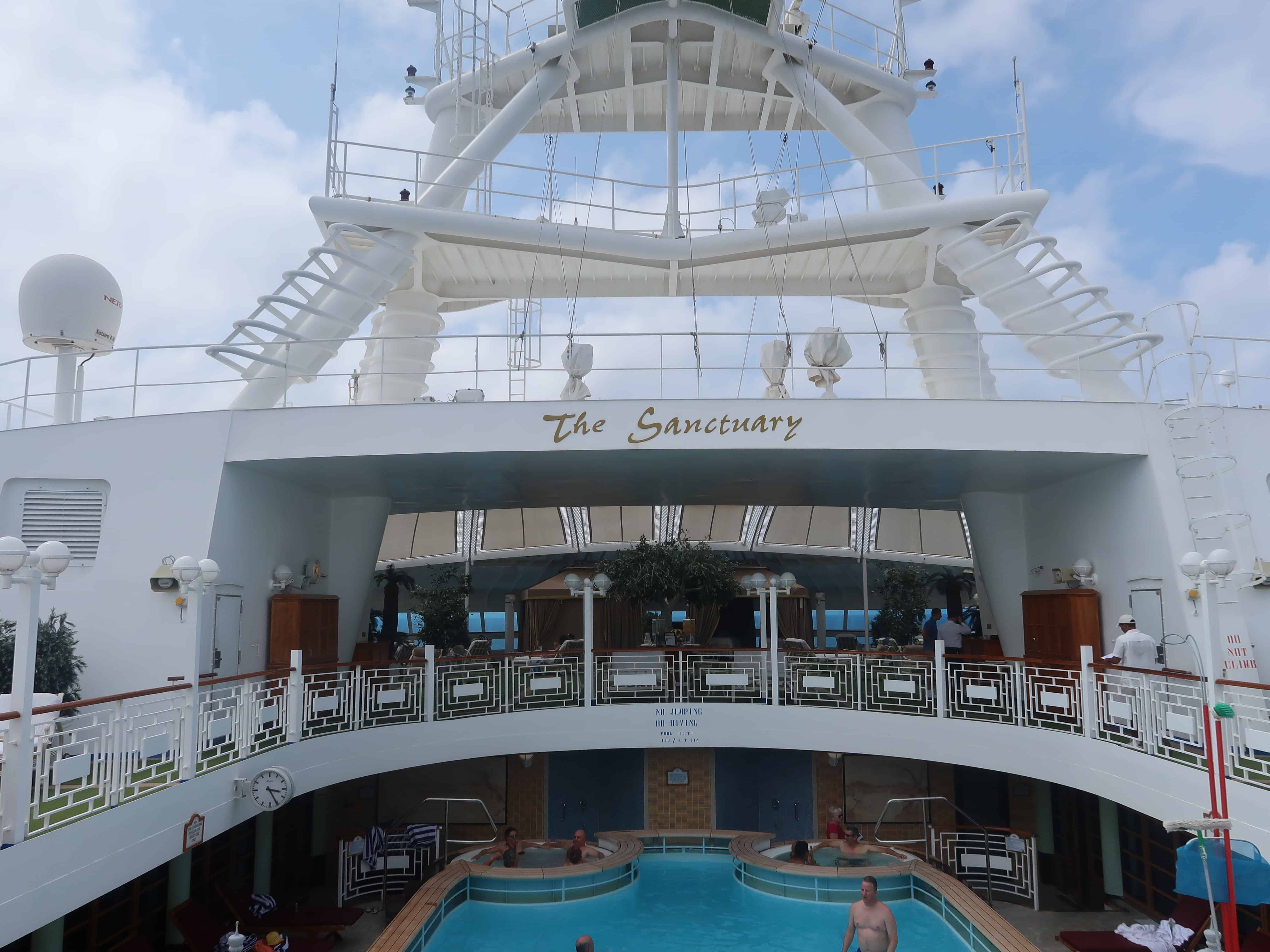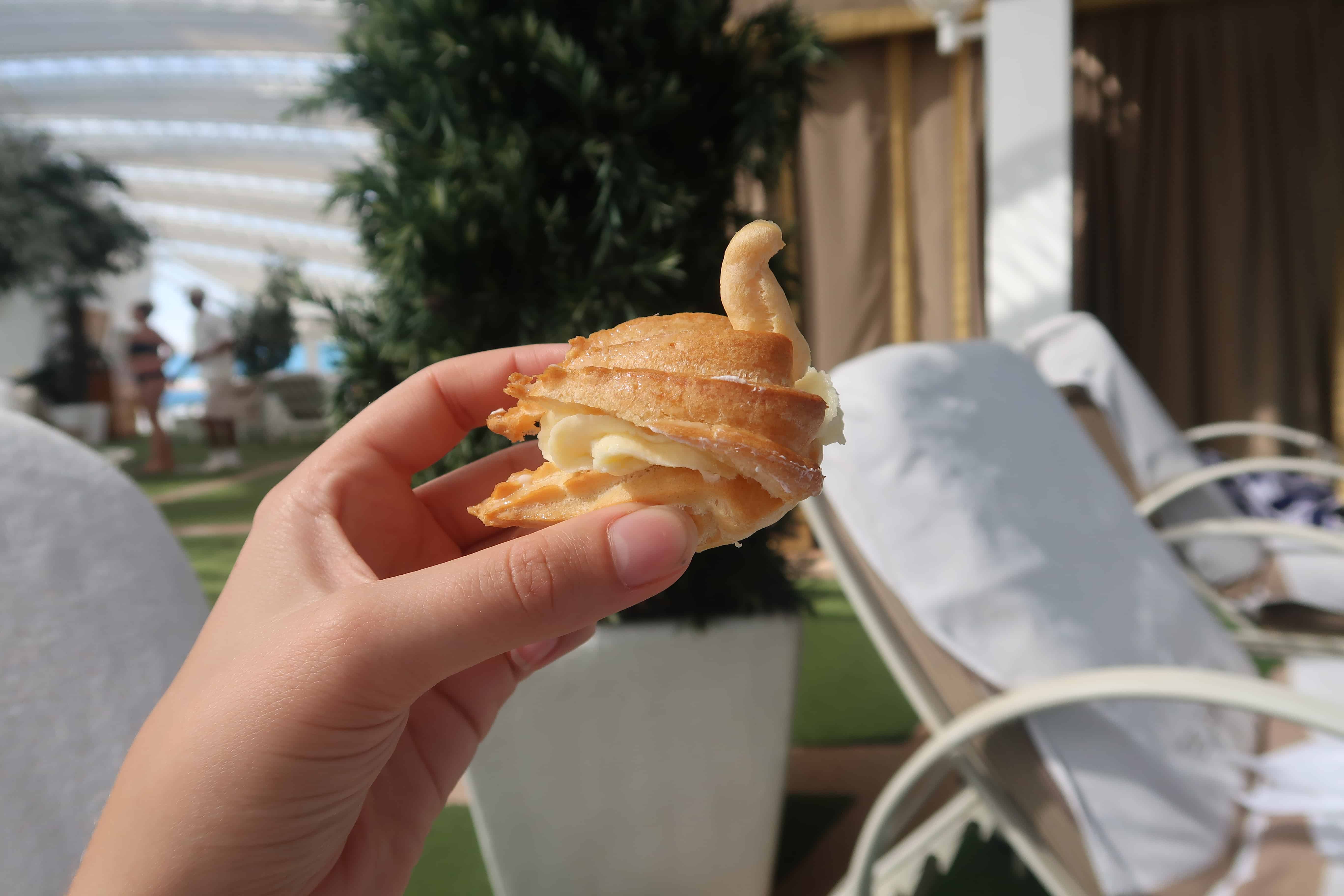 THE PRINCESS THEATRE
Crafted by some of the world's top directors and choreographers, the shows that take place in the ships Princess Theatre are incredible. They put on an array of shows throughout the weekend, including musicals, magic, singers, Broadway classics, acoustic sessions and much more. I was amazed at some of the shows on at the Princess Theatre as they were really 5* productions, including Magic to Do, brought to you by the Oscar®, Grammy® and Tony® Award winning composer of Wicked, Godspell and Pippin, Stephen Schwartz, where you are immersed in some of history's greatest magical illusions. Every show we went to was packed out and people were even sitting along the steps to catch a glimpse of the production!
STAYING ACTIVE
The active cruisers out there will be delighted with how Crown Princess caters to their needs with modern equipment and upgraded salon and treatment rooms. The Sports Court offers a whole array of games from basketball to tennis, whilst the onboard 9-hole putting green will please golfers. The modern gym and jogging track are perfect for a morning wake-me-up, or perhaps try the unique pool with a current, so you can swim with a bit of a challenge. You can read more about how I stayed healthy during my cruise next week…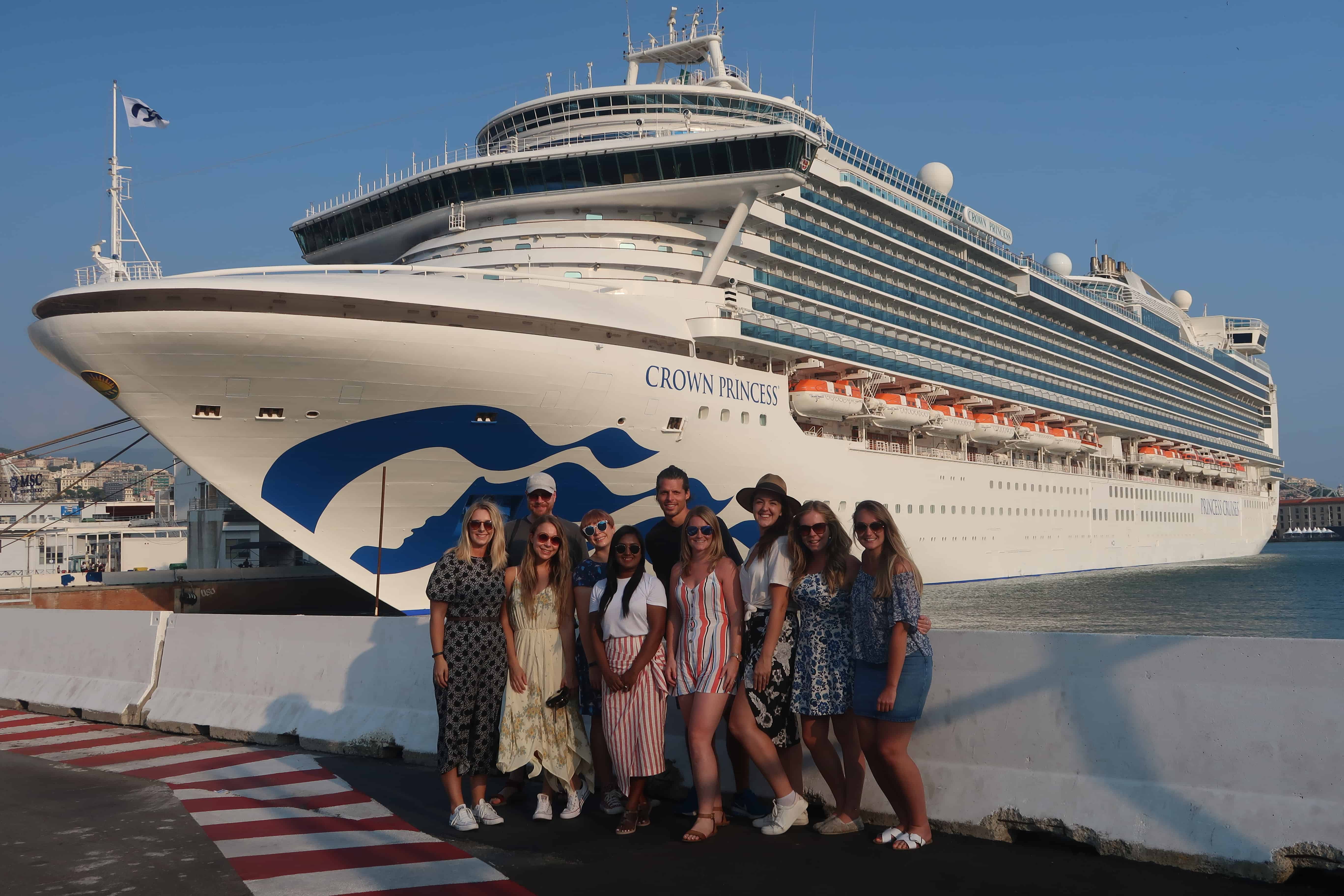 Would you consider trying a cruise? Has my cruise experience and blog post made you think differently about cruising? I'd love to hear your opinion, so please leave a comment in the box below.
I was onboard Princess Cruises Crown Princess cruise around the Mediterranean from Barcelona, Spain to Rome, Italy taking place over 7 Days | 4 Ports of Call. Staterooms start at £849.99. For more cruise deals click here.
This post has been created as part of a sponsored collaboration with Princess Cruises, however as always all views are my own.
Other posts that may help you:
The Ultimate Guide to the Christmas Markets in Copenhagen
Best Vegan Restaurants in Malmo
10 of the Best places to eat Brunch in London
The Best Weekend Trips in the UK
Log cabins with hot tubs in the UK
Thank you for reading and as always happy adventuring!
If you've enjoyed this post, please share it for me with all your friends and family!
Sophie X