If your holiday passion is one of diverse landscapes and ancient natural wonders, a hot air balloon ride in Cappadocia, has got to be on your bucket list adventures. Turkey is one of the few places in the world where the real-life version looks better than the photos and a visit to Cappadocia should be on your Turkey itinerary.
The beautiful town of Cappadocia has blown up over the past decade as the rise of Instagram gave this rather unknown place in central Turkey, the boost it deserved. This large, semi-arid area is made up of a unique landscape of high plateaus, volcanos, mountains, rock formations, underground cities, and cave dwellings.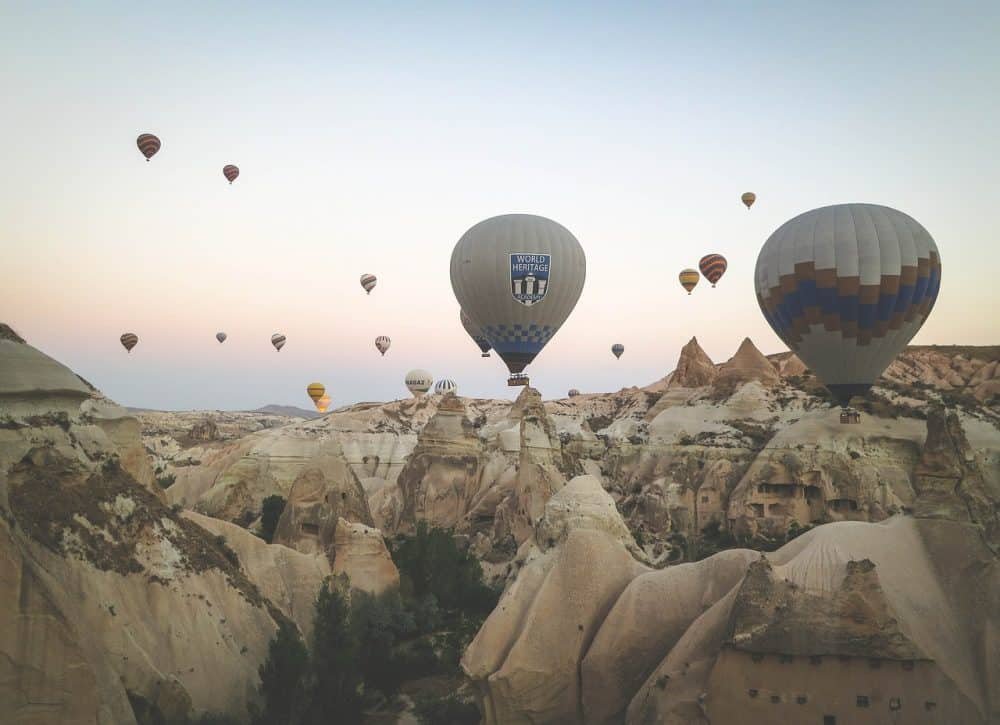 Top 10 things to do in Cappadocia
Stay at Cave Hotel in Cappadocia
Hot air balloon ride at sunrise
Visit Kaymakli underground city
Goreme Open Air Museum
Pasabag (Monks Valley)
Go Horse Riding
Drink lots of tea
Go to a Turkish Night
Try the local delicacies
Go on an ATV tour
Since the Göreme National Park became a UNESCO World Heritage Site, staying at a cave hotel in Cappadocia has become a destination being increasingly added to peoples Turkey itineraries. Cappadocia is a place you could easily stay for weeks but if you're short on time and like me only have a long weekend, then here's my Cappadocia Turkey Itinerary.
I have listed everything from where to stay in Cappadocia, what to do in Cappadocia and which local villages in Cappadocia to visit. Of course the most iconic thing to do in Cappadocia is to watch the 100+ hot air balloons in Cappadocia fill up the sky every, single morning that the weather permits.
But there is of course lots of other things to do in Cappadocia too…

Cappadocia Turkey Itinerary
How to get to Cappadocia
For travel to Cappadocia are Kayseri Erkilet Airport (ASR) which is around one hour from the Cappadocia region, or you could fly to Istanbul Atatürk Airport (IST). However, be aware that it's quite a lot way from Istanbul to Cappadocia (approx. 735 km or 8 hours).
Cappadocia Turkey Itinerary
Best times to visit Cappadocia
Cappadocia can be visited throughout the year, but with certain caveats. The winter season December through March, can be wet and windy, but it is also quieter and cheaper. If you are lucky enough to visit during a period of snow, the awe-inspiring landscape becomes even more spectacular.
Many travellers include a trip from Istanbul to Cappadocia in their Turkey itinerary, and that often means visiting during the summer months. Through June, July and August, the area sees temperatures climbing to a level that some may find uncomfortable. While the bigger hotels will have air-con, many smaller ones, B&Bs, small bars and restaurants, won't. It is also a peak time with more visitors and higher prices.
Although hot air ballooning is available year round, it is very reliant on the weather. Travelling from Istanbul to Cappadocia during April through May, and September into October are the favoured periods for good ballooning weather. With fewer visitors, and mild pleasant weather conditions, whatever you choose to see or do, you can get the most from your Cappadocia tour packages during these periods.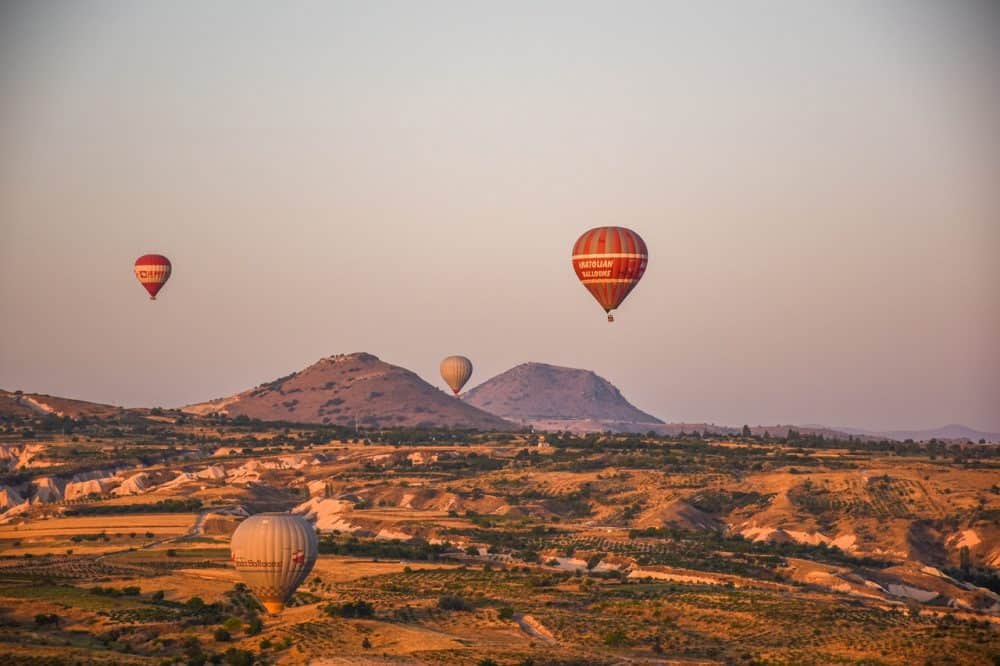 Cappadocia Turkey Itinerary
Where to stay in Cappadocia: Cave Hotel in Cappadocia
One of the most special things about Cappadocia is the unique experience of staying in a cave hotel.
Allowing three days on your Turkey itinerary should provide enough time to visit the major tourist attractions in the area. That said, if your holiday experiences are all about laid-back and chilling, you can always add a few extra days to your Cappadocia tour packages.
Gazing across the lunar landscape of Cappadocia, you could be forgiven for thinking it is a region devoid of any human life – far from it. There are a number of towns and villages built into, and under, the rockwork. The town of Göreme, famous for its underground dwellings and cave hotels, is also ideally situated for visiting other sites and attractions, but you can also choose to stay in Urgup, Uchisar, Avanos, or Ortahisar when planning your Cappadocia itinerary. All are within a short drive of each other.
A popular option in Cappadocia tour packages, is to book into one of the many cave hotels. Don't worry, you won't be stuck between a rock and a hard place in the cave hotels in Cappadocia. The amenities offered by many cave hotels match those of quality four and five star hotels around the world.
For those travelling from Istanbul to Cappadocia, who expect nothing but unashamed luxury with Spas and swimming pool, there is plenty of choice for them as well. Pencil into your Cappadocia itinerary the Sacred House Hotel in Urgup, the Rose Mansions Hotel in Mustafapasa, or the Hilton Doubletree in the city of Avanos.
If Cave Hotel doesn't float your boat, then check out The Local Cave House instead because it offers such a unique experience, with this gorgeous pool and backdrop to take photos with.
Cappadocia Turkey Itinerary
What to do in Cappadocia
Although Cappadocia is easily accessible from inside Turkey, your Cappadocia tour packages won't include international flights direct from the UK. Most visitors wanting to travel from Istanbul to Cappadocia fly into one of the two Istanbul airports, and then onward to one of the two airports (Kayseri Airport or Nevsehir Kapadokya Airport), in Cappadocia. From there, a shuttle can be arranged to take you to your cave hotel in Cappadocia. Or you can rent a car at the airport, which is a favourite option amongst visitors.
A bus service to the various towns of Cappadocia is also available from most big cities in Turkey, although the journey is likely to be more arduous. For instance, from Istanbul to Cappadocia, the journey takes around 12 hours. There is also a train service from major Turkish cities through to Kayseri, a popular route with visitors choosing to stay in Göreme, while they decide what to do in Cappadocia.
1. Take a hot air balloon in Cappadocia
Cappadocia is consistently voted one of the best destinations in the world for hot air ballooning and its become world famous through Instagram and those amazing shots everyone manages to capture during a trip. But it's even better in person guys. So what are you waiting for? Enjoy a hot air balloon ride over one of the most magical places on earth! It is a landscape like no other in the world.
Riding a hot air balloon is often the most popular activity in town, so make sure you come to Cappadocia for at least three days, just in the weather is bad and you can't fly on some of the days. This gives you a period of time just in case flights are cancelled. I'd recommend aiming for the summer months to ensure good weather.
A Standard Balloon Flight usually lasts one hour with each ballon holding a capacity of 15-20 people. Upon landing, many companies then treat passengers to a buffet breakfast and a champagne toast. I'd recommend going with either Hot Air Balloon Cappadocia or Butterfly Balloons.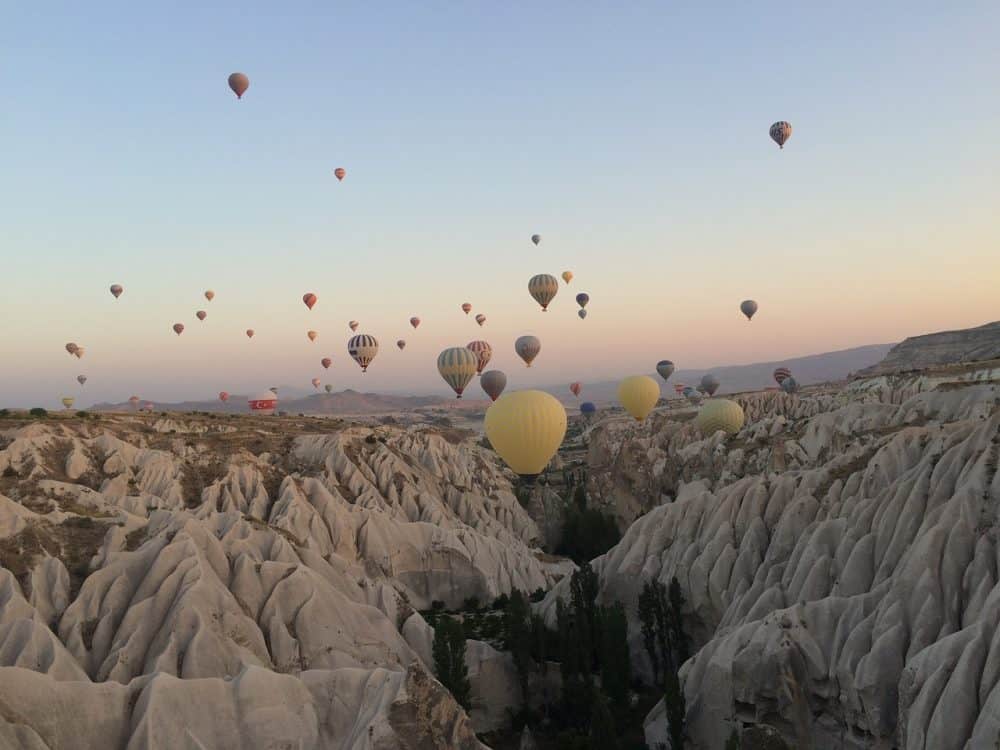 2. Try the local delicacies
While making your list of what to do in Cappadocia, don't forget to add breakfast, lunch, or an evening meal to your Cappadocia itinerary. Most hotel restaurants are open to non-residents, and many areas now boast good quality international restaurants. Nonetheless, enjoying a light lunch, or an evening meal in a local family restaurant, adds that extra element of genuine local cuisine and friendly hospitality.
When in Urgüp, check out the Ziggy Café and Shop, for a light lunch of fresh salad and marinated chicken. In the evening try the tasting menu, a mix of a dozen different starters. If in Göreme, visit the Dibek Restaurant for a pottery kebab. Simmered for four hours in sealed clay pots the dish is bought to your table, where the waiter will crack the pot with a hammer and serve you the meal.
If you want real local atmosphere with your evening meal, look up the Top Deck Restaurant, also in Göreme. This family business is situated in a converted stable on the ground floor of the family's cave house. Small and intimate, you can dine Turkish style from a low table sitting on cushions on the floor, or, if you prefer, from dining table and chairs.
3. Go on an ATV Tour
Cappadocia isn't just about the hot air balloons, and if you're an adventure junkie, quite not head on an ATV tour to explore the other valleys such as the Love Valley, and many other villages in the local area. An ATV tour is a great way to see the local area and takes you off road too!
4. Shop at local stores
Whilst you are in Cappadocia make sure you stop by some of the local shops in the town. In the town there is also the insta-famous family-owned carpet shop Galerie Ikman and is certainly a must-visit when you are visiting Cappadocia. When you go there, support the locals and pick up a trinket, such as jewellery, lamp or even a carpet.
5. Drink some tea
In Turkey they drink A LOT of tea, so don't be surprised if you get offered tea every time you meet a new person. The tea culture here is so comforting, and reminded me of home in the UK a lot. I often drink up to six cups of tea at home! And if you can get a snack of Turkish delight too, even better!
Discover what to do in Cappadocia
If staying in Göreme, enjoy the sunshine on the terrace of Coffeedocia. For real regional cuisine, visit The Inci Cave Restaurant, or the Pumpkin Goreme Restaurant, another cave restaurant, which is also an art gallery. Wherever your cave hotel in Cappadocia is situated, you will find cafes and restaurants to suite all tastes. From fabulous views off the terrace, to small intimate eateries, and great family get-together restaurants, the area has something for everyone.
Not only will one of the Cappadocia tour packages provide some unique photographic opportunities of your trip, but the walking element can also help raise your fitness levels. If regular walking is not your forte, working to a four or five day Cappadocia itinerary, will allow you longer breaks between the walks, while still making the most of this distinctive landscape.
Even if you've chosen to rent a car to get about, booking half day or full day guided tours will ensure you get the most out of your Cappadocia itinerary. The following is a list of some of the most popular attractions in Cappadocia.
The Göreme Open-Air Museum and Zelve Open-Air Museum.
The villages of Göreme, Cavusin, and Uchisar
The Underground Cities of Kaymakli and Derinkuyu.
The Red and Rose Valleys, and the Ihlara Valley.
Hiking and Pony Trekking.
The Silk Road
Hot Air Ballooning.
Turkish Dervish Dancers.
For a whole different perspective, and some great photo opportunities of Cappadocia, hot air ballooning will be the high point of your Turkey itinerary. Whether in one of the baskets, or watching from the side-lines, the hundreds of balloons floating lazily skyward will provide lifelong memories – and some great photographs.
Other posts that may help you:
The Best City Breaks for Couples
Beginner's Guide to Europe Interrail Routes
Copenhagen Chic at the Andersen Hotel
Best Vegan Restaurants in Malmo
Ultimate Guide to a Weekend Break in York
10 of the Best places to eat Brunch in London
The Best Weekend Trips in the UK
Sign up to AirBnB with this link and receive a £23 off your first booking.
To receive my articles and reviews straight to your inbox SUBSCRIBE HERE.
Did you know I also vlog my trips? Make sure you subscribe to my YouTube channel so you get alerted when all my travel videos goes live… CHECK THEM OUT HERE
Thank you for reading and as always happy adventuring!
If you've enjoyed this post, please share it for me with all your friends and family!
Sophie X