Hungary's capital Budapest is an amazing city and it's also a global city and it was ranked as the second fastest-developing urban economy in Europe. The city is famous for lots of things including goulash – The national dish, Christmas markets, Buda Castle and Kürtőskalács. But it's also globally known for it's Szechenyi Baths.
It wouldn't be a trip to Budapest without going to the famous Szechenyi Thermal Baths. It's one of the biggest and best baths in Europe with 15 indoor baths and three outdoor pools.
To this day, Széchenyi Spa remains one of the most visited leisure attractions in Budapest with over millions of tourists and locals alike flocking to the healing reservoirs in their own city break. For this offer with Klook, you can float around in the frosty blue waters of warmth as you buy your peace of mind with a fast track admission and save some time for more soothing indulgence. I would recommend a visit – but go early to beat the crowds!
On my recent trip to Hungary's capital Budapest, we booked all of our activities through Klook, an awesome activity booking app and website, which gives you awesome access and discounts to some of the best experiences in nearly all cities around the world. Budapest is a perfect example, as there's hundreds of activities you can book with them, including access to the Szechenyi Thermal Baths, Big Bus Budapest, river cruises, and a visit to the Hungarian Parliament,.
So what are you waiting for?! Budapest is the city of the moment!! Use this guide to visiting the Budapest Thermal Baths and find out more about the Szechenyi Baths Price and Tickets.
Budapest Itinerary
Top 10 Things to do in Budapest
Szechenyi Thermal Baths
Hungarian Parliament Building
Big Bus Budapest
Budapest Weekend Trip: The Buda Castle
Fisherman's Bastion
Chain Bridge
Shoes on the Danube Bank
Vajdahunyad Castle
Liberty Statue
Cave Church Inside Gellert Hill
Budapest Itinerary
How to get to Budapest
I flew to Budapest with Jet2 Holidays from Birmingham International Airport. We opted to fly from Birmingham with Jet2 for our flights as the dates matched the dates we wanted to take off work, but they also fly from East Midlands and London Stansted. The check in process was incredibly easy, the staff were friendly, there was no queue at bag drop off and we only had to wait 15 minutes to get through security.
One thing I always find with Jet2 is that there is always someone on hand to help, or answer a question, and as someone who travels a lot, I know that does not happen for most other airlines. Jet2 are one of my favourite airlines to travel with, and they make going on holiday incredibly easy and stress-free. So I would 100% recommend booking Jet2 flights to Budapest now, before everyone find out….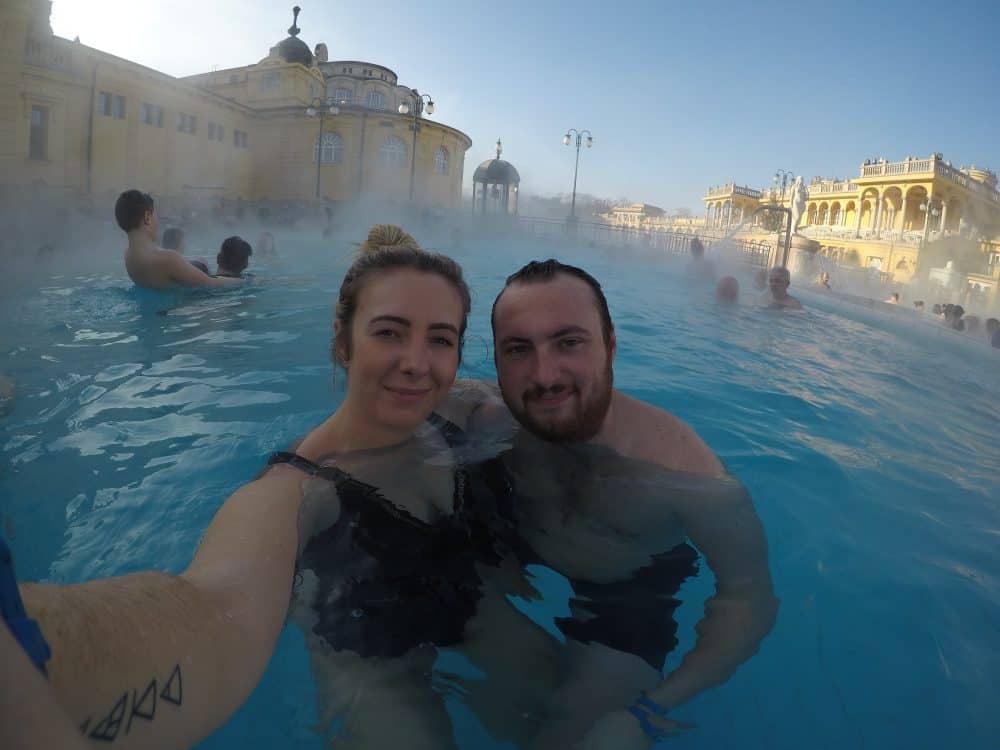 Budapest Thermal Baths Guide
Szechenyi Spa Baths is located in the centre of the city, within the confinments of City Park. The spa is located within a speficially built palace, designed in a Neo-baroque style. It was built to host the Szechenyi Baths due to the countries reputation as one of the best places to visit thermal spa waters in Europe. The city became famous for it's benefits of thermal waters and promoted many aqua therapies.
The beautiful building of the spa baths is the design of Gyozo Czigler (Győző Czigler) who started to build Szechenyi Furdo in May 1909. The total area covered was 6,220 square metres (67,000 sq ft). More than 200,000 bathers visited the spa in 1913. Between 1999 and 2009 the Széchenyi thermal bath was refurbished in a complete renovation.
The baths of Budapest are part of the Hungarian tradition and culture not only for their medicinal (rheumatism, osteoarthritis, muscle pain) and relaxing properties, but also because they have always been a meeting place for friends, family and businesses. Components of the thermal water include sulfate, calcium, magnesium, bicarbonate and a significant amount of metaboric acid and fluoride.
The 18 pools in Szechenyi Bath is open every single day throughout the year, including national holidays, when its an especially popular place to visit. Besides the outdoor and indoor geothermal pools, you can get massage treatments, enjoy the saunas, the gym, relax by the pools with some beer, wine or even taste the natural waters that supply the pools from over 1000 meters below the surface. (Credit: Szechenyi Baths)
In this guide you can find more about the Szechenyi baths price, which is the best baths in budapest, Széchenyi baths events and much more.
What is the best baths in budapest?
To this day, Széchenyi Spa remains one of the most visited leisure attractions in Budapest with over millions of tourists and locals alike flocking to the healing reservoirs in their own city break. But there are other baths in Budapest and I've listed a few below.
Széchenyi Thermal Baths.
Gellért Baths
Lukács Baths
Rudas Baths
Kiraly Baths
Dandár Baths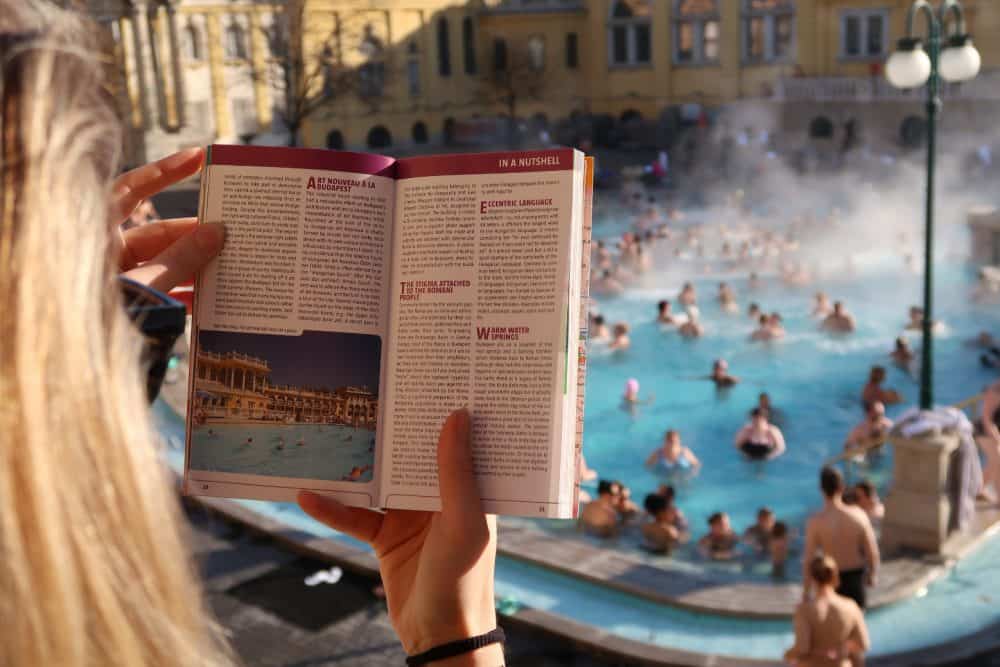 Szechenyi Baths Price and Tickets
We spent a morning here and booked our skip the line tickets the day before with Klook for £17 each which included cabin usage, but didn't include towels, flip flops or dressing gowns. You can upgrade to have a ticket which includes this though, so an extra £20 each. We loved floating around in the thermals waters and soothing those aches and pains from walking 10k a day exploring the city!
For this offer, you can luxuriate in the frosty blue waters of warmth as you buy your peace of mind with a fast track admission and save some time for more soothing indulgence. Enjoy complete access to pools, thermal baths, and high-quality spa facilities for one whole day, alongside a private cabin for the most relaxing stay in Europe. You can also opt for the full package that comes with a hotel pick up service and I Love Spa bundle.
Simply show your ticket, and soothe your mind, body, and mind with an amazing thermal bath seated in the midst of Budapest's gothic haven for an unbeatable price!
Currently on Klook
£ 16.69 17.89
Available Tomorrow
Instant Confirmation
Rental Price for Reference:
Paid in HUF and cash only
Towel: HUF2,000 (deposit HUF2,000)
Bathrobe: HUF3,500 (deposit HUF3,500)
Swimwear (women): HUF3,000 (deposit HUF3,000)
Swimwear (men): HUF3,000 (deposit HUF 3,000)

Opening Hours of the Szechenyi Baths
Széchenyi Spa is open daily all year around
The spa closes at 10:00pm (please note that you must arrive before 6:00pm)
Special opening hours may apply, please check the official opening hours for more details
Help Desk (check-in for online reservations): 9:00am-6:00pm
Please note that your ticket is an online reservation and so you will only be granted access from 9:00am onwards
Outdoor Pools: 6:00am-10:00pm
Indoor Thermal Pools: 6:00am-10:00pm
Steam cabins and Saunas: 6:00am-10:00pm
Bath Tours (15 minutes): 10:00am-4:00pm
Buffet of Szechenyi Bath: 10:00am-7:00pm
Do you need to book

Szechenyi Baths?
As mentioned above, you don't need to book ahead but I would recommend it, using the Klook app, to save being turned away at the door due to capacity, or having to pay higher Szechenyi Baths Prices.
Are there showers at

Szechenyi Baths?
There are showers at the

Szechenyi Baths, both inside the cabin area, and outside in the spa area. You can also
buy drinks and foods in the simple cafe of Szechenyi Spa Baths or you can bring your own drinks and picnic basket. On hot summer days make sure you drink plenty of water to stay hydrated as the waters may make you dehydrated. Remember don't bring your cigarettes, as smoking is prohibited in Szechenyi Baths (inside and outside, by the pools too).
Do you need to be naked at the Szechenyi Baths?
There are some misconceptions about the baths, e.g. some visitors think that you need to be naked in the baths. This is not true and you do not need to be naked. In fact it's not recommended.
Do you get towels at Szechenyi baths?
Yes! You can rent a towel at Szechenyi Baths, or even a bathrobe, or swimwear if you've forgotten it, but I wouldn't recommend the latter.

What to Bring to Szechenyi baths
Swimwear (mandatory)
Towels
Shampoo and soap
Swimming cap (mandatory)
Food and drinks
Other personal items (comb or hair dryer, sun screen lotion, body lotion, etc.)
What Not to Bring Szechenyi baths
Jewelry
Valuables and gadgets (cameras, watches, etc.)
Cigarettes
Address
Budapest, Állatkerti krt. 9-11, 1146 Hungary
I travelled for 3 days in Budapest with Jet2 Holidays and fell madly in love with this winter wonderland city. Budapest city breaks are currently available from Birmingham, East Midlands, Edinburgh, Leeds Bradford and Manchester airports with Jet2.com/Jet2CityBreaks. Check out their website for more information and to book your weekend break in Budapest!
Other posts that may help you:
The Best City Breaks for Couples
The Ultimate Guide to the Christmas Markets in Copenhagen
Ultimate Guide to 48 Hours in Malmö
10 of the Best places to eat Brunch in London
Ultimate Guide to Columbia Road Flower Market London
Sign up to AirBnB with this link and receive a £23 off your first booking.
To receive my articles and reviews straight to your inbox SUBSCRIBE HERE.
Did you know I also vlog my trips? Make sure you subscribe to my YouTube channel so you get alerted when all my travel videos goes live… CHECK THEM OUT HERE
Thank you for reading and as always happy adventuring! If you have any questions about the destination please leave these in the comments below.
If you've enjoyed this post, please share it for me with all your friends and family!
Sophie X