If you're looking for the best GoPro alternatives you are in the right place, keep reading for an ultimate guide to the best GoPro alternatives on the market.
I am a big GoPro fan and have had my Hero 6 for nearly three years. It's come all around the world with me, from the beaches of Saint Lucia to the mountains of Meribel and everywhere in between.
And don't get me wrong it's a great camera. But it's not always the best camera for everyone and isn't always the most affordable option.
GoPro's best offering at the moment is the GoPro Hero 9 Black, which retails at a pricey £429.99. It offers 4K resolution at 60 FPS, a 12MP camera is waterproof up to 33 feet, and has a whole host of other features. So it's great, but it's not affordable for the everyday traveller…..
Over the past few years, the action camera market has grown rapidly and there are some really great GoPro competitors on the market!
So I wanted to pull together a blog post all about which are the Best GoPro Alternatives, including who are the main GoPro competitors and which cameras are most like the GoPro Hero cameras.
I hope by the end of this blog post, you'll know which action camera is best for you…
Which are the Best GoPro Alternatives?
These are the 16+ best GoPro competitors on the market, but there are 5 worth checking out.
Akaso V50
Garmin VIRB Ultra 30
Sony FDR X3000R
YI 4K Action and Sports Camera
Campark ACT74 Action Camera 16MP –
Polaroid Cube
Garmin VIRB 360
Things to Consider With an Action Camera
Video Resolution
Waterproofing
Battery Life
Display
Wi-Fi
Field of View or FOV
Image Stabilization
Accessories
The Best GoPro Alternatives
Let's start by chatting briefly about the GoPro so that when you read about the others, you have context.
GoPro just released the new Hero 9 and it retails at £429.99 directly with GoPro.
Shoot stunning 5K video that maintains serious detail even when zooming in and capturing 14.7MP frame grabs.
Also records in 4K, 2.7K, 1440p and 1080p. Capture crisp, pro-quality 20MP photos—and use SuperPhoto to make sure you get the shot.
The new Max Lens Mod delivers unbreakable Max HyperSmooth stabilization and Max SuperView, Our widest-angle perspective yet.
A new front display serves up a live preview for easy selfie framing—while the large rear touch screen delivers intuitive control.
HyperSmooth 3.0—now featuring in-camera horizon levelling—is our most advanced stabilization ever.
HERO9 Black captures up to 240 frames per second for astonishing 8x slo-mo.
Record mesmerizing time-lapse videos with TimeWarp 3.0. Go all out or tap Speed Ramp to slow the action while recording.
And the best bit? You can capture up to 30 seconds of footage before you start recording. Even if you press the shutter button too late, you'll still get the shot.
There are also an array of accessories on the market, here are the best GoPro accessories for travel.
The truth is, there are many great GoPro alternatives out there if you're prepared to look beyond the brand name.
Best Alternatives to GoPro
Best Budget GoPro Alternative: Akaso V50
One of the best Best GoPro Alternatives is the Akado V50!
Equipped with a touch screen, the action camera enables you to tap and choose a capture mode start recording videos and shooting photos with ease. AKASO V50 Pro 4K action camera with built-in advanced Electronic Image Stabilization (EIS) delivers steady and smooth video recording up to 4K/30fps at high quality.
This action cam ensures excellent experience in video recording when you record fast-moving objects. It also has an external microphone input can capture sound from all directions with crisp details. Note: External microphone is not included.
It's waterproof, meaning you can dive up to 30 meters in depth with this 4K action camera. The tough camera provides Diving Mode to filter the red light underwater and no extra red filter is needed for this waterproof action cam.
And the quality is impressive with 4K at 30 frames per second. You can record action and sports activities at high quality using this sports cam.
2-inch Touch Screen with IPS Display
4K/30fps, 2.7K/30fps, 1080P/60fps and 720P/120fps Video Resolution
Superb Image Stabilization with 6-axis Gyroscope
170° Wide Angle Action Camera
Waterproof up to 100ft (30m) with Case
External Microphone Input
Best Overall GoPro Alternative: Garmin VIRB Ultra 30
This is an impressive 4K action camera with voice control and data overlays.
The VIRB Ultra 30 is waterproof3 ultra HD action camera features voice control so you can tell the camera to start, stop and "remember that". That means more hands-free selfies when you're looking fearless — and easier editing when the action's all done. It's small, weighs next to nothing, and it's ready to take on any dare or adventure, thanks to the included waterproof case.
This best-in-class camera shoots up to 4K/30fps video action to show all your adventures in crisp, brilliant detail. VIRB Ultra 30 also features 3-axis image stabilisation,4 so whether you're snowboarding, cycling or off-roading, footage won't come out shaky.
A really good GoPro alternative.
Ultra HD 4K/30fps footage with a 1.75-inch touchscreen display that lets you see what is being recorded
3-axis image stabilisation captures smooth and steady video, no matter the terrain
Shoot hands-free using voice control1 to start/stop recording, take photos or remember moments
Built-in sensors and GPS capture G-Metrix™ data to prove how far, how high and how fast you went
High-sensitivity microphone captures clear audio in and out of the waterproof2 case
Best Premium GoPro Alternative: Sony FDR X3000R
One of the best Best GoPro Alternatives is the Sony FDR X30003!!!
You can take POV action movies to a new level with high-resolution 4K on the Sony FDR X3000R! Capture stable images as never before with Balanced Optical SteadyShot. Shoot anywhere with Action Cam real-world rugged design. The action camera is amazing, you can shoot in the dark with very subtle light, using this cutting-edge sensor, record fast moves and smooth action up to 4K at 100 Mbps and capture landscapes with less distortion.
More than just wristwear, this compact new remote controller also doubles as a mountable controller for convenient use with many optional accessories including Finger Grip.
And with tighter teamwork between Action Cam and Live-View Remote via identical user interfaces. Take full control to turn the camera on/off to save battery power. The camera can also be turned on/off via smartphone with Imaging Edge Mobile.
4K Ultra HD for four times the detail of Full HD
Reduced shake with Balanced Optical SteadyShot
Full camera control includes power ON/OFF with supplied RM-LVR3.
The new user interface provides intuitive camera operation.
Shoot at the desired angle with adjustable FOV and zooming.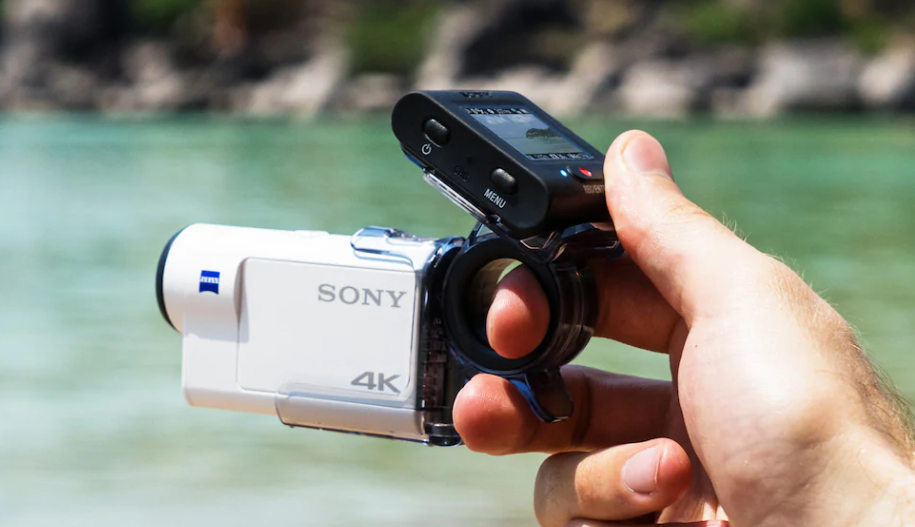 Best Budget GoPro Alternative: YI 4K Action and Sports Camera
And if you're after one of the best budget GoPro Alternatives look no further!
The new YI 4K Action and Sports Camera is a great GoPro alternative. The well constructed POV cam has the same 4K 30fps video and 12MP stills capabilities as a GoPro Hero 9 Black.
New generation Ambarella A9SE75 Chip, Sony IMX377 Sensor, and 7 layers of high-quality LCE glass lenses, Records 4K/30fps at 60 Mbps, best in its class.
7 layers of all glass optical lenses combined with F2.8 large aperture increases light intake to capture crisp and detailed footage.
Customized with a 330ppi high resolution and high sensitivity retina touchscreen for an intuitive experience. 2.19 inches of Gorilla Glass to resist scratches and daily impact. Viewable from a 160° angle.
Designed with adventurers and photographers in mind, we use the world's leading rechargeable 1400mAh high-voltage 4.4V lithium-ion battery from Amperext Technology.
World's leading telecommunication semi-conductor solution provider's latest BCM43340 chip will barely give you time to blink. Supports 802.11a/b/g/n 2.4G/5GHz. Significantly improved anti-interference technology.
Quick and convenient video editing, image/video filters, and music options. Simple enough for beginners to use, but designed for professional output. You'll never have to struggle with a computer again!
3.35 ounces of world-leading imaging technology. YI 4K's all-in-one and impact resistance design fits in your pocket and is ready for anything!
Best Ultra Budget Action Camera: Campark ACT74
The Campark Action Cam features ultra HD 4K video recording and you can capture 4K 30fps/2.7K 30fps/1080P 60fps/1080P 30fps video which is sharper and more lifelike than ever. The action camera is a great budget alternative to GoPro and you can still use time-lapse, loop recording and slow-motion mode to capture any moments you wanted.
The Campark 4k Underwater Camera can connect your phone by Wi-Fi, and share your video/photo to Facebook, Twitter, Instagram and supports HDMI output so can watch the beautiful videos & pictures on TV.
The Campark Action Cam has a 170° Adjustable Wide-Angle Lens and multiple adjustable angles (170°, 140°, 110°, 70°) lens to capture your fantastic moments without losing any detail. And with the waterproof case, you could go up to 30M/98ft underwater. Great companion for water sports, like swimming, diving, surfing etc.
Increased long battery life up to 180 minutes (Dual rechargeable lithium batteries) shooting time along with tons of free accessories. Multifunctional accessories enable you to mount your camera to helmet, bicycles, wrist.
Best Iconic GoPro Alternative: Polaroid Cube
The pocket-sized Polaroid Cube packs an HD video recorder and 6MP camera into a one-inch cube design. Splash and shock-resistant, it mounts magnetically to helmets, skateboards, bike handlebars and other surfaces, so you can capture adventures on the go.
Standing at just 35mm, the Polaroid CUBE is here to prove that the best things do indeed come in small packages. This tiny action camera supports Micro SD cards up to 32GB and is ready to capture your most exciting moments in full HD video or high-resolution images.
So if you're living a life that's fit for film, make the CUBE your constant companion. It is weatherproof and shockproof, and more than capable of handling anything you throw at it. With a 124° wide-angle lens, it sees the big picture and bears witness to your most outrageous shtick.
1080p/720p HD video
6MP photos
Splash and shock-resistant
124° wide-angle lens
Records up to 90 minutes per charge
Built-in magnets for mounting and stacking
Connects directly to a computer
Microphone
Best Rugged GoPro Alternative: Garmin VIRB 360
This is a rugged, Waterproof 360-degree Camera with 5.7K/30fps Resolution and 4K Spherical Stabilisation and is worth mentioning due to its hard nature.
VIRB 360 is the first of its kind, capturing a complete sphere of high-resolution video and audio – even photos. It eliminates the lengthy editing process with unrivalled 1-click video stabilisation up to 4K resolution at 30 fps and allows you to instantly livestream5 any adventure.
If it's worth remembering, it's worth a VIRB 360. This rugged, waterproof camera is true to its name, recording the full 360 degrees — horizontally and vertically. And you can forget about time-consuming post-production work because VIRB 360 will auto-stitch1 your 4K footage in-camera.
If you're looking for higher resolution, you can record video in unstitched 5.7K resolution at 30fps and stitch it together in VIRB Edit.
Resolution up to 5.7K/30fps with desktop stitching; 4K/30fps auto-stitched in the camera1
4 built-in microphones capture 360-degree audio
4K spherical stabilisation2 ensures a smooth video regardless of camera movement
Built-in sensors provide G-Metrix™ data overlays in 360-degree augmented reality3
Easy-to-use, free VIRB® Mobile app and VIRB® Edit desktop software let you edit, stabilise, share and add data overlays or stitch RAW footage4
Constantly record for more than 1 hour on 1 charge
So which of the best GoPro alternatives will you be trying out? Let me know in the comments!!
---
If you on a bigger trip exploring more of Europe check out my guides to France, Germany, Greece, Iceland, Italy, Portugal, Spain and United Kingdom.
My Travel Tips and Recommendations
Flights
To book flights, I always use flight search engine Skyscanner, I regularly use the Everywhere tool to find the cheapest places to travel. It's how I get to travel so much all around the world. I find it the easiest way to compare flight prices across airlines and get the best deals.
Accommodation
For accommodation, I usually book most of my hotels or hostels through Booking.com. I love using this platform as it provides me with some amazing deals for accommodation all around the world. Or if you prefer, I also recommend using Airbnb. If you haven't signed up with Airbnb already, you can use this link to get £25 off your first visit!
Travel Insurance
Picking travel insurance that covers you in all eventualities is an essential part of planning a trip for every single person. If you can't afford travel insurance, you can't afford to travel. You never know what's around the corner.
Did you know I also vlog my trips? Make sure you subscribe to my YouTube channel so you get alerted when all my travel videos go live… CHECK THEM OUT HERE
Thank you for reading and as always happy adventuring! If you have any questions about the destination please leave these in the comments below.
If you've enjoyed this post, please share it for me with all your friends and family!
Sophie X