On my tour of Northern Ireland last month, we went on an amazing Belfast Food Tour with Taste & Tour. On our third day in Northern Ireland, we wanted to get to know Irish food better, and we jumped on a tour with the amazing Olivia at Taste & Tour.
Taste and Tour is a series of multi-award-winning Belfast food tour with a 5-star Tourism NI rating. With the signature Belfast Food Tour, Gin Jaunt and Belfast Bites Tour, amongst others, they've made it their business to lead guests to Belfast's brightest and best flavours. The local guides will lead the cheer, helping guests discover the people, the history and the top tastes in the city.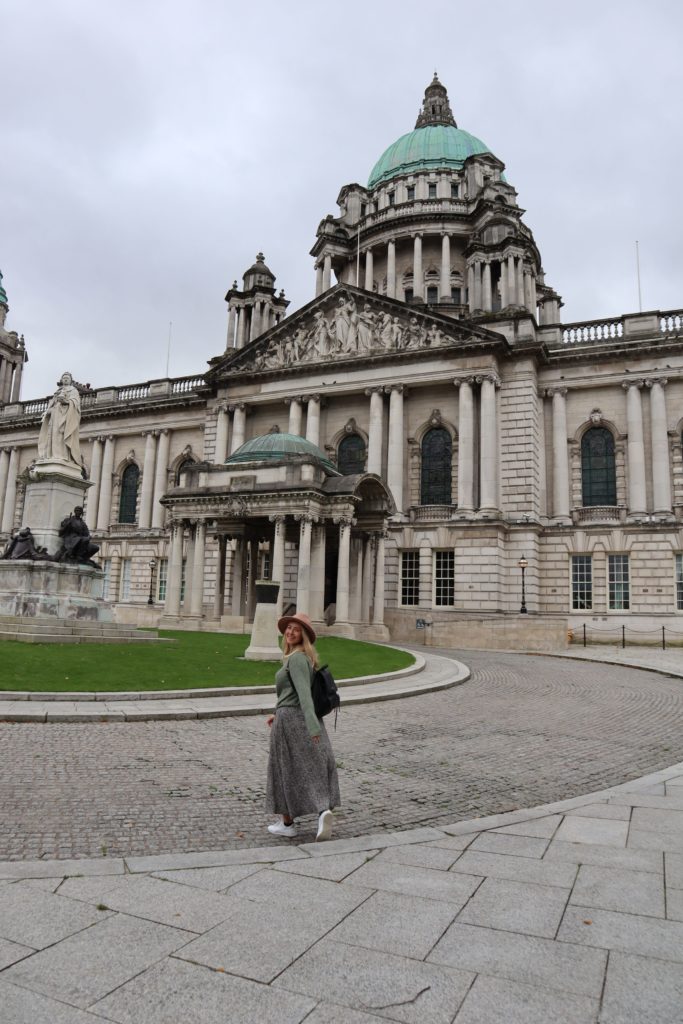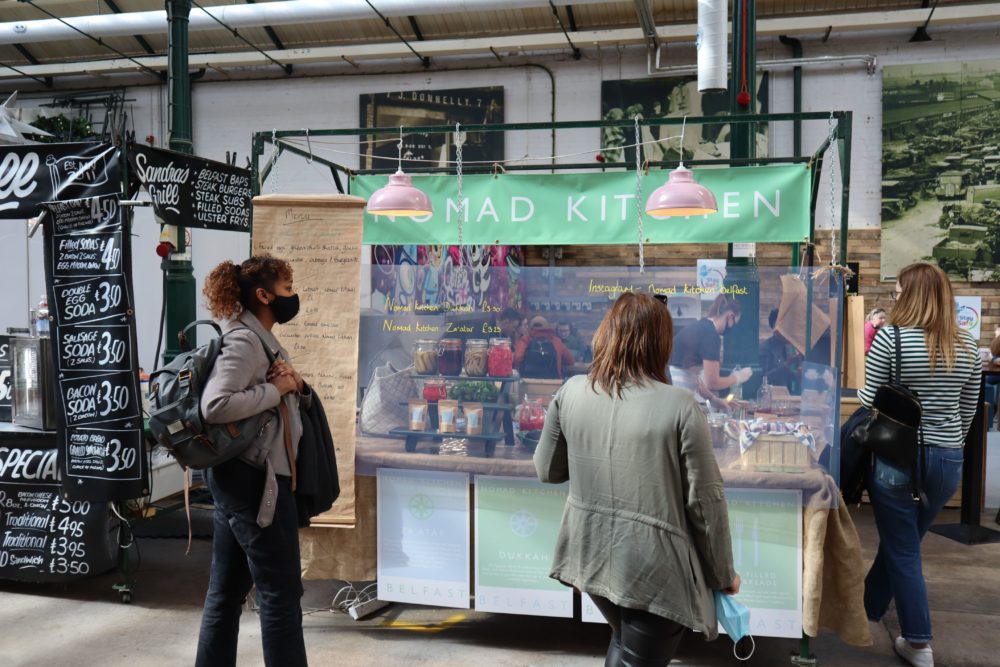 First stop of the Belfast food tour was a visit to St George's Market. It is the historical hub of Northern Irish food and one of the last surviving food markets in the UK. The tour would have usually visited a baker, butcher etc 'gathering' ingredients for an Ulster Fry and hearing their stories, as well as an Armagh Apple stall etc but they had not yet returned to the market due to COVID restrictions.
Then we went to the oldest independent coffee roaster in Ireland, one of the newest stalls in the market, Nomad Kitchen to show the old and the new and how well they work together in this environment. Another stop in the market was at Tom and Ollie's to see again the wealth of local and more 'modern' ingredients and produce to be found in, what is usually seen, as a traditional market selling fruit and veg.
And what we found was that, even local Irish come on these tours, with people from Belfast, Dublin and Sligo on our Saturday morning Belfast food tour. The locals on tours, who maybe haven't been to the market in a while, or indeed or have usually are amazed by the things they find on tour and go back the next week to get them!
Our next stop was at The Garrick Bar, another institution. It's where locals go-to drink. Whereas many paint themselves as a traditional bar, the Garrick really is. Sessions happen at the weekend, their food and staff are lovely and all in all, it's where the locals all go when they want a drink in a pub.
They are massive supporters of local beers, ciders and spirits and we loved the MacIvors Dry Cider as it's a great 'breakfast' drink), we also tasted Irish Champ and the traditional pub sets the backdrop to this stop.
Moving swiftly on, we headed to Cocouture. The story behind Cocouture, and owner Deirdre, gives a little insight into an artisan product and her passion for it. The hot chocolate is addictive and it's the spot that most people are surprised and delighted by, as they will have passed it for years and never known it's there.
It's hidden down a few steps into a basement where there are a shop and small cafe. A lot of guests return and, well, as drinking chocolate has such a link to Northern Ireland, it has to be done!
A short walk onwards and we stop outside Sawers. If you can't find it in Sawers, you won't find it anywhere… that used to be the slogan for Sawers and again, just the spelling of the name is a surprise for the locals who visit as we all call it Sawyers! It's a riot of produce, local and international, Kieran has been there since he was 15 and it's lovely to hear his story as well as that of the shop.
The brother's Sawers (their relatives still visit yearly) brought tiles to the food industry. And every time you go in, you can always find something different. I was tempted to pick up some bits, but knowing how short on space I was in my suitcase I held back!! Next time!!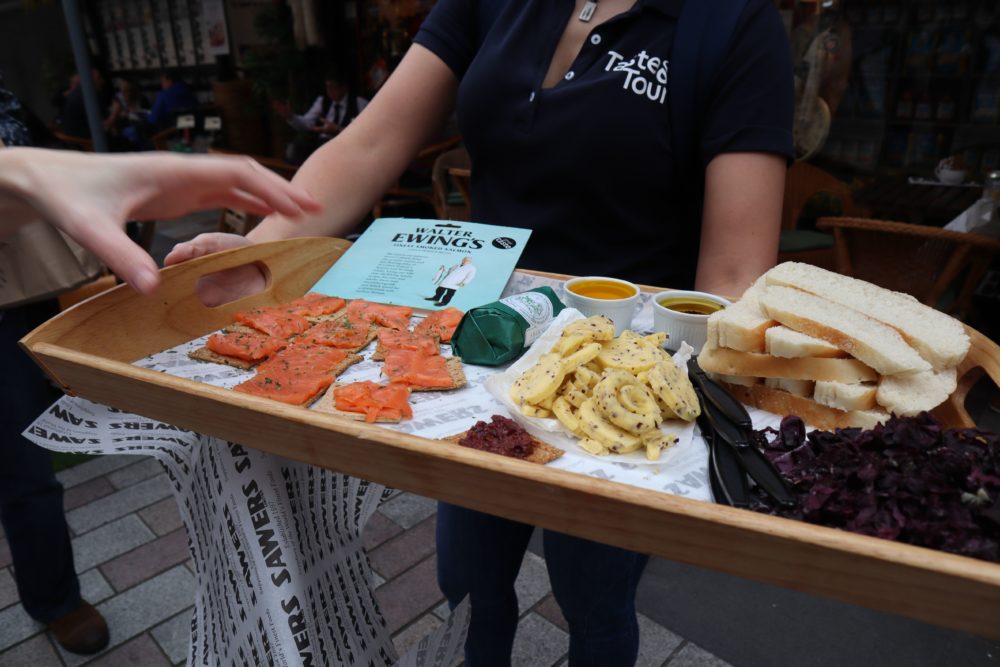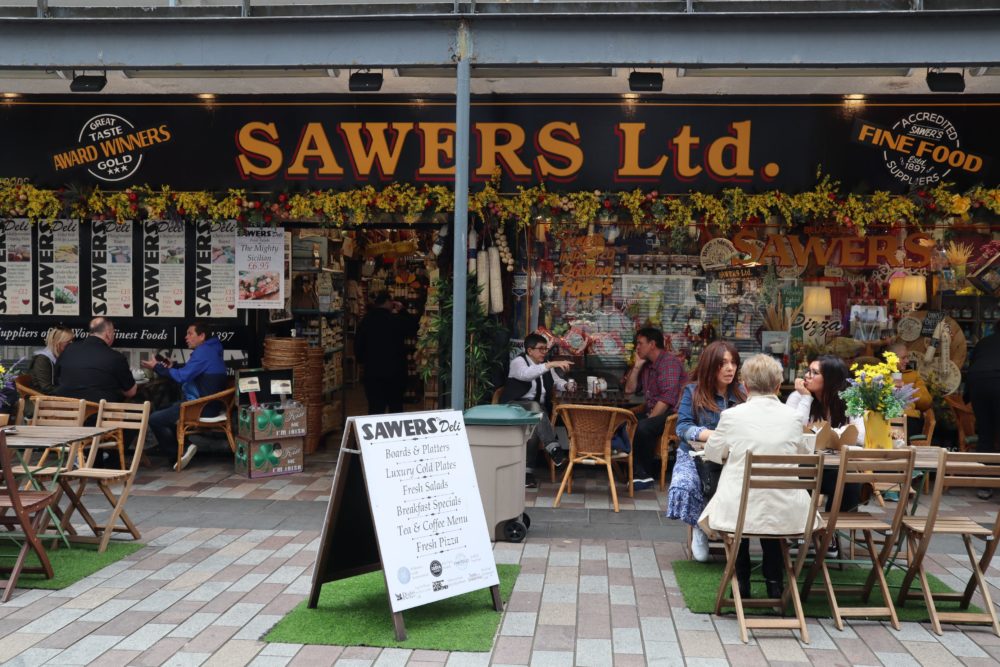 The penultimate stop on the Belfast food tour is Italian restaurant Coppi. The place burst onto the scene 6 years ago and is the go-to for dinner and cocktails night. It's the ideal place for sharing which is a lovely thing to do with friends. The vibe of Coppi is a mix of the old to the new and a little bit of fizz usually relaxes everyone! Coppi uses a lot of local meats, fish, vegetables etc and all their pasta is handmade.
And last but not least, our final stop of the Belfast food tour was at Babel, the newest addition to the post-COVID tour. We headed here for a drink of Ireland's famous gin, Jawbox. It's got the outside areas which will be ever more popular. It was the perfect way to finish our Belfast food tour, looking over to the Holywood Hills whilst sipping on your Jawbox Gin and some chips in a box!
We had such a wonderful time on the Belfast food tour with Taste & Tour and I can't wait to come back again another time and do one of their other tours!!!
---
If you on a bigger trip exploring more of Europe check out my guides to France, Germany, Greece, Iceland, Italy, Portugal, Spain and United Kingdom.
My Travel Tips and Recommendations
Flights
To book flights, I always use flight search engine Skyscanner, I regularly use the Everywhere tool to find the cheapest places to travel. It's how I get to travel so much all around the world. I find it the easiest way to compare flight prices across airlines and get the best deals.
Accommodation
For accommodation, I usually book most of my hotels or hostels through Booking.com. I love using this platform as it provides me with some amazing deals for accommodation all around the world. Or if you prefer, I also recommend using Airbnb. If you haven't signed up with Airbnb already, you can use this link to get £25 off your first visit!
Travel Insurance
Picking travel insurance that covers you in all eventualities is an essential part of planning a trip for every single person. If you can't afford travel insurance, you can't afford to travel. You never know what's around the corner.
Did you know I also vlog my trips? Make sure you subscribe to my YouTube channel so you get alerted when all my travel videos go live… CHECK THEM OUT HERE
Thank you for reading and as always happy adventuring! If you have any questions about the destination please leave these in the comments below.
If you've enjoyed this post, please share it for me with all your friends and family!
Sophie X