On my backpacking trip to Australia, I stayed in over 30+ of the best hostels in Australia. There are many options for your Australia accommodation when travelling to the country, and they suit every traveller's preferences and needs.
The standard of accommodation in Australia is high, with an array of luxury lodges, backpacking hostels, homestays, motels, bed and breakfasts, hotels and even back-to-nature camping.
The selection of accommodation in Australia is varied and diverse and when I visited the country a few years ago, I mostly stayed in hostels, due to my budget for the trip. We loved staying in some of the best hostels in Australia as it meant we could meet people every time we moved town or city.
This isn't so bad though, with Australia hostels offering some of the best hostels I've stayed in around the world. I stayed primarily with Nomad Hostels, Base Backpackers and Sir Cedrics, but there are other options too.
Best Hostels in Australia
Mission Beach Retreat
Mission Beach Retreat was amazing and somewhere I won't forget fast! I won't ramble on but I could talk about how great this hostel is all day, as it has to be one of the best hostels I have stayed in throughout this entire trip. It was fun, relaxing, and most importantly I felt at home. Which had been rare of the trip…
The hostel is part of the YHA franchise and even though it has the logos and branding of the YHA, the hostel is run independently by Georgina and Luke who are the loveliest people I've met in a long time. They run the hostel themselves and it is truly unique and personal to backpackers since it has come under their rule.
The hostel itself only has 30 beds available so this is the hostel is small. However this doesn't come across initially and once you realise you're never queuing to get to the sink or go to the toilet, it's quite a nice feeling that it is quiet and intimate.
Facilities-wise: they have a rather large kitchen with all the appliances and a microwave and small grill, a lounge area decorated with posters and paintings, a laundry room, a small PlayStation lounge, a reading room, a tour desk, a pool area outside the front with deck chairs and tables and they also have an array of activities and deals on throughout the week which they advertise on a chalkboard near reception.
We were in room 8 located near the reception in a nine-bed dorm, which we were sharing with three members of staff that work in the hostel. The room was massive and there was definitely enough room for all people, bags and extras.
The reason I found this hostel so lovely was simply down to how welcoming the staff were, they really made you feel like you were visiting their home and made you feel right at home. Georgina was lovely, offering us ideas for day trips and then advising us on any matters we were confused about. Luke also drove me to the supermarket when I needed food one evening which was a lovely gesture and the whole army of staff seemed like a small family which was fabulous!
Georgina even gave us some wine one evening which was lovely of her! Plus I do love wine! I absolutely loved staying here and I would 100% stay here again and would like to also thank Georgina and Luke for making our stay so enjoyable!
Tip: if you pre-book and travel on the Greyhound bus, they will come and pick you up from the nearest stop so you don't have to get a taxi.
Did you know that Mission Beach is one of the few places in Australia that you can do a beach landing after your skydive?? Hit up the guys at RatPack Travel for 10% off skydives using the promo code SOPHIE10! Contact Sammy at [email protected].
Base Backpackers Hostel Magnetic Island
Another of the best hostels in Australia includes Base Backpackers on Magnetic Island. If you want some class for your dollars this is the place for you. And a stay at Base Backpackers Hostel Magnetic Island was just what I needed after a busy few days travelling the East Coast of Australia. This place was incredible; we only had two nights and three days but I tell you now I could have stayed here for months. It was the most relaxing and chilled place I've stayed throughout my whole trip. From the minute I arrived, I was taken aback at how lovely this hostel was, and more importantly that it was a hostel at all!
It was basically like a complex, with units or chalets dotted around the area. Even the toilets, shower rooms and kitchen were all in separate buildings across the complex. The complex was like a small village with little walkways through the complex leading up to and around all the different types of chalets. The resort also sat directly on the beach so you could have a choice of a pool day or beach day, or both!
Check in was very easy and even though we hadn't pre-booked they found us a room in a girls' sanctuary for $33 a night. Of course, this was slightly more than a standard room but you get a towel, and toiletries included in that price. The room was lovely inside the chalet with six beds and storage facilities for your bags. You awoke in the morning to views across the bay and into the horizon which was absolutely magical.
The pool area was lovely and we spent a whole day lazing by the pool on one of our days off. We also had dinner one evening from the hostel kitchen and I had breakfast one morning. Both were reasonably priced and both were a real treat! Single-sex showers and toilets were situated in the middle of the resort. They were fairly clean but with the amount of guests using them all day, everyday, they did get dirty very quickly!
In addition, they had hammocks around the grounds so guests could chill out 24/7. I had breakfast one morning while sitting in a hammock and it was like being in heaven. In fact… I am writing this blog post sitting in a hammock! Imagine….
The only negative; the DIY kitchen wasn't the best, it was quite small and didn't have many appliances but I think most people buy dinner here, rather than cook their own meals, so I guess there is no need.
Overall, this hostel was incredible, and it was more like a resort hotel than a budget hostel. I was really impressed with this place and would have to say that it has been the best hostel I have stayed in so far. I would definitely come back here when I return to Australia! This is defo one of the best hostels in Australia.
1 Nelly Bay Road, Nelly Bay, Magnetic Island, Australia
YHA Sydney Harbour Bridge
If you are coming to Sydney you must stay at YHA Sydney Harbour Bridge! It is the only Sydney backpacker hostel in the city's historic harbourside precinct – The Rocks – and also where you can enjoy stunning views of Sydney Harbour, the Opera House and the Sydney Harbour Bridge.
The hostel is built above archaeological remnants of colonial Sydney and literally sits above the ruins. The hostel combines state-of-the-art facilities with a heritage experience for both adults and children alike. It's such an amazing atmosphere when you walk into the hostel ground floor and you are instantly surrounded by history!
You can also explore Sydney's history and walk to all the major sights whilst staying in the heart of the city, whether you want to hit the shops, jump on a cruise or have a drink at the Opera Bar.
They have a wide variety of rooms from multi-share dorms and double/twin accommodation, all with ensuites and many with Sydney Harbour and Sydney Opera House views. We were put in a four share room for the three nights we stayed and even though we didn't have a view, the room was really clean and the rooms were of a good size for four people. The added bonus of an ensuite was obviously nice too!
The only annoying thing was that it was a busy season and with that comes school groups. It was quite loud but more importantly, it meant we had to move room each night because there was a new group coming in the next day. It was frustrating packing up everything to move down the corridor but I guess it couldn't be helped!
They also have a large kitchen in the lower level near reception which includes four separate kitchenette style areas. This was something I really liked; it meant you could cook separately to other groups but there was still enough room to wander around and grab your food and make yourself at home. It was a novel idea and it really worked!
The lounge was also in the lower ground area and made for a good social and communal area for people to meet and chill out.
Overall, a really good hostel and amazing facilities! I have seen hotels less inviting and less clean than this place so I was really impressed. I wish we could have stayed here all week!
Address: Sydney Harbour YHA, 110 Cumberland Street, The Rocks, Sydney 2000


Nomads Airlie Beach
Nomads Airlie Beach, this hostel was more like a hotel resort than it was a hostel. It looked quite a small front the front, sitting out on the main road in Airlie Beach with a one-story reception area. The hostel is also close to Main Street and only a minutes walk from Woolworths, bars, clubs, shops, restaurants and the lagoon. So if you fancy a swim or a sunbathe it's only a minutes walk. We spent a few days wandering Main Street and also relaxing by the lagoon! It was lovely.
Once checked in at reception we were pleasantly surprised to see the hostel went further back through a tunnel into a large open area with chalets style units, a pool and a bar. The hostel is very much a resort-style layout, much like Base Magnetic Island hostel, I stayed in a few weeks ago.
The hostel had these cool unit style huts across the resort which seemed to all house around eight people per unit. We stayed in an eight bed dorm with its own private bathroom, toilet and shower room. The bathroom also had two showers which were good for eight people all wanting to shower at the same time.
Considering I assume this hostel is one of Nomads busiest hostels it was impeccably clean in the rooms and you could tell they clearly have staff who spend time making them decent for the next round of guests. I was really happy with how clean the rooms were and it was always nice to get back each day to a cleanroom.
Facilities on-site included 7 acres of tropical flora and fauna surrounding the resort with a swimming pool with hot tub and sunbathing area around the pool. And there was also a volleyball court, internet area, TV room, travel desk and a poolside bar known as The Shed.
At the back of the resort, there was also a kitchen for guests to use. This wasn't the cleanest I've seen but it was useable and we could make dinner easy enough. The only flaw was that you had to hire everything, from forks to pans, to bowls and teaspoons.
So if you didn't plan and hire the correct equipment from reception you had some problems. I realise this is so people don't steal the appliances but it was just annoying the night I wanted to make fajitas and realised I had only hired a cutlery set.
The hostel is also a licensed hostel with its own bar/pub Shed Bar located on the right as you enter into the resort. They have lots of deals on throughout the week and also show films off the big screen on Thursdays. It's a great addition to the hostel as it means you can grab a drink without leaving the hostel! This is also another of the best hostels in Australia.
Top tip: The travel desk has lots of amazing deals on for Whitsunday trips!
Nomads Westend Sydney
Nomads Westend is one of Sydney's best-located hostels as it sits right in the centre of the CBD and is only seconds walk from shops, bars, restaurants and amenities. Nomads Westend is 13 floors of fun, comfortable accommodation, a rocking 7 day / nightly party planner and so much more…
They accommodate all, from the legendary 32-bed dorm otherwise known as The Church, to the 4 to 6 shared mixed and female dorms. They promise to look after all of your sleeping needs…. If you fancy a little more privacy then they are here to help. They also have smaller rooms from doubles and twins if you need even more privacy.
However, if it's waiting for the shower you're worried about, don't be; all dorms have their own private bathrooms, linen is provided as is air conditioning in all rooms.
Nomads Westend are not just a hostel they also pride themselves on welcoming you to Sydney. So whether it is your first day or your last few (like ours) they are welcoming, friendly and informative. They will ensure you have an awesome time from beach days to Bondi, nights out partying with over 300 backpackers and discounts in selected bars;you really will never want to leave.
We were put in a four-bed ensuite bedroom on the 3rd floor which was lovely which hadall the amenities you could need. We were also lucky enough to enjoy the room to ourselves which was nice for us, as it meant we could really relax, start packing and get ready for our trip back home to the UK.
They also sorted a taxi to the airport for us, so it was one less worry and they were also on hand to give us some tips on what to do on our last few days in Sydney and Australia.
I found the staff very friendly and it was a lovely place to stay. It may not have been the newest carpets, beds or bathrooms; however the atmosphere, the location, the price, and the staff really made our stay extra special!
Address: 412 Pitt St, Sydney, Australia
The Arts Factory Lodge Byron Bay
In the 70's many hippies, a local and international artist's created the 'Arts Factory Village'! In the 80's it was an internationally recognized rock and roll venue and it was also the 'Birthplace' of much of the fame and spirit of Byron Bay. It was also where The Inbetweeners filmed their movie a few years ago and has been more popular ever since.
Amazingly as a backpackers hostel, it still maintains that original spirit today which is great and is what makes it such an amazing location to stay.
The Arts Factory Lodge was also the birthplace of the East Coast Blues and Roots Festival and is now home to a diverse range of businesses offering a unique selection of accommodation, food, entertainment, arts, health & well-being.
Located only 10 minutes walk from the beach they offer a wide range of budget accommodation for every type of traveller including Teepees, Island Retreats, Backpackers Dorms, Private Doubles & Twins and even Jungle Camping… The choices are endless!
There is also a free courtesy bus available for pick-up from the bus station, and they also run their own bus all night so you can go out on the town and still get home safe!
There are lots to do and see so make sure you enjoy all the facilities; laze by the pool, swing in the hammocks, play a musical instrument, get involved with the talent show and soak up the friendly atmosphere in the tropical haven for which The Arts Factory Lodge is universally famous.
It's a wonderful stay with a unique twist and no matter whether your the hippy type or not this place will leave a lasting impression on your heart.
Their Funky Workshops include Didgeridoo Making and lessons, Crystal healing, reiki and massage, African drumming and Yoga. Or if you want to go out head down to the beach and hang out in hip Byron Bay or relax on the spectacular beaches only ten minutes walk away from the hostel.
They also impressively have a recording studio on-site so if you are musically inclined, go and record your songs in paradise at their very own Recording Studio, Buzz Studio!
They are an integral part of the Arts Factory Village which incorporates the Byron Bay brewery and restaurant, formerly the Historic Buddha Bar, The Byron Lounge Cinema, The Buddha Gardens Day Spa and The Garden Burees – all which are located on the same site just across the car park! Don't miss this 'experience of a lifetime' at this Byron Bay hostel.
YHA Cairns Central
As soon as I landed in Cairns, there was no doubt where I would be staying during my week in Cairns. YHA Cairns Central is situated in the centre of town, a mere two-second walk from the main shopping centre and a ten-minute walk from the main area where all the shops, bars and restaurants are.
The hostel is set amongst a lush tropical garden in the centre of the town with an outdoor pool and two spa pools. As you enter there is a big reception area and staff members are on hand 24 hours a day! Check-in was really simple and I received my e-packs 15 night's card and also signed up to become a YHA member which will save me even more money on my trip down the East Coast.
The popular hostel is a great starting point for those wanting to set foot on the Great Barrier Reef, the Atherton Tablelands, Undara and Port Douglas. The hostel has an excellent travel tour shop where you can inquire and book your trips through the YHA reception. If you are a YHA member they can also give you discounts off trips and tours.
The hostel has dorms, twin, double and family rooms available for booking all with the key entry (which I love) and air-conditioning. We stayed in one of the Cairns YHA four-bed dorms which consisted of two bunk beds and an ENSUITE! Got to love an ensuite when staying in a hostel, means more privacy and less running to and from the bathroom at night!
Other facilities include the pool and spa pools (as I said above), a large kitchen with all the appliances you could need, a laundry room, outdoor games area, graffiti wall, indoor and outdoor dining areas, Internet cafe, a TV room, luggage storage and the YHA Travel office.
Overall the hostel really good, especially having such a big kitchen and I loved the pool area, which was really clean and well kept. The rooms were also really nice and the beds were really comfortable. We spent four nights here at Cairns Central and felt very comfortable and safe! Definitely could have stayed a week or two! It was chilled and a contender for the best hostels in Australia.
Cairns Central YHA , 20-26 McLeod Street, Cairns, 4870, Australia
YHA Railway Square, Sydney
After we had stayed in YHA Sydney Harbour, we decided to head to the other side of town to Sydney's most laid back backpacker hostel, Railway Square YHA.
The hostel adjoins Central Station and offers railway carriage rooms right in the heart of Sydney. You can stay in one of the funky railway carriages on the former Platform Zero or one of the comfy rooms in the historic 1904 main building, now converted into contemporary accommodation.
We were put into a four-bed multi-share room in the historic main building which was modern and clean and had everything you needed. The room, however, wasn't ensuite which meant trekking down the corridor in the middle of the night if I needed the toilet.
They did, however, have key card access everywhere which was good and did make you feel safer in and around the building. They also had their traditional clothes and product swap shops where you can leave old toiletries for other backpackers to use when you are finished.
The hostel also featured a spa pool, Internet/WiFi, 24-hour access, tour desk, indoor and outdoor communal areas, self-catering kitchen and they also had really friendly staff in reception.
The hostel is also walking distance to the best pubs in Sydney, Chinatown and Darling Harbour and as many restaurants as your belly can take. It really is a brilliant location to be in! And if that wasn't enough they also had lots going on both in the day and at night in and around the hostel so if you're travelling alone, there are always opportunities to meet people.
Overall, a brilliant stay and I would definitely stay here again. It had a lot of character and the atmosphere was brilliant!
Railway Square YHA hostel is within walking distance of most of Sydney's major attractions. Visit museums, get up close to stars, sharks or snakes at Darling Harbour's Madame Tussauds, Sea Life and Wild Life attractions.
You can walk down to the historic Rocks district, climb the Harbour Bridge, visit the Sydney Opera House and Botanic Gardens, then enjoy a cruise by harbour ferry, catamaran or jet boat. Shop and cafe/bar hop in the trendy inner-city suburb of Surry Hills, just behind Central Station. A super modern hostel and one of the best hostels in Australia.
Address: Railway Square YHA, 8-10 Lee Street, Sydney 2000



Nomads Noosa Backpackers Australia
This hostel is Noosa's Most Entertaining Backpackers' Hostel right in the heart of town. Having stayed in a variety of hostels in Australia I very much enjoyed my stay at Nomad's Noosa and was extremely impressed with the staff and facilities. Nomads Noosa Backpackers is a Hostel & Resort situated in the heart of Noosa Junction opposite shops, banks, restaurants, post office and cinema and it's only 800m to Noosa Main Beach and the famous National Park.
Backpackers can choose from newly renovated 8/12/16 dorm shared rooms all with en-suite bathrooms. The accommodation at our Nomads Noosa Backpackers is surrounded by lush tropical gardens with direct access to the resort pool and sand volleyball court.
It can be said backpackers will find everything they need at Nomad's Noosa as they enjoy the day sitting by the Resort swimming pool, join beach volleyball or killer pool competitions then it's party time at the World famous Kb's Bar & Restaurant, also known as Noosa's #1 Backpacker Party Bar, where you can enjoy a few quiet beers or dance the night away until late. The bar does seem to be open a long time through the night so there is noise pollution across the resort area but with some earplugs, it's sorted. out!
We were put in an eight-bed dorm which was big enough for all guests and bags and the beds were really comfortable. My only snag was that they were super duper creaky! So earplugs were needed as the smallest movement would wake you up. Other than that the bathrooms, showers and communal areas in the rooms were really clean.
The kitchen was the only downfall in my mind at this hostel; it was quite messy and even though you could see staff around cleaning constantly, it appeared that some backpackers were the culprits, simply making food and leaving all of their dishes and leftover food on the side. This attracts flies and obviously isn't good for the general well-being of a kitchen. I think some more notices need to go up or on the spot fines so backpackers are more inclined to clean up their dishes.
The staff are great and with FREE activities going on, on a daily basis, you cannot go wrong. I also had a Skype interview from back home whilst I was here and needed somewhere quiet to go and Chuck the deputy manager was good enough to let me use his office! Thank you, Chuck!
The hostel is a ten minutes walk from the beach (up a big hill both ways) and a very short walk into town so it is ideally located.
Base Brisbane Embassy
Located on Elizabeth Street just metres from the centre and all the amenities you could ever need, Base Backpacker Embassy Brisbane is the perfect stop for a weary traveller needing somewhere to stay whilst they see the bright lights of Brisbane.
Want Brisbane's most central hostel? Head to the Embassy. Base Brisbane Embassy that is. They're located right behind the Queen Street Mall with the Brisbane River 5 minutes walk away – and only short walks to the City Botanic Gardens (they are the closest budget accommodation to the Riverstage), South Bank Parklands and Kangaroo Point! The hostel is also a short walk across to the Central Station and the Roma Street Transit Centre.
And if you fancy doing something in the day they have some great deals combining accommodation, breakfasts and entry to Brisbane's major sites, like the XXX Brewery, Lone Pine Koala Sanctuary, Moreton Island tours and Australia Zoo. They also have regular daily activities for all guests to take advantage of from walking tours, movie nights and BBQ's on their rooftop balcony.
The facilities are good: with an outdoor balcony, guest kitchen, wifi access in all the rooms and their very own cinema room to watch the latest chick flicks! The kitchen has a lot of appliances and is well equipped but it was quite dreary and didn't welcome you in. However, I made dinner in there happily and then went on to the balcony to take in the view.
Staying at Base Brisbane Embassy also gives you access to facilities at their sister hostel just up the road at Base Brisbane Central, including the Job Club for those looking to earn some $$$; the Travel Desk to book those tours in and around Australia and beyond, and of course the world-famous Down Under Bar! Even though the hostel is quite central, noise isn't really a problem, and you are still an extremely close walk to different bars/restaurants and clubs dotted around the main streets.
The staff were very welcoming from the start, especially as I was checking in a little early but they let me leave my bag and use the kitchen to make lunch while I waited for my room to be ready. Luckily within ten minutes, my room was available and they let me check-in so this was great!
My room was a four-bed female sanctuary dorm room and it was clean and quiet at night. There was also a female-only bathroom on my floor which was good, and I assume it is cleaner than some of the others on the other floors.
Overall though a really good stay! Not the best hostel I've stayed in but it ticked all the boxes and in a city as big as Brisbane you get what you pay for. I would definitely recommend this hostel to a friend and would choose this one over the others.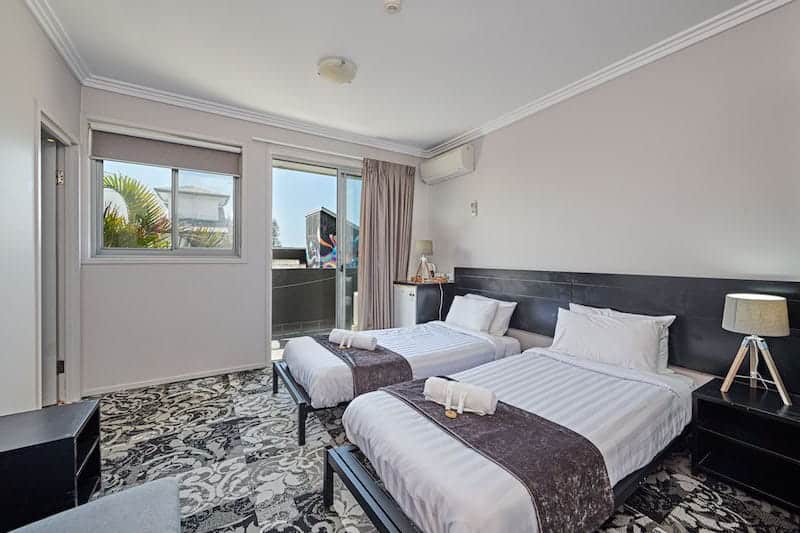 Nomads Byron Bay
Nomads Byron Bay is a purpose-built hostel in the centre of the uniquely magical Byron Bay, which boasts a fantastic central location being only a three minutes walk to the beach and smack bang in the shopping district.
Located on Lawson Lane behind the iconic Great Northern Hotel, Nomads Byron Bay offers a variety of accommodation options to suit all types of backpackers, travellers and budgets with lots of great facilities and a mass of events on throughout the week.
This has to be one of of the busiest hostels I've stayed in as it was buzzing with people in both the communal areas and the bedrooms. The weekend we arrived happened to coincide with 'schoolies' weekend which to anyone who doesn't know what that is, it is basically what we do in the UK when we go to Zante, Magaluf and Ayia Napa at the end of Year 13.
The reception area was really big and welcoming and we were checked in swiftly and smoothly. I was given my room number and went upstairs to check-in. Unfortunately, I was not happy with a few things and went downstairs to speak to Nicki, Reception Manager and Sam, the hostel manager, who very happily upgraded me to a different room. To my complete surprise, I was upgraded to a Superior King Room!
The Superior King Rooms feature ensuite bathrooms, fridge, tea & coffee making facilities and plasma TV screens. Oh, and they even treated me with the little shampoo and conditioner bottles on the bed which was a lovely touch. The room was incredible and I really didn't feel like I was in a hostel and more like a four-star hotel.
However, if you can't quite afford the rates for the Superior King Rooms, they also have a variety of private rooms, shared backpacker dorms and female-only dorms on offer across the hostel.
Budget-conscious travellers will love Nomads Byron Bay because of the quality of accommodation and the great value for money.
They've got everything covered so whether you want to relax in your room, chill out on the patio in a hammock, have a BBQ, sit in the hot tub or watch a movie in their cinema lounge. The facilities were great and even though it was really busy in the hostel, there was a lot of space to chill out and find some calm. (Facilities below)
A big thank you to Sam and Nicki for sorting me out after a few problems. They were very happy to make my experience better and it may my stay 100 times more enjoyable. A great hostel and considering the customer service, I would definitely here stay again, just maybe not on schoolies weekend.
YHA Brisbane City
Brisbane City YHA is located in Brisbane city and is only a ten or fifteen-minute walk from all the major attractions. The YHA hostel offers the budget backpacker good value and quality accommodation for budget-conscious travellers.
The hostel is also a three-time winner (and Hall of Fame) in the 2012 Queensland Tourism Awards for Best Backpacker Hostel in Queensland, Brisbane City YHA has everything a backpacker could want. It is a great hostel and you can tell it is very new and well presented. It is based in two buildings which is quite confusing at first especially at the room numbers don't match the floor levels. But after two or more times you manage to work it!
Facilities are great at this hostel! It offers an amazing rooftop pool which overlooks Brisbane's CBD and River, an onsite cafe, Wi-Fi, reading room, group accommodation facilities, kitchen, cinema room, TV room and a travel shop downstairs at reception. The hostel is very big and spacious but has quite a lot of space for guests to wander around or take a seat. The kitchen is lovely and big, and is extremely well equipped but it does get very busy at peak times but this is expected! There are also plenty of seats both inside and outside!
The rooftop area is nice with views over the city. The room was big and had two wardrobes, a small table and chairs but the bed/mattress was in need of replacement. Overall though a good enough hostel and we would stay there again.
I was put in a six-bed dorm room on the third floor of the other building. The rooms were really clean and comfortable, and bonus: the beds didn't squeak! The rooms also had storage lockers which were good, however, you did need your own padlock. They also had air con in each of the rooms is a nice touch as well. This YHA hostel is Brisbane's newest hostel and offers affordable accommodation with modern multi-share, twin, double and family rooms.
The YHA is located about 15 minutes walk away from Roma Street station where the Greyhound/Oz Experience bus drops you off. Location-wise it isn't the best as it is a bit of a walk from Roma Street station and the Queen Street Mall. But luckily there is a mall right on the opposite.
Overall the staff were very good and it was a very nice stay for the two nights i visited. I would recommend to anybody travelling Oz and staying in Brisbane to stay at this hostel. It is also aimed at not just the backpacker but also families and couples!
Address: Brisbane City YHA, 392 Upper Roma Street, Brisbane 4000
---
Sign up to AirBnB with this link and receive a £23 off your first booking.
To receive my articles and reviews straight to your inbox SUBSCRIBE HERE.
Did you know I also vlog my trips? Make sure you subscribe to my YouTube channel so you get alerted when all my travel videos goes live… CHECK THEM OUT HERE
Thank you for reading and as always happy adventuring!
If you've enjoyed this post, please share it for me with all your friends and family!
Sophie X