Tivoli Gardens is an amusement park and pleasure garden in Copenhagen, Denmark. The park opened on 15 August 1843 and is the third-oldest operating amusement park in the world, after Dyrehavsbakken in nearby Klampenborg, also in Denmark. One of my favourite winter destination is Copenhagen, Denmark and you can't visit without stopping by Tivoli Gardens for an afternoon.
With 4.6 million visitors in 2017, Tivoli is the second-most popular seasonal amusement park in the world after Europa-Park. Tivoli is the most-visited theme park in Scandinavia, and the fifth most-visited theme park in Europe, only behind Disneyland Park, Europa-Park, Walt Disney Studios Park and Efteling.
Top 10 Things do in Copenhagen
Tivoli Gardens
The Little Mermaid
Nyhavn Harbour and surrounding areas
Copenhagen Zoo
Rosenborg Castle
The Round Tower
Strøget
National Museum of Denmark
Copenhagen Zoo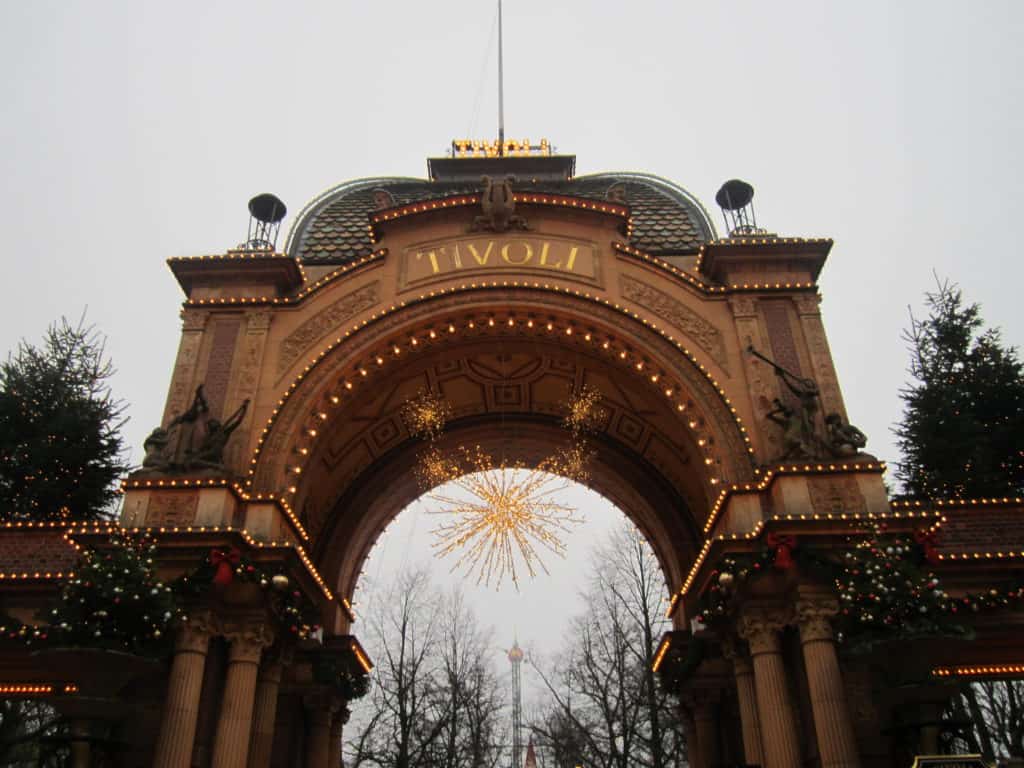 A Guide to Tivoli Gardens
HOW TO GET TO COPENHAGEN
You could drive…. it'd take you 15 h 12 min (837.9 mi) via France, Germany, Brussels and The Netherlands.
Or you could jump on a plane from London Luton, spend 90 minutes in the air and land in Copenhagen feeling rather refreshed. Most London airports fly direct to Copenhagen and you can fly there for as little as £19.99 with Ryan Air!
Denmark's main airport is Kastrup in Copenhagen, serviced by all major international airlines, but you can also fly to Billund, Aarhus, or Aalborg airports. And you do not need a visa as a UK citizen to visit Denmark.
A Guide to Tivoli Gardens
HOW TO GET AROUND COPENHAGEN
The best way to get around Copenhagen is on foot and by bike as Copenhagen is built for cycling and the city is also fairly small so walking is also possible.
Public transportation systems are also easy to use if you are heading outside the city and there is also an extensive bus route and an easy-to-navigate train network to its easy to take day trips from Copenhagen too.
A Guide to Tivoli Gardens
WHERE TO STAY IN COPENHAGEN
For me a hotel is incredibly important for any stay, as it acts as my home from home when I travel. I've been searching for where to stay in Copenhagen and this list is what I came up with. All of these hotels are traditionally Scandi, with their own unique personal style: from the trendy Absalon Hotel to the fairytale Nimb Hotel, these hotels all offer cosiness, authentic charm and style.
Absalon Hotel
I actually stayed here the last time I was in Copenhagen and this hotel certainly pulls out all of the stops when it comes to stylish Scandinavian design, set against a luxurious backdrop. Founded in 1938, this hotel has a huge historical relevance with Copenhagen's strong Danish story.
The hotel is located five minutes from Tivoli Gardens and sits perfectly within the meat-packing district! The hotel really stuns with its decor, with a stunning white exterior, and trendy lobby with hints towards it's industrial past.
The interiors are down to London designer Trisha Guild, who has meticulously matched the wallpaper to the armchairs, and the light fittings to the coffe tables. The rooms follow suit, with marble bathrooms and organic Karmameju products. Colour themes range from purple to teal, and stripes are everywhere from carpets to curtains.
A Guide to Tivoli Gardens
Copenhagen is a Christmas city, with it's cold temperature, love of everything Christmas and typical Danish way of life. After visiting this beautiful city last Christmas to explore the festive markets and Tivoli Gardens, I fell in head of heels for the city, with its love for the festive season and relaxed atmosphere across the city.
The best thing to do in Copenhagen this festive season and soak up the atmosphere is at one of Copenhagen's Christmas markets. Don't shoot me but Copenhagen at Christmas is very 'hygge'.
Christmas in Tivoli Gardens is a wonderful tradition amongst Copenhageners and without doubt the city's number one Christmas market, so much so that people from all over Europe come to visit. Santa Claus will be there to welcome you to the 27 fun rides and Christmas market with Christmas gifts, decorations, snacks, cookies, sweets and hot drinks.
The historic gardens will be full of decorated wooden houses, snow-covered trees, Santa's reindeer, Christmas lights, and the true Nordic Christmas atmosphere.
The park is best known for its wooden roller coaster, Rutschebanen, or as some people call it, Bjergbanen (The Mountain Coaster), built in 1914. It is one of the world's oldest wooden roller coasters that is still operating today. An operator controls the ride by braking down the hills so it won't gain too much speed. It is an ACE Coaster Classic.
Another roller coaster, The Demon (Dæmonen), features an Immelmann loop, a vertical loop, and a zero-G roll all during the ride time of just one minute and forty six seconds. An old roller coaster, The Snake (Slangen), was removed to have enough space for The Demon.
In 2017, Tivoli Gardens added an optional virtual reality experience to the ride, simulating a flight through ancient China, along with encounters with dragons and demons. The Demon is situated next to the concert hall.
The newest attraction is Fatamorgana, which opened in 2016. This is the world's first Condor 2GH, which offers two separate seating arrangements, one milder version with two-seater gondolas, and a thrilling version in which riders are slung around at high speed while seated in a ring and facing away from the center.
A Guide to Tivoli Gardens
Besides the rides, Tivoli Gardens also serve as a venue for various performing arts & as an active part of the cultural scene in Copenhagen.
Tivolis Koncertsal
Main article: Tivolis Koncertsal
Tivolis Koncertsal is a classical concert hall featuring concerts with some of the largest names in international classical music.
The Pantomime Theatre
Main article: Pantomimeteatret
The Pantomime Theatre is an open-air theatre designed by Vilhelm Dahlerup, also known for the design of the Royal Danish Theatre. It is a toy-like historicist built in Chinese style and noted for its mechanical front curtain that takes five men to operate and unfolds like a peacock's tail.
As indicated by the name, it is primarily a scene for pantomime theatre in the classical Italian commedia dell'arte tradition, which is performed daily with a live pit orchestra. Besides this original function, the theatre leads a second life as a venue for ballet and modern dance, performing works by choreographers such as August Bournonville, Dinna Bjørn, Louise Midjord and Paul James Rooney.
Tivoligarden
The Tivoli Youth Guard is a formation of boys and girls aged 8–16 dressed in uniforms reminiscent of those of the Royal Danish Guard complete with bearskins. It was founded in 1844 and gives concerts, makes parades, stands guard at the garden's buildings and monuments at special occasions and represents the gardens at various events. It is composed of a Corps of drums, a military styled marching band and a honor guard platoon.
Rhythmical music
During the warmer summer months, Tivoli also features a live music series dubbed Fredagsrock (Friday Rock), which in the past has featured Roxette, the Smashing Pumpkins, Sting, the Beach Boys, Pet Shop Boys, Kanye West, 5 Seconds of Summer and popular Danish groups such as TV-2, Nephew, Hanne Boel, Raveonettes and Thomas Helmig.
During Copenhagen Jazz Festival Tivoli Gardens is one of the many Copenhagen localities that serves as a venue for concerts.[10]
Open: 19 November – 31 December 2016
Address: Tivoli Gardens, Vesterbrogade 3, 1630 Copenhagen V.
Other posts that may help you:
Festive Things to do in London at Christmas in December
Ultimate Guide to one week in Bali Itinerary
Visit Lisbon: 9 Day Trips from Lisbon
How to spend 5 days in Switzerland Itinerary: Basel, Zurich and Lucerne
Ultimate Guide to Honeymoon in The Maldives
Berlin City Break: How to spend a Weekend in Berlin Germany
Sign up to AirBnB with this link and receive a £23 off your first booking.
To receive my articles and reviews straight to your inbox SUBSCRIBE HERE.
Did you know I also vlog my trips? Make sure you subscribe to my YouTube channel so you get alerted when all my travel videos goes live… CHECK THEM OUT HERE
Thank you for reading and as always happy adventuring! If you have any questions about the destination please leave these in the comments below.
If you've enjoyed this post, please share it for me with all your friends and family!
Sophie X