One of the top 5 things to do in Bali is to spend 7 days in The Gili Islands! The Gili Islands are made up of three separate islands, closely linked, including: Gili Trawangan, Gili Air and Gili Meno. All three of the islands are worth a visit during a trip to Bali, and I would recommend spending 7 days in the Gili Islands as a starting point, but longer if you decide to do scuba diving or your PADI certificate.
I've visited Gili T and Gili, and found them both super different, Gili T was the party island, whereas Gili M was like a paradise island. The islands are most famous for their sandy beaches, with palm trees, and their stunning coral reefs just offshore where you can swim with sea turtles at Turtle Point or go scuba diving inside a sunken ship at Wreck Point near Mentigi Beach. Scuba diving and free diving in and around the Gilis is popular due to the abundance of marine life with the most famous diving spots being Shark point, Manta point and Simon's reef.
Getting to the islands is easy, with boats leaving from Padang Bai on the mainland and it takes about two hours to reach the islands. I've visited Gili T and Gili, and found them both super different, Gili T was the party island, whereas Gili M was like a paradise island. Cars and motorised traffic is banned on the islands by local ordinance, so the preferred method of transportation is by foot and bicycle or the horse-drawn carriage called a cidomo.
When you're there why not head in to the water for some snorkelling, wander around the island talking to locals and try and find some wild sea turtles. While the three islands all have things in common they are each very different. Here is all you need to know about a weekend on the tropical island paradises of the Gili Islands….
7 days in The Gili Islands
Where are The Gili Islands
The Islands are located in the Lombok Strait, to the immediate northwest of Lombok. They extend outward from a tiny peninsula called Sire near to the village of Tanjung on Lombok. Bali lies about 35 km to the west of Gili Trawangan, the islands' most westerly member. Both Bali and Lombok are easily visible from the Gilis in clear weather. Mount Rinjani, Indonesia's second highest volcano, is close by on neighbouring Lombok, and dominates the views towards the east.
7 days in The Gili Islands
Gili Trawangan
The largest Gili Island is the world famous, Gili Trawangan. It is the largest due to the fact it's risen the most out of the sea and is 3km long and 2km wide, with a small population of 1,500 people, though this changes during the tourist seasons based on popularity.
This island is the most developed, and most tourists visit this island, as opposed to the other two. It also has a lot more going on, including restaurants, clubs, beach bars and cafes. The scuba diving business is also popular here on the east side of the island. Gili T is also famous for partying – so if you love a party this is the island for you.
FUN FACT: The island was named Trawangan from the Indonesian word Terowongan (Tunnel) due to the presence of a cave tunnel built there during Japanese occupation in World War 2.
Gili Meno
This is my favourite island, Gili Meno. We spent a gorgeous 2 days in isolation here and I loved how small and quiet the island was. Situated in between Gili T and Gili Air, it is the epitome of chilled out and has a population of only 500 people.
The island does have some accommodation options, but they aren't as varied as Gili T, due to its size. Often, honeymooners and couples are drawn to the crystal clear water and intimate and secluded white beaches.
Gili Meno has swimming beaches all around the island, and a turtle sanctuary where you can find out all about turtles, their habitat and what the island is doing to save the turtles.
Gili Air
And if you are after the perfect balance between isolation and party-time, then Gili Air is the island for you. It is the perfect mix of the other two islands, not too crazy and still chilled enough that you feel relaxed. I spent 5 days here in 2009 and loved the atmosphere and vibe of Gili Air.
It's also popular with couples and honeymooners but you may also find groups of friends here taking a step back from a week partying on Gili T. It also has some of the best diving and snorkelling here, so it's no wonder it's a popular island.


7 days in The Gili Islands
Things to do in The Gili Islands
Enjoy the nightlife in Gili T
Relax on the beach with cocktail in Gili Meno
Take a snorkel day trip – you are guaranteed to see turtles!
Cycle round the islands – Gili T is the biggest and it only takes an hour to cycle round the full island
Go on a boat party from Gili T and dance to music all day long
Get your PADI certificate and go scuba diving in this amazing place.
Take an Indonesian cooking class and then eat your dishes!
Try SUP – stand up paddleboarding
Visit the Gili Trawangan Turtle Hatchery
7 days in The Gili Islands
Things to know before visiting The Gili Islands
Motorized travel of all type is outlawed within the Gili Islands. Be prepared to explore by bicycle, foot or a horse drawn carriage called a cidomo.
There are cash machines on the islands so don't worry about having to take loads of cash over from mainland
The sale of drugs should not deter families or seniors from visiting this lovely and interesting area of Indonesia.
Make sure you have enough sunscreen before you go to the islands because it is super expensive on the islands
Unlike Bali, the Gili's are part of Lombok and are predominantly Muslim, so you will hear the call to prayer 4 times a day
Do not be alarmed if you hear whispers of 'magic mushrooms' on the streets in the night from locals. It is common and almost every street vendor and shop sells weed and mushrooms
Be careful of cheap spirits and cocktails and bars! Buy branded alcohol and from reputable bars and restaurants


7 days in The Gili Islands
Gili Islands Accommodation
Each island has several small resorts, usually consisting of a collection of huts for tourists, a small pool and restaurant. Most local inhabitants live on Trawangan in a township stretching along its east side just inland. When I first visited The Gili Islands back in 2010 the islands were incredibly local-run, and there were only a handful of accommodation on The Gili Islands. These days though, there is lots of choice and you can find everything from budget hostels to five star luxury hotels.
Where to stay: I have stayed at many hotels in The Gili Islands, here are some of my favourites.
Gili T Accommodation
Gili T: The Trawangan Resort – Rates starting from $100USD per night.
Gili T: Gili Breeze Tropical Bungalows – Rates starting from $30USD per night.
Gili Meno Accommodation
Gili Meno: Fantastic Cottages – Rates starting from $15USD per night.
Gili Meno: Villa Mojo – Rates starting from $250USD per night.
Gili Air Accommodation
Gili Air: Grand Sunset Gili Air – Rates starting from $45USD per night.
Gili Air: Manta Dive Gili Air Resort – Rates starting from $45USD per night.
Gili Air: Scallywags Mango Motel – Rates starting from $20USD per night.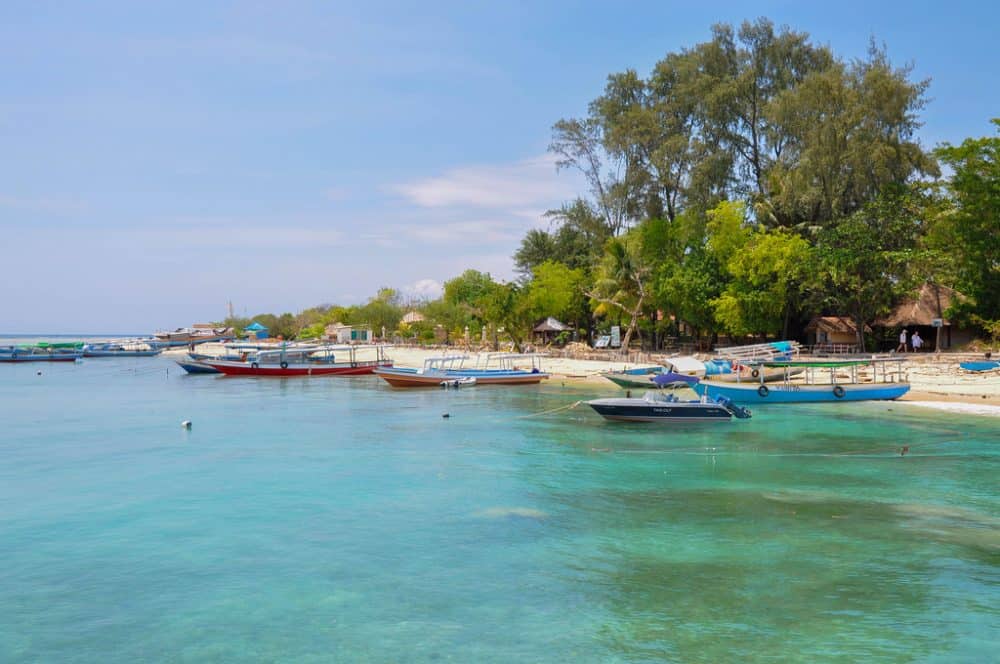 Other posts that may help you:
Ultimate Guide to one week in Bali Itinerary
A Guide to a Weekend in The Gili Islands
A Guide to Where to Stay in Bali
Gili Islands Accommodation: Backpacker Hostels to 5* Luxury
Thank you for reading and as always happy adventuring!
If you've enjoyed this post, please share it for me with all your friends and family!
Sophie X