Lake Bled is an increasingly popular tourist spot in central Europe – and for good reason! The incredible surroundings of the Julian Alps and its magically clear water make it one of Slovenia's most desirable destinations.
Lying just 55km (34 miles) from the Slovenian capital, Lake Bled is the ultimate spot for a day trip from Ljubljana. Lake Bled is a lake in the Julian Alps of the Upper Carniolan region of northwestern Slovenia, where it adjoins the town of Bled.
Bled is a small town, northwest of Slovenia's capital city, Ljubljana and there are lots of fun things to do in Lake Bled and around the town. The area is a tourist destination and is now famous around the world, for offering visitors some of the best lake-side views.
This post will help you get the most out of your day trip to Lake Bled. There are so many things to do in Lake Bled.
Before visiting Bled for the first time? Check out this travel guide so you know what to do there – read mine here!
How to get to Lake Bled Slovenia
The lake is 35 km from Ljubljana International Airport and 55 km from the capital city, Ljubljana. I travelled to Lake Bled by train from Ljubljana, and Lake Bled has two nearby train stations. The closest train station is 'Bled Jezero', whilst the larger 'Lesce Bled' is 4.2km away from the lake. It takes around 1 hour to get from Lake Bled on the train from Ljubljana.
There is a bus station in Bled town found at Cesta Svobode 4. The closest airport to Lake Bled is Ljubljana Airport (LJU) which is just over 30km away. Another option is to rent a car to explore Slovenia.
How to get around at Lake Bled Slovenia
You can walk or cycle around Lake Bled. The paved road around the lake is only 6km long, so it's a really easy hike for visitors to do on foot, whatever your fitness level. But if you want to get around a bit quicker, you could hire a bike from one of the bike hike companies in Bled.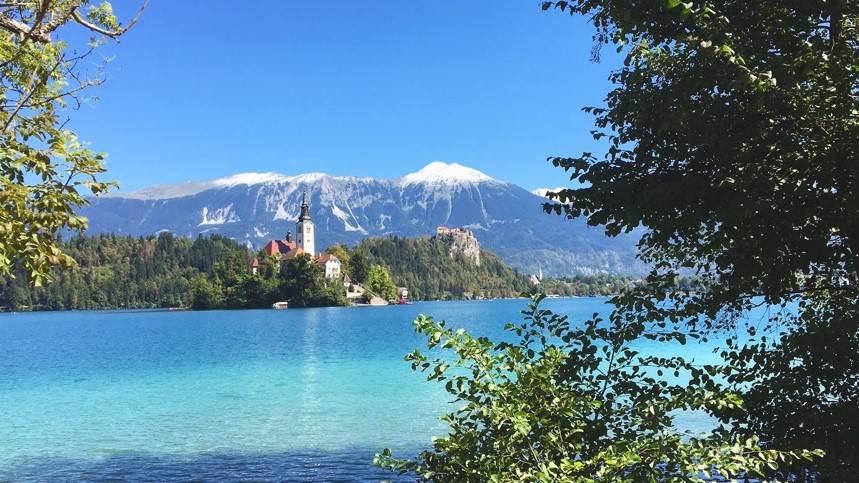 7 Things to do a Lake Bled Slovenia
1. Row a boat across the Lake to Visit Bled Island
If you fancy testing out your boating skills, or maybe recreating that iconic scene from 'The Notebook', then why not hire a rowing boat, and make your way over to the small island in the middle of Lake Bled?! The tiny island in the middle is home to the Church of Mary the Queen, which you can explore once you've navigated your rowing boat across the river!
It costs 6€ to visit the clock tower at the Church of Queen Mary, and there is a 99 step climb up to the top of the tower. The best places to hire boats are at Castle Boathouse, the Pension Pletna or Grand Hotel Toplice. Prices vary depending on time and the number of people. An amazing thing to do in Lake Bled.
2. Hike up Ojstrica Viewpoint
Another iconic thing to do in Lake Bled is hiking up Ojstrica Viewpoint. This spot offers you an incredible panoramic view over Lake Bled and its surrounding mountains. The climb up to this viewpoint is easy to moderate, so manageable for all abilities. To get to the trail walk in the direction of 'Camping Bled'. When you pass there, on the right-hand side there is a wooden sign that says "Ojstrica" and "Osojnica".
The climb will take around 20-40 minutes. Partway up you will come across a sign which separates the trail into "Ojstrica" and "Mala Osojinca". Keep on the path for Ojstrica – you aren't far away now! If you are up for more of a challenge, take the further 30-minute hike up to the upper Mala Osojinca.

3. Straža Bled Cable Car and Toboggan Run
In the winter months, Straža is a ski slope used for winter sports. But throughout the summer it's home to an amazing toboggan run. You can get to the top by either walking or taking the cable car.
I'd really recommend taking the cable car as this enables you to thoroughly enjoy the view as you get higher and higher. The combined ticket price for the toboggan and cable car is 9€.
When you reach the top of Straža there is an incredible photo opportunity looking out onto Lake Bled. It's deemed one of the most beautiful viewpoints in the area!
Although slightly terrifying at the time, I 100% recommend the toboggan run back down. The track spans a length of 520m, winding down the slope and with an average incline of 25.2% you can reach speeds of up to 40 km/h. It's so much fun, especially if you're a bit of an adrenaline junkie.
You get your photo taken halfway down the toboggan run, it's always going to be a funny snap! One of the best and most exciting things to do in Lake Bled.
4. Visit Bled Castle (Blejski Grad)
Dating back to 1011, Bled Castle is the oldest castle in Slovenia so is definitely worth checking out. The slightly challenging walk up to the castle takes around 20 minutes and brings you 130m above the lake.
There is a 13€ entry fee for adults or 8,50€ for students. They also offer group discounts. The ticket allows you entry to all of the castle buildings, including the wine cellar, forge, Knight's Hall, chapel, printing words and the well. There is also a museum located within the castle which 'celebrates the eventful history of Bled'. An iconic visit during your weekend at Lake Bled.

5. Swim in the Lake
Swimming is prohibited in some parts of the lake, but there are sections where tourists are actively encouraged to enjoy the refreshing, clear blue Lake Bled water! It's perfect for a cool dip on a hot summer's day. There are plenty of sunbathing spots in the surrounding 'beach' areas for you to dry off after.
Believe it or not, they even host a Winter Swimming Championships here every February!
6. Try Bled Cream Cake
If you are coming to Bled, one of the best things to do in Lake Bled is trying the Bled Cream Cake. The recipe for this delicious cake was first devised in 1953 by Istvan Lakacevic, the former hotel patisserie manager at the Lake Bled Park Hotel.
Since its creation 62 years ago the hotel has produced over 12 million cakes! The cake is made of whipped cream and custard, sandwiched between butter puff pastry and topped with icing sugar. You can still get the cake freshly made at the Park Hotel today. On average they sell up to 3,500 slices every day!
Bled cream cake is absolutely delicious and in my opinion, is best enjoyed with a coffee whilst overlooking the lake. Caffe Peglez'n has an amazing outdoor decking area so you can sit and admire the idyllic scenery whilst you enjoy this Slovenian delicacy.

7. Check out Vintgar Gorge
And last, but not least on my list of things to do in Lake Bled is visiting the Vintgar Gorge. 'Soteska Vintgar' is a 1.6km gorge through the Hom and Borst Hills, located around 4km north of Bled. It lies just inside Triglav National Park.
I took a train from 'Bled Jezreo' station to 'Pondhom' station, and then made a 20-minute walk to the gorge. This short walk took me through a very peaceful and remote village.
It costs 5€ to visit Vintgar Gorge (they offer discounts for students!). You'll want to spend about 2 hours exploring Vintgar Gorge, marvelling at the smaller waterfalls and picturesque views. The walkway takes you all the way through the gorge which is carved out by the Radvona River. This crystal-clear water can look the perfect shade of emerald green or aqua blue depending on the light.
At the end of the walkway, you come to a bridge which overlooks the mesmerising 15m high Sum waterfall (Slap Šum). Depending on how the sunlight is hitting the water, you may be able to see rainbows forming across the waterfall. What a beautiful place to visit!
Staying in Lake Bled for a few more days?
If one day at this beauty spot just isn't enough for you, there are plenty of accommodation options around Lake Bled to cater for any trip type. There are a variety of backpacker-friendly hostels or if you're feeling more adventurous there are a few different camping spots. Booking.com and Airbnb are also my go-to's for finding a variety of accommodation options.
The largest permanent Slovenian lake, Lake Bohinj, isn't too far away from Lake Bled. So, if you're sticking around make sure you check out this less touristy spot, hiding in Triglav National Park.
Did you enjoy this list of 7 things to do in Lake Bled? Let me know in the comments what your favourite things to do in Lake Bled are.
About the Author: Emma is the UK blogger behind The World by Emstagram. She specialises in writing about female, solo backpacking. She has experience solo backpacking Europe and Southeast Asia and shares her travel advice and destination guides on her blog. You can also find her on Instagram.
---
My Travel Tips and Recommendations
Flights
To book flights, I always use flight search engine, Skyscanner, I regularly use the Everywhere tool to find the cheapest places to travel. It's how I get to travel so much all around the world. I find it the easiest way to compare flight prices across airlines and get the best deals.
Accommodation
For accommodation, I usually book most of my hotels or hostels through Booking.com. I love using this platform as it provides me with some amazing deals for accommodation all around the world. Or if you prefer, I also recommend using Airbnb. If you haven't signed up with Airbnb already, you can use this link to get £25 off your first visit!
Photography and Technology
Here is a list of the technology I always travel with:
Travel Insurance
Picking travel insurance that covers you in all eventualities is an essential part of planning a trip for every single person. If you can't afford travel insurance, you can't afford to travel. You never know what's around the corner. World Nomads is an affordable option that I personally recommend. BOOK HERE
Sign up to AirBnB with this link and receive a £23 off your first booking.
To receive my articles and reviews straight to your inbox SUBSCRIBE HERE.
Did you know I also vlog my trips? Make sure you subscribe to my YouTube channel so you get alerted when all my travel videos goes live… CHECK THEM OUT HERE
Thank you for reading and as always happy adventuring! If you have any questions about the destination please leave these in the comments below.
If you've enjoyed this post, please share it for me with all your friends and family!
Sophie X