The festive period is when fashion really comes into its own, with so many events throughout November and December, it seems we need a whole new wardrobe! You've got Christmas shopping, work parties, cosy nights at the pub, Boxing Day chic and Christmas Day comfort. However, fear not, you can style existing items in your wardrobe with new festive pieces to pull together an array of outfits which will see you through till New Year.
TK Maxx set me a challenge to buy a dress for the Christmas period for only £50 so I bought a gorgeous leopard print dress and you can see how I styled it below….
CHRISTMAS SHOPPING
This outfit is all about simplicity and comfort as you run around the local shopping centre looking for a gifts o buy your friends and family. I've teamed a pair of Primark trousers, with a band tee, suit jacket and Vans Old Skool. And the hat is there to keep your hair in all the right places!
Jacket: Monki, Trousers: Primark, Top: Sports Direct (weird right!?), Shoes: Vans Old Skool
Location: Woburn Sands Village
CHRISTMAS PARTY
This was one of my favourite looks during this shoot with Kaye, it was very my style. A dress with a feminine touch, but the pattern screamed confident, and the trainers dressed it down. My Christmas parties are never formal, and everyone does a dress down Friday look. This outfit would be perfect for my Christmas party!
Location: Rushmere Country Park
CHRISTMAS DAY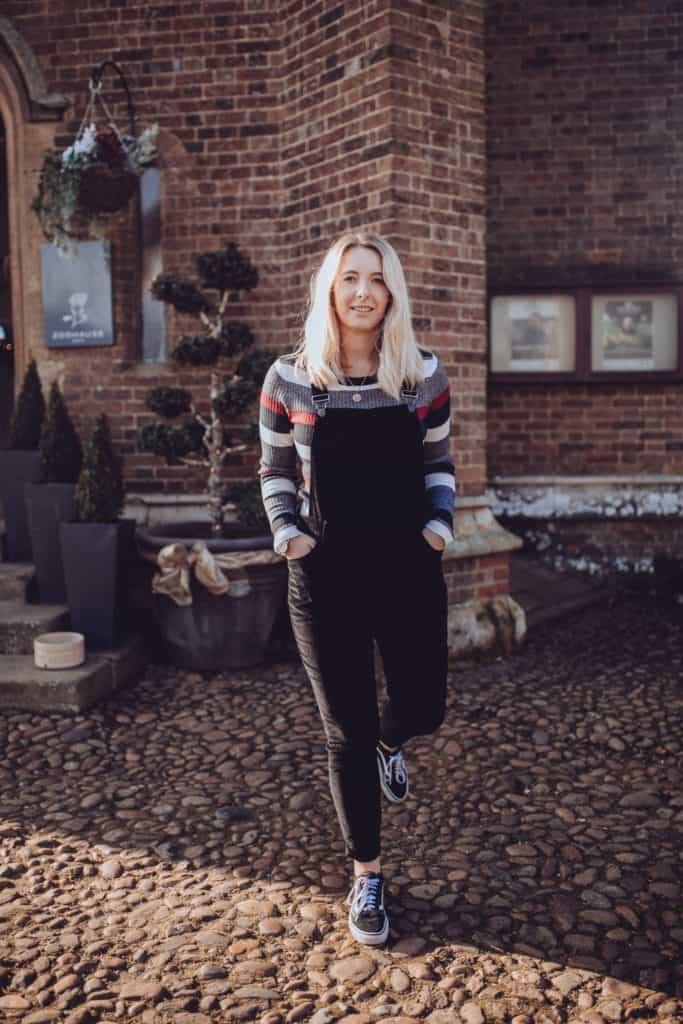 Christmas Day is all about comfort and dressing around the amount of food you will consume within the 48 hour period between Christmas Eve and Boxing Day. I love wearing dungarees in these situations as they can be dressed up or down, and also give you lots of room around the tummy region. Enjoy your christmas pudding!
Dungarees: ASOS, Jumper: New Look, Shoes: Vans Old Skool
Location: Aspley Guise
BOXING DAY
Usually on Christmas Day we get dressed up and head to our local pub for a few hours with our friends. I always go for a dress which feels festive, but can be comfortable too. I love this jumper and dress combo, paired with some low heel suede boots!
Location: Rushmere Country Park
NEW YEARS DAY
After a night celebrating the new year, New Years Day is usually a day that passes us by. However this year I will be in Jersey and me and Theo won't be drinking much, so on NYE's day we will be getting up early and heading for a walk on the beach, before we head to a local pub for lunch. This skirt, jumper combo is perfect as it is just the right level of comfortable, with a heeled boot for added sophistication!
Location: Stockgrove Country Park
*Thanks for Kaye Ford for photographing me!