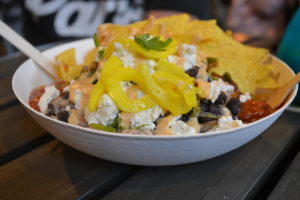 Amsterdam is one of those places where you can stumble across wonderful cafes and places to eat around every corner, and whilst wandering the streets of Amsterdam this summer I came across an array of wonderful places to eat. And I had to share them with you! 
The Pancake Bakery – Beloved by visitors, international students and locals alike, this cosy pancake house inside a 17th century warehouse on Prinsengracht is something of an Amsterdam institution – which explains the queues frequently seen snaking out of the door and along the canal. Visitors can tuck into a choice of more than 100 (huge) sweet and savoury pancakes, and help themselves from generous pots of syrup on the tables.
Food Hallen – Only a 20 minute cycle ride from the centre of Amsterdam is Food Hallen, an indoor food market, perfect if you are hungry but don't know what you fancy! There are lots of stands selling all sorts, including burritos, burgers, sushi, Thai and traditional Dutch food such as Bitterballen. There a great buzz inside with people dining socially, and drinking lots of beer and gin!
Brouwerij 't IJ – Brouwerij 't IJ is a small brewery in Amsterdam, located in a former bath house named Funen, next to the De Gooyer windmill. The brewery was opened by Kaspar Peterson, a former musician, in 1985 and was one of several small breweries that opened in cities around the Netherlands in response to consumers' dissatisfaction with beer brewed by the larger companies. It brews eight standard beers and three seasonal beers, besides limited edition beers. It is the place me and Theo go every time to grab a beer, and a slab of cheese and sausage.
Pluk – I was drawn to Pluk immediately when I saw the words 'raw' and 'healthy' due to my recent weight loss programme, of which I am not 6 weeks into. I didn't want my trips this summer to mean I took 10 steps back with my weight loss, therefore I opted for the healthiest food whilst I was away too. Pluk serves anything full of goodness with nutritious benefits, this includes sandwiches bursting with protein and leaves, or the odd acai bowl with banana and granola. And they also serve a large selection of healthier cakes, such as their divine raw carrot cake, and homemade banana bread. You can read my review here.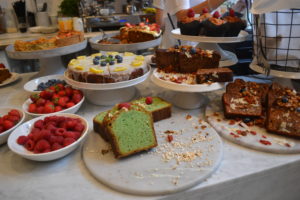 G's Really Nice Place – G's is an unapologetic brunch place with two locations in Amsterdam; G's Jordaan and G's East Amsterdam – as well as a popular brunchboat sailing every weekend. The menu features mainstays, as well as originals like the chicken waffle burger and eggs pedro (think jalapeno hollandaise).
You can read my guide to trying all the Dutch food whilst in Amsterdam here too.