Before I left the bright lights and shiny skyscrapers of Sydney Australia to embark on my regional work in the Northern territory everyone told me 'don't worry, you will have the best time of your life'. I was on the verge of one of the greatest adventures of my life in Australia.
I travelled about 32 hours by coach to a working beef cattle station in the desolate outback of the Northern Territory. Civilisation was about five hours away to Mount Isa in the eastern outback of Queensland and four hours west to Tennant Creek (neither of which are very civilised!)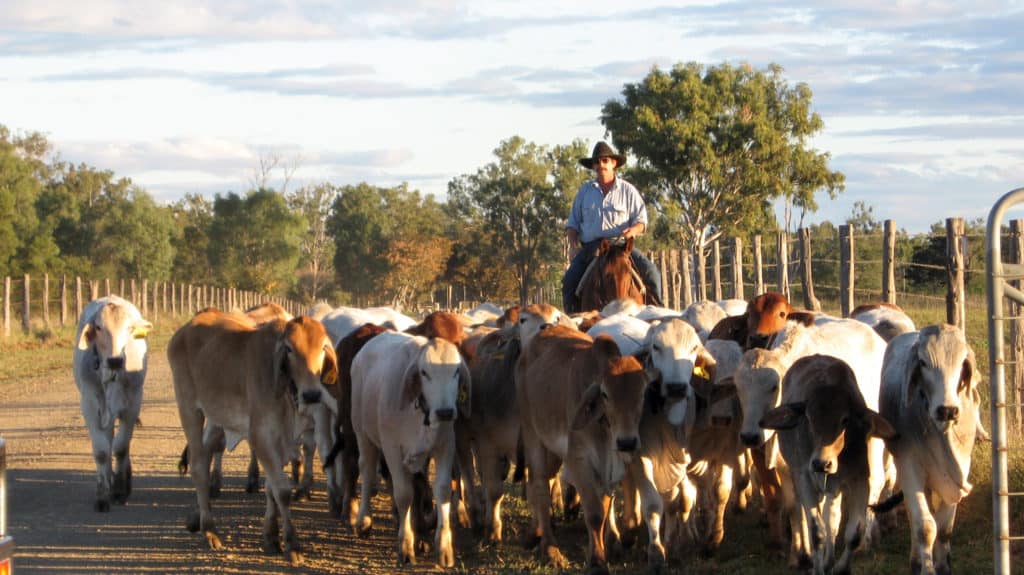 I didn't know much about my role or my new home when I arrived on the back of a ute in April 2014. I had come to work for three months as a camp cook, meaning that when the stock camps left the homestead (where all 50-ish station workers lived) and travelled out to distant paddocks of the property to muster and process cattle I would go with them to cook four meals a day and basically act as the jillaroo and jackaroo's adoptive mother… 'don't forget your lunch!'
I also got to help out in the yards and participate in a coupe of musters – which are astonishing. Two days spent rounding up 7,000 head of cattle with a helicopter, six horses and 4 motorbikes to then have to preg test each one (yes I did join in – one of my favourite 'what the hell am I doing?!' moments, up to my armpit in cow trying to feel for a calf inside her! Poor old girl.)
I went trucking on a couple of occasions in one of those massive MACK trucks with 1000 Weaners (young cattle who have just come off their mothers' milk) being taken to a set of yards I affectionately named 'weaner wonderland' as they were so fluffy and innocent. Little did they know the next day they were to be branded, dehorned and castrated all in one go – it seems the outback is not only a harsh place for the humans that work there…
Apart from the work it is the people who live on the station that made my stay truly unforgettable. As a Pom and even worse a backpacker, they viewed me with suspicion that first night I walked into the social club – sipping on their rum cans and munching on their beef jerky, I would be lying if I said I wasn't intimidated. But once they realise you are there to muck in, help out, work hard and can drink like a fish and give as good as you get (because believe me you get a lot of stick out there) you are absorbed completely as part of the community, protected fiercely and supported immensely.
Rodeos were a big highlight in the social calendar, where we dusted down our best rhinestone studded jeans, Acubra hats and pearls and travelled 100s of km to descend on a sleepy outback town, sleep in a swag under the stars and drink copious amount of Bundy rum. We would set up camp as a station and compete in camp drafting (weaving cattle on horse back around an obstacle course), horse racing, bull riding and bucking bronco competitions. Mixing with other stations, rodeos were very country and very fun!
Don't get me wrong, my five months on a 12,000 square km cattle station was an emotional rollercoaster – dirt, dust, 14-hour days, extreme heat, sleep deprivation, snakes, spiders, dingos and infamous Bundy rum hangovers –  it is not for the faint hearted, but I loved it! Life is simple – days are defined by the rise and setting of the sun, an evening jog scatters kangaroos left right and centre, farmers' tans are scorched onto your forearms, but that cold tinny you sip in the social club at the end of the day tastes so much better because it is hard earned.
I flew in light aircraft and helicopters used for mustering, I shot rifles, rode horses, nursed calves, slept under the stars and coped with non existent 'bush' toilets! Its one of the most beautiful landscapes I have experienced on this earth and I am proud of myself not just for surviving but thriving in its close-knit family – and it can't have been all that bad because I ended up staying two months longer then I planned. I miss that wide open space and all it holds, but remember it fondly.
A very wise old grader driver on the station once told me – "no fence around my horse, no fence around my heart," and I think that sums up the outback beautifully.
By Rachel French
Working on a cattle station is an awesome way to save some money before getting out and exploring again! Chat to the guys at RatPack Travel for help and advice planning your trip, they can get you 10% off all trips and transport using the code SOPHIE10! To book your tour contact Sammy at [email protected].