Last weekend we drove three and a half hours up the M1 to Richmond, North Yorks. We were staying at the wonderful Brompton Lakes,, Yorkshire, part of the Holiday at Home family. We went up there with our best friends Tom and Sophie to celebrate Theo's birthday in style.
After a chaotic festive period, we wanted a trip that would be a mix of adventure and relaxation and when we stumbled across Brompton Lakes we knew it was the perfect location with a hint of luxury, alongside a splash of wellbeing = my perfect trip!
Brompton Lakes is a collection of 5* lakeside holiday lodges with hot tubs in Richmond, North Yorkshire, where you will find everything you need for a weekend retreat away from the chaos of everyday life with family or friends.
You are greeted with a welcome hamper on arrival, and all cabins come fully equipped with all the kitchen utensils, crockery and glasses etc, bed linen and towels, logs for the log burning stoves, free wi-fi and even stylish wooden hot tubs in some of the properties.
We didn't manage to get one of the cabins with a hot tub, due to a last minute booking, however we did book in for some time in their Swedish style recreation area. The area has a large log burning wooden hot tub, a barrel sauna, a BBQ and seating area for up to 12 guests with plenty of room to relax.
Our route from Milton Keynes took just over four hours, with a quick stop off in Leeds on the way, for lunch and a drink, and to get Theo's birthday adventure started! By the time we had wandered around Leeds for a while, it was mid-afternoon and time to check in to our cabin.
We arrived at the cabin late afternoon, just before the sunset. Our cabin was wonderful, with three bedrooms, to sleep six, two bathrooms and a stunning open plan fronted living/dining room which looked across the lake. We had arrived to an inch of snow on the ground, but awoke on Saturday to much more snow and gorgeous views from the cabin.
We had a slow ascent from our beds, before putting on a birthday brunch for the birthday boy, with balloons and music. We had eggs, avo, spinach and toast, obviously, with a glass of prosecco and a cup of Yorkshire Tea! After we had stuffed our faces with avocado, we headed out for a walk in the fresh air to get active before relaxing in the afternoon. We wandered around the lake, taking in the fresh air, and having a nosy at the other 14 cabins dotted around the two lakes.
After we'd returned from our walk we headed out in the car for a surprise meal at one of Theo's favourite hotels, Rockliffe Hall. I had told him we were going to a local pub and instead managed to get him to drive by Rockliffe and surprise him with a birthday lunch! Theo was super happy with his birthday meal and they even thought him a happy birthday pudding!
Then in the afternoon we headed to the Hot Tub and Sauna Area as it was a lovely treat for Theo's birthday, and we stayed there through to the evening. We relaxed in our tub, drinking prosecco till the late hours of the evening chatting and laughing about life!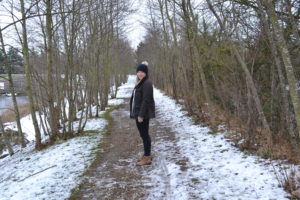 On the Sunday we headed off out in the car to the nearby town of Richmond for a beer and a walk around this quaint town. Richmond is often known as the jewel in the heart of North Yorkshire and the gateway to the Yorkshire Dales. Richmond is a beautiful Yorkshire Dales market town, with Norman castle, Georgian architecture, a large cobbled market place, with museums and monuments, the fast flowing river Swale and magnificent views and scenery.
The original Richmond, situated on the edge of the Yorkshire Dales National Park, is a town of breathtaking beauty, inspiring painters & poets, past & present and there's so much to do in Richmond too. Some things to do in the area include: Richmond Castle, Foxglove Covert, Easby Abbey and National Trust Hudswell Woods.
We had such a lovely weekend staying at the glorious Brompton Lakes and I can't wait to return again sometime soon, with family and friends. If you're looking for somewhere to escape for the weekend, this place has got it all..
*I was invited to stay at Brompton Lakes, but all views are my own, and honest!