If you are travelling to this incredible island, the top things to do in Sri Lanka is to climb Pidurangala Rock. It's one of my favourite things we did in Sri Lanka, climbing Pidurangala Rock, in Sigiriya.
While Sigiriya Rock is the most famous out of the two, offering tourists an experience that is rich in history, access to the lion's paw and the mirror wall, Pidurangala Rock for us, offered far more.
Hiking Pidurangala Rock was a more local experience, as we climbed early morning to get there for sunrise and we also visited the temple on the way up.
The Pidurangala hike is one of the best hikes I have ever done in my years of travelling the world, and I am so glad we added it to our list of things to do around Sigiriya Rock.
Check out the exact location on this Pidurangala Rock map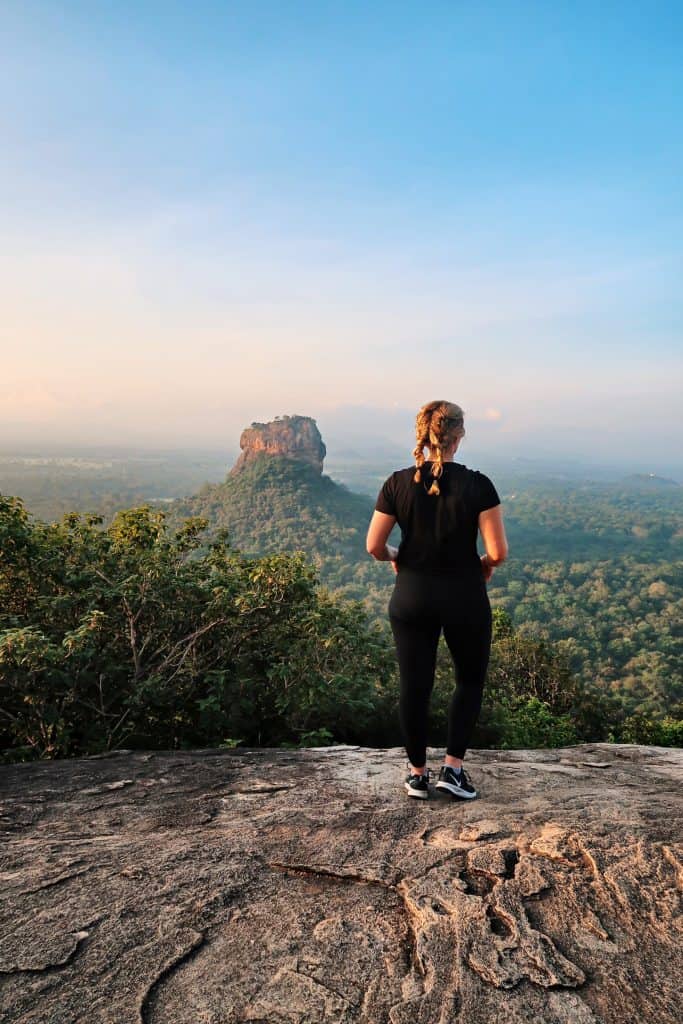 10 Things to do in Sri Lanka
Hiking Pidurangala Rock in Sigiriya Sri Lanka
Elephants in Sri Lanka at Minneriya National Park
Visit Nine Arch Bridge in Ella
Taking a train ride from Kandy to Ella
Hiking Riverston Matale and 'The Knuckles'
Sunrise at Mirissa Sri Lanka
Trek through a Tea Plantation in Nuwara Eliya
Explore Colombo
Climb Sigiriya Rock
Sunset at the Famous Rope swing in Dalawella
Paddling at the top of Diyaluma Falls
Hiking Little Adam's Peak
Temple of the Sacred Tooth Relic
Dambulla Royal Cave Temple and Golden Temple
Yala National Park
Looking for more Sri Lanka travel tips? CLICK HERE!
What is Pidurangala Rock?
Pidurangala Rock is a rock island in the middle of Sri Lanka, close to the iconic heritage site of Sigiriya.
Both Sigiriya Rock and Pidurangala Rock are volcanic hills rising out of the central plains of Sri Lanka.
Pidurangala Rock is not far from Sigiriya Rock and offers the best viewing spot of Sigiriya Rock.
We visited at sunrise and we experienced the most magical views I have ever seen as the sun rose in the background.
Pidurangala Rock is slightly smaller, so offers a great viewing platform of the entire area. You can see 360-degree views and see for miles and miles.
The history is Pidurangala Rock is complex, with a long past, including being turned in to a monastery in the 5th century, to becoming a fortress for King Kashyapa.
The king wanted to take Sigiriya from the monks for himself, so instead gave them Pidurangala Rock, which translated means "offered piles of gold". Of course, the monks obliged, and they built the temple that stands there today.
Today, the temple is quite run-down, but there is a giant reclining Buddha which you pass on the way up, and a stupa near the temple entrance.
Sigiriya to Pidurangala is only around 10 minutes from one to other so it is more than possible to do both after the other.
Things to know before hiking Pidurangala Rock
The hike takes about 30 minutes (longer depending on your fitness)
There is a 500 rupees entrance fee (approx. $3)
You MUST cover up shoulders, knees and remove shoes at the temple at the start of the trail
I would recommend Pidurangala Rock for sunrise and Sigiriya Rock for sunset
Pidurangala Rock opens at 5am and close at 6pm
It said it was an easy hike, but I would say it is more a medium difficulty hike
I would get up there at 5am to be one of the first at the top of the rock
Beware for the very top section as it's not suitable for those who can't climb on their hands and knees (it gets quite tough at the top)
How long does it take to climb Pidurangala Rock?
I would recommend hiking Pidurangala Rock for sunrise as the heat is more manageable at this time in the morning. The ticket office opens at 5am and closes at 6pm
Once you arrive at the foot of the rock, you will find a ticket office to the right and then steps in front of you. Head to the ticket office first, and this is also where you can borrow items to cover up as you must take your shoes off and cover legs and shoulders as you pass the temple.
From the ticket office to the top, the Pidurangala rock hike time is around 30 minutes, but this is, of course, dependant on how fit you are. It said it was an easy hike, but I would say it is more a medium difficulty hike.
Note: Beware for the very top section as it's not suitable for those who can't climb on their hands and knees (it gets quite tough at the top)
How much does it cost to climb Pidurangala Rock?
The Pidurangala rock entrance fee only costs a couple of $USD. It's much cheaper than the fee for Sigiriya Rock which is around $30.
However, don't worry too much as you don't need to choose between the two, you could climb Pidurangala Rock at sunrise and then head over to Sigiriya Rock for sunset.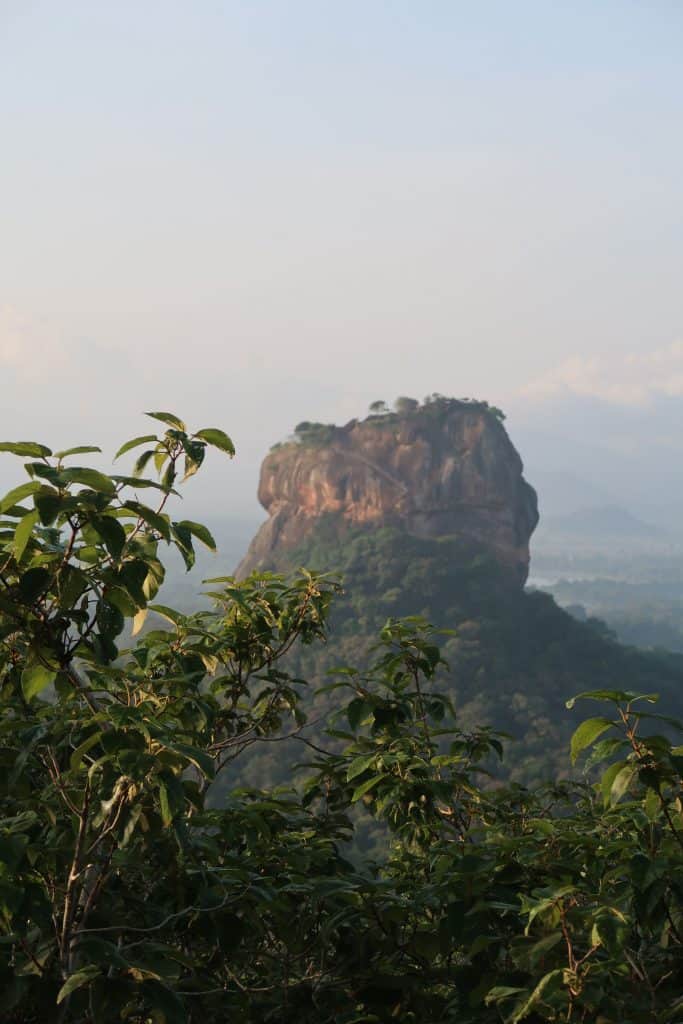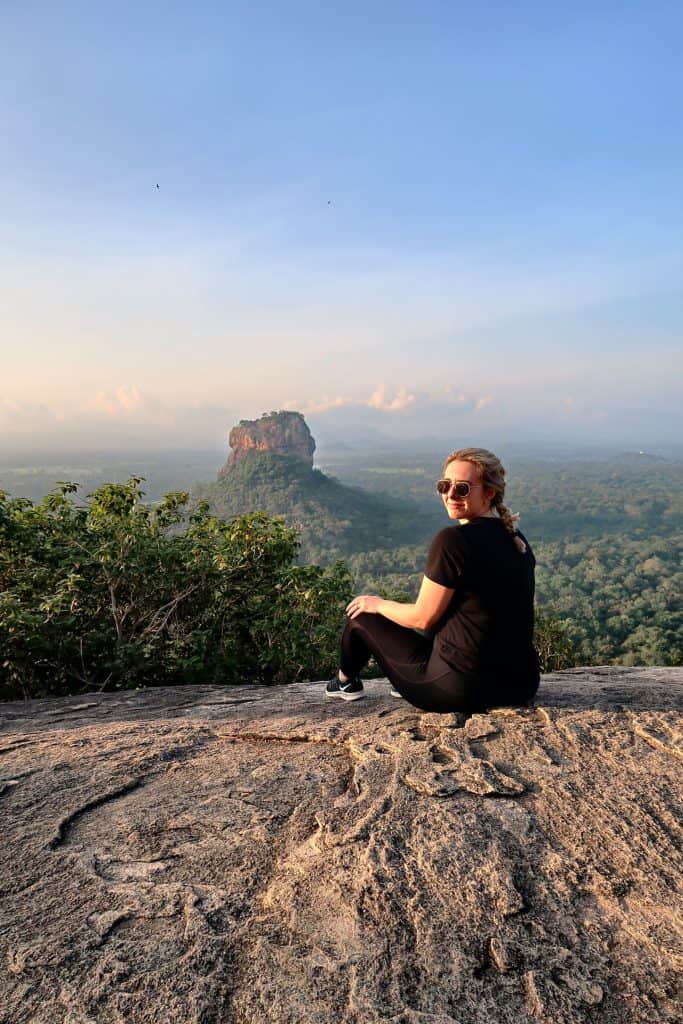 Should I go to Pidurangala Rock for sunrise or sunset?
I mentioned this briefly above, but I would recommend heading here for sunrise. If you are a keen photographer, or simply love the calm of the morning breeze, sunrise is your best bet.
But of course, it's popular and you may find lots of other travellers here at sunrise at Pidurangala Rock too. However, we are told sunset is busier – as many travellers don't want to get up before dawn (lazy!)
It is truly magical to climb Pidurangala Rock at dawn, to experience overlooking Sigiriya, and watching the sunrise over the surrounding landscapes.
The sun creates such a magical ambience, leaving spatters of light across the surrounding jungles, lakes and villages.
For those of you who aren't morning people, sunset is just as beautiful.
How to get to Pidurangala Rock?
I would recommend travelling to Sigiriya from Dambulla and staying within 20 minutes of Pidurangala Rock. Staying close means that when you decide whether you are going up for sunrise or sunset, you aren't coming from too far away.
From Dambulla you have two options:
Bus – you can jump on a bus from the Dambulla Main Bus Station to Sigiriya and the journey takes about an hour, running every 30 minutes. Costs less than $1.
Taxi – you can hire a taxi from your hotel to the rock and expect to pay around $5. We were 15 minutes from the rock, and it cost us $5. Of course, this differs depending on where your hotel is.
Tuk-tuk – you can grab a tuk-tuk in Dambulla for around LKR 1000 (approx. $6) and the journey will take around 30 minutes.
Should I climb Sigiriya Rock?
The answer to this is yes, but we also wanted to show an alternative option for discovering this magical rock. Sigiriya is, of course, a must-see on any Sri Lanka itinerary, and it is also referred to as the eighth wonder of the world.
Also known as Lion Rock, Sigiriya Rock is an ancient palace and fortress built in 480AD on top of a rock island 200 metres up into the sky. The fortress was abandoned years ago and has since been overrun by nature. Gardens, waterways and palaces are now at the mercy of the weather, but this makes this magical place even more stunning.
There's no question you should visit Sigiriya, but I would also recommend visiting Pidurangala for some of the most amazing views of this iconic rock. Also, if you are on a budget whilst in Sri Lanka, you can opt-out of the $30 to go up Sigiriya.
Where to stay for Pidurangala Rock
Hotels in Sigiriya Sri Lanka
Jetwing Lake – This hotel was incredible! The hotel is a little out of town, but it's worth it, with an incredible layout, iconic pool overlooking the lake, stunning bedrooms and a great selection of food in the restaurant. Me and Sandy loved staying here, we felt safe and looked after. Jetwing owns some of the best hotels in Sri Lanka and we got to stay at two of their hotels on our road trip in Sri Lanka!
Back of Beyond Pidurangala Rock – If you are after unique accommodation this place is your best bet. Only 10 minutes from the rock, this is treehouses!
Hotel Sigiriya – This is a very famous hotel in Sigiriya with a beautiful pool that has views of Sigiriya so whilst not cheap it's well worth the money. It's got a great location for easy access to both Pidurangala and Sigiriya.
Other options of where to stay in Sri Lanka
Tours of Sri Lanka
Explore tea plantations and rock fortresses on this 14-day tour, which is designed to please. This tour is about more than just beaches and stunning views; it's about the inspiring people you'll meet along the way. You will visit major cultural sights within Sri Lanka, including the most scenic train ride in the world from Kandy to Ella. All of the highlights, culture, access, and I-can't-believe-we-did-that moments, all at a great price. Includes expert guides, meals and transport.
Fancy a trip to the Maldives following your adventure in Sri Lanka? This is the tour for you! This 14-day combo trip brings together the best of Sri Lanka's cultural highlights and the once-in-a-lifetime opportunity to sail the islands of the Maldives aboard a dhoni boat. Experience a safari in Udawalawe National Park, discover cultural treasures of Negombo and Kandy, and then spend an entire week cruising from one tiny and perfect atoll island to another, snorkelling in crystal-clear waters and stretching out on blazing white-sand beaches. From culture to paradise, this tour's got it all.
---
My Travel Tips and Recommendations
Flights
To book flights, I always use flight search engine, Skyscanner, I regularly use the Everywhere tool to find the cheapest places to travel. It's how I get to travel so much all around the world. I find it the easiest way to compare flight prices across airlines and get the best deals.
Accommodation
For accommodation, I usually book most of my hotels or hostels through Booking.com. I love using this platform as it provides me with some amazing deals for accommodation all around the world. Or if you prefer, I also recommend using Airbnb. If you haven't signed up with Airbnb already, you can use this link to get £25 off your first visit!
Photography and Technology
Here is a list of the technology I always travel with:
Travel Insurance
Picking travel insurance that covers you in all eventualities is an essential part of planning a trip for every single person. If you can't afford travel insurance, you can't afford to travel. You never know what's around the corner. World Nomads is an affordable option that I personally recommend. BOOK HERE
Other posts that may help you:
15 Epic Things to do in Sri Lanka
50 Sri Lanka Photos to Inspire Your Next Trip
Elephants in Sri Lanka at Minneriya National Park
The World's Most Beautiful Train from Kandy to Ella
Hiking Riverston Matale and 'The Knuckles' in Sri Lanka
Pedro Tea Factory Tour in Nuwara Eliya Sri Lanka
Sign up to AirBnB with this link and receive a £23 off your first booking.
To receive my articles and reviews straight to your inbox SUBSCRIBE HERE.
Did you know I also vlog my trips? Make sure you subscribe to my YouTube channel so you get alerted when all my travel videos goes live… CHECK THEM OUT HERE
Thank you for reading and as always happy adventuring! If you have any questions about the destination please leave these in the comments below.
If you've enjoyed this post, please share it for me with all your friends and family!
Sophie X