Spring may now have been and gone but for those looking to venture to the Italian lakes next Spring, I have put together a post about what to pack on a trip to this wonderful city between February and May. Verona, in the Veneto region of north-east Italy, is one of Italy's most beautiful towns, famous for its summer opera season. The city has been a thriving city for decades, and today smart shops and cafes fill the attractive medieval lanes of the historic centre.
Verona is a popular day-trip from Lake Garda, and an appealing destination for weekend breaks or longer stays. There's a lot to see here, from Roman ruins to the so-called 'Juliet's balcony', and the town is also well-connected for exploring the surrounding area, including destinations like Lake Garda, Vicenza, Padua and Venice.
And today, the city is a Unesco World Heritage Site and buzzing city that comes alive even more so in the summer when the 2000-year-old arena hosts opera's biggest names. You can fly from most airports around the UK to Verona, with most airlines.
I flew with EasyJet from Birmingham International to Verona Airport which took only 2 hours, and cost me around £70 for a return flight! We loved visiting Verona when we did, in March, as the weather was sunny but not too hot or cold.
We took our coats, but ended up taking them off most days. The sunshine was out and it was generally lovely weather. I would go back again at this time of year, before it gets too hot in the summer months (up to 28 degrees). Read my full guide to Verona here.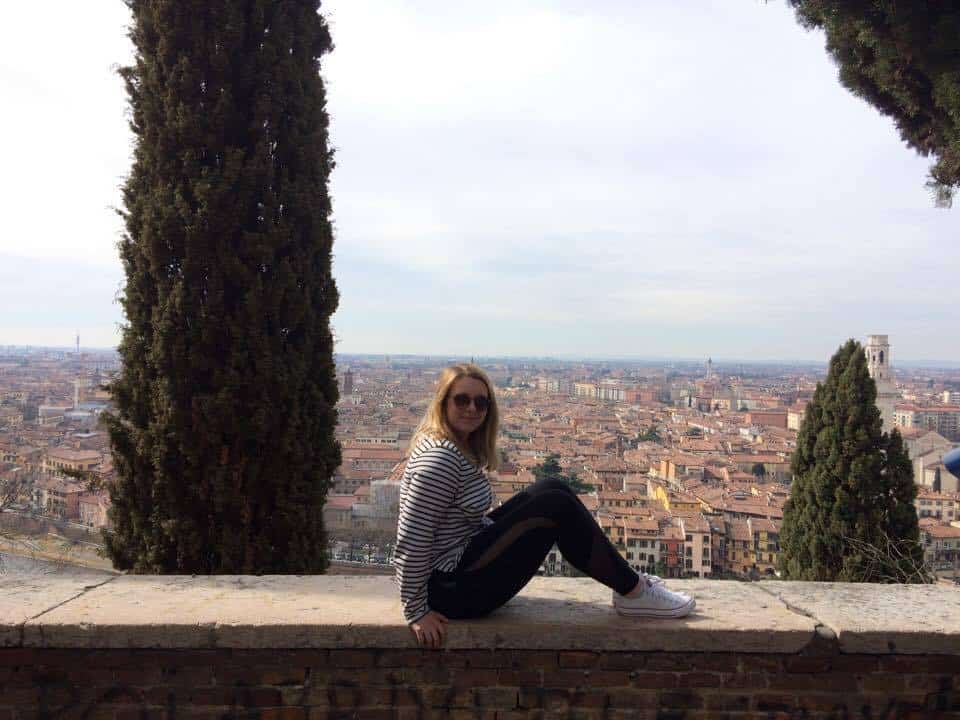 CLOTHING
I packed the usual spring attire, clothes that could be worn in an array of temperatures including dress, jeans and tops and smart evening wear, with my classic camel parka. I also packed my trusty Gap jeans which pretty much go with anything!
For this trip I took my H&M embroidered shirt, my favourite Pull & Bear denim jacket, Primark polka dot smock dress, Primark gingham smock dress, Joules stripey top and black Topshop jumper. I packed light weight clothes, and items that I could layer up in the evenings, or when the weather dropped. I also packed dresses as I could then wear tights in the evening and dresses in the day – we had one afternoon when the weather was beautiful and reached over 20 degrees!
I also then took my work out gear as I knew on one of the days we were going to be hiking up to Castel San Pietro, I packed my Fabletics black leggings and top.
Dresses x 3
Shirts x 2
T-Shirts x 2
Black jeans x 1
Blue ripped jeans x 1
Jumper x 2
Yoga pants + top x 1
Light weight jacket x 1
Underwear + bra x 7
Scarf x 1
Swimsuit x 1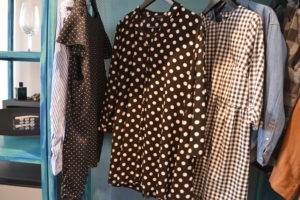 TOILETRIES
Toiletries are ridiculously expensive in Italy, so bring some of your favourites from home. Your load will lighten as you use more products throughout your trip. I always take the products I love with me as it makes me feel more at home, with my favourites being the Elizabeth Arden Eight Hour Cream, Paul Mitchell Awapuhi Sea Salt Spray and MAC Prep + Prime Fix.
These three core products are my go-to and ensure I have silky smooth skin, hair with volume and a base layer ready for my make up. I also take my Garnier Micellar Cleansing Water to removing dirt and grease from a long day of exploring, and if I have time will do a face mask in the evening in the hotel.
ghd Ruby Stylers
Paul Mitchell Awapuhi Sea Salt Spray
Paul Mitchell Awapuhi Finishing Spray
Rescue Remedy products
Garnier Micellar Cleansing Water
Make Up – mostly from The Body Shop, Primark and MAC
MAC Prep + Prime Fix
Shampoo and Conditioner
Sure Deodorant
100's of Dailies Contact Lenses
Toothbrush/Toothpaste
The Body Shop Tea Tree Mask
Nivea Scrub
Elizabeth Arden Eight Hour Cream
Sunscreen
Pro Teeth Whitening Powder
Hair brush (Tangle Teezer)
Hair bands
Mosquito spray
These ghd Ruby Sunset ghd stylers are the bees knees and ever since I got them, they've come on every trip. I got my first stylers when I was 16 for my birthday, and ever since they have been a staple product in my beauty bag. ghd's are the best product on the market, both for efficiency and styling capabilities. I love the new wanderlust collection ghd recently launched and couldn't not invest in these beautiful Ruby Sunset stylers. They are the ultimate summer travel essentials, ready to get you ready any place, any time.
These guys are my life essential, not just for this trip, but for every trip. I mentioned in a previous post about how I deal with nervous flying and I mentioned that Rescue Remedy products have helped me so much over the years. I always make sure I have my dropped tool, or the pastilles on me when flying, and the night liquid melts in case I struggle to sleep whilst I am away.
SHOES
Next up – shoes! Always an easy one for me as I always take my Converse with me on every single trip, no matter if it is a winter destination or a summer trip. Then it's important to take a pair of sandals, and for me it was these sturdy yet stylish Teva sandals, perfect for long days of walking around a city! And then for relaxing afternoons, going from cafe to cafe, I opted for these FatFace slips ons, which are the comfiest thing I have ever owned.
White Converse x 1
Tan Teva sandals x 1
FatFace slip ons x 1
What would you pack for a trip to Italy? Let me know in the comments!
Other posts that may help you:
The Ultimate Guide to the Christmas Markets in Copenhagen
Best Vegan Restaurants in Malmo
10 of the Best places to eat Brunch in London
The Best Weekend Trips in the UK
Log cabins with hot tubs in the UK
Thank you for reading and as always happy adventuring!
If you've enjoyed this post, please share it for me with all your friends and family!
Sophie X