Fraser Island Australia stretches over 123 kilometres in length and is known as the largest sand island in the world.
It is a place of exceptional beauty, with its long uninterrupted white beaches flanked by strikingly coloured sand cliffs, and over 100 freshwater lakes, some tea-coloured and others clear and blue all ringed by white sandy beaches.
And Fraser Island is apparently only placed in the world where rainforests are found growing on sand dunes at elevations of over 200 metres.
You can also drive down the sand beach at 80 miles an hour in 4×4 vehicles and as Fraser Island is strictly four-wheel-driving territory and Seventy-Five Mile Beach is an actual highway that runs up the surf side of the island.
Four-wheel-drives share the highway with Air Fraser planes making joy flights. The beaches are very nice and very expansive – but you can't really relax on them because you have coaches and 4×4′s zooming up and down them at high-speed every few minutes.
Fraser Island was one of the typical "traveller" bucket list locations we wanted to do whilst we were travelling down the East coast.
It was just somewhere we had to go! We went to see Fraser Island from Noosa on one of their three-day tours that head out there.
Our day started with a coach from Noosa and a ferry out to the Island, which takes about an hour and the weather was amazing for the days we were there which made the trip even better!
Heading to Fraser Island whilst exploring Australia? The guys at RatPack Travel can give you advice on the best way to see this amazing island like no other and even better, they can get you 10% off all Fraser Island tours using the promo code SOPHIE10! To book your tour contact Sammy at [email protected]
Day 1
Day 1 consisted of travelling from Noosa to Rainbow Beach where we picked up our 4×4 vehicle. We then travelled across to where the ferry docks and made our way through the 'soft sand' where of course two of the four vehicles in our group managed to get stuck! It was quite funny as we watched them attempt to get out, whilst obviously getting themselves even more stuck than they were original. Luckily our tour guide Kevin was a pro at getting vehicles stuck out of sand so revved his 4×4 and bolted them together. He very quickly and effortlessly managed to get both 4×4 vehicles out of the sand in a matter of seconds. Go Kev!
We then headed on over to inland Fraser Island and made our way over to Lake Mackenzie. The lake was literally in the middle of the island and even though only 12km from Eurong, it took us over an hour each way due to the dense sand and up hill struggles. The lake was so worth it though, it was absolutely beautiful and you felt like you were on a desert island! We spent around an hour here playing games in the group before we had to start heading back to Eurong, where we were staying for the two nights, before it got dark.
That night I became chef, and cooked a BBQ for the group of 24, which was lovely and I am proud to say: I didn't burn the sausages!
We then checked in to our rooms (note: a lot of the tours camp, in enclosed and non-enclosed areas on the island, whereas Nomads actually give you a four bed en-suite room for the night to share with your fellow travellers) and made ourselves at home! The bonus of being in a room and not a tent is that you can relax, shower, charge electrical items and make yourself feel slightly cleaner than if you were sleeping on the floor of the beach!
Day 2
Day 2 started early, with everyone being woke up at 7.30am so we could get started and head on over to Champagne Pools and Indian Head before lunch. We got back in to the 4×4's and headed out of Eurong up 70 mile beach to Champagne Pools. You really do forget quite how big Fraser Island is! It took us around an hour and a half to reach the Champagne Pools where we all jumped out and went for a quick swim. The pools were lovely, but you had to be careful as the waves were so big they could easily knock you over!
Then we went to Indian Head where the group took a stroll up to the top of the hill to get some amazing photos!
After Indian Head we headed on down to Cathedral Beach where we all contributed to making lunch! Lunch each day was either bread sandwiches or wraps with a selection of meats and salads. It was more than enough each day and we were always full ready to head on down the beach.
After lunch we then headed on over to the Maheno Shipwreck where we all jumped out to take photos of the wreckage along the beach. It was quite a sight to see and was unusual for a beach to have a ship of this size still allowed on a public beach. It was pretty cool seeing the ship and attempting to make out the stairs and the corridors of the ship.
After we went down to Eli Creek, a natural spring water creek which is so crystal clear you can start at one end and end at the beach. It is really clean and also has a natural current which you can lie in and relax as you travel down towards the shore. It was pretty cool and all the group loved chilling out in the creek!
We then headed back to Eurong where we had a massive meal of Spaghetti Bolognese before we all had a few drinks before bed!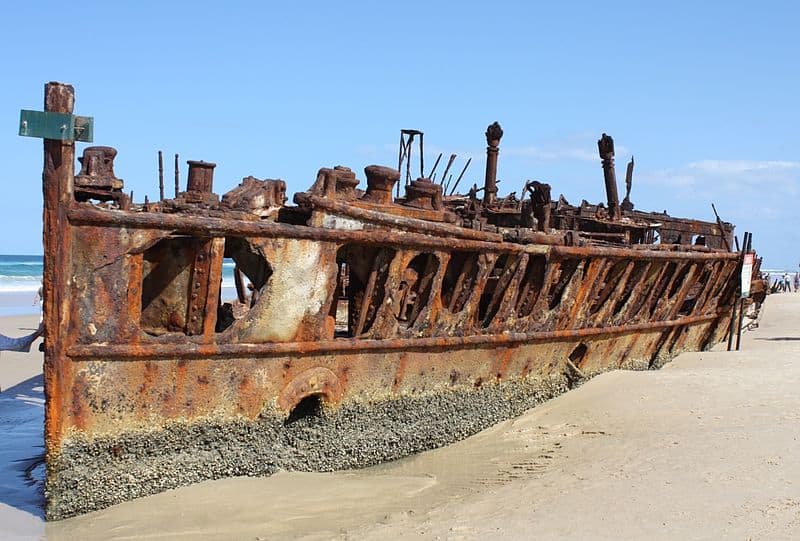 Day Three
Day three, we were up early again! But with only half a day on the island everyone was keen to get started! We drove off over to the entrance of Lake Wabby trail, where a 2.5km walk was in front of us in the 24 degree heat. I wasn't looking forward to it i'll tell you now…. However, as we were in a group and everyone was chatting it actually went quite quick. Some people didn't wear shoes though cos of the sand and then either hurt their feet or burnt the soles of their feet! Definitely take some walking shoes/trainers for this bit!
Then after 2.5km we arrived at Lake Wabby. It was situated in the middle of a sand dune and we were all happy to see water after the long walk. The lake was lovely and we all went for a swim. The only down side was that it was quite windy and therefore the sand was going EVERYWHERE! and then of course, we had the 2.5km walk back to the 4×4 vehicles.
After a long but exciting three days we then jumped back in the cars and headed back down 05 mile beach ready to jump back on the ferry back to Rainbow Beach! After a few hours we then arrived at Nomads Noosa (wahaay) and were delighted to hear there was a free finger food buffet awaiting us with some drinks deals on at the bar!
The trip was incredible and the highlight for me and Katie was being thrown around in the back of the 4×4 vehicle we had travelled over to the island in as the driver really put his foot on the peddles and we were thrown about the car as we all giggled incessantly. It was definitely an experience we won't forget!
Our three day tour showed us around Maheno Shipwreck, Eurong, Lake Wabby, Champagne Pools, India Head, Lake Mackenzie, Eli Creek and the 75 mile beach.
Thank you Nomads and Nomads Noosa for allowing me to join a FOC three day Fraser Island tour. All views are my own! Obviously.