If you're wondering what to do with your second lockdown bank holiday weekend, then I have got some great virtual events to add to your calendar.
And there are lots going on to keep the family entertained all weekend, but this year it's all virtual. As well as a virtual BBC Radio1 Big Weekend coverage, you can enjoy movies, food and drink, gaming and fantastic music.
From a virtual dinner party with Gousto to a full-on festival, there's plenty going on to keep you and your family entertained. Have a great weekend and enjoy quality time with those that you love!

Gousto Table for 1 Million – Hosted by Nick Grimshaw
When: Friday 22nd May 8pm
How: https://www.tablefor1million.com/ to tune in for free
To get your bank holiday off to a delicious start, recipe box company Gousto is bringing the nation together for an unmissable evening of food and entertainment. Joining from the comfort of their own kitchens, the four dinner guests, Nick Grimshaw, Paloma Faith, David Haye, and Katherine Ryan- will serve-up delicious food with a side of laughs!
People joining from home will be able to ask them questions, participate in group photos, and get involved in a variety of unique interactive moments that bring everyone close together to celebrate community spirit.
Radio 1 Big Weekend
When: Friday 22nd May – Sunday 24th May
How: https://www.bbc.co.uk/events/egrj6q
Big Weekend 2020 is still going ahead as planned, but with a twist: it's a virtual festival. Radio 1 and the world's biggest artists will be joining you remotely while you stay at home.
Stormzy, Billie Eilish and plenty of other big named artists will hit the stage this bank holiday weekend, as Radio 1 hosts their first-ever virtual big weekend. The three-day set will feature classic performances from the years gone by, live performances from Sam Smith, Aitch X AJ Tracey and many more artists, and sets from Afro B and some big names from Clubland. Tune in from 7.30 Friday 22nd May.
Cocktail Masterclass with Bombay Sapphire
When: 6:30pm Friday 22nd May
How: https://www.eventbrite.co.uk/e/bombay-sapphire-presents-cocktails-create-with-joey-yu-and-franck-dedieu-tickets-105102664900
If you want to enjoy a tipple before your virtual dinner party this evening, then the expert mixologists from Bombay Sapphire have the perfect pre-party drinks event.
Take part in this one-hour cocktail masterclass and learn to mix a Bombay Bramble cocktail as well as the quintessential G&T.
Virtual Chelsea Flower Show
When: Saturday 23rd May
How: https://www.rhs.org.uk/shows-events/virtual-chelsea/saturday
RHS hosts their final broadcast from the Chelsea Flower Show this Saturday 23rd May. You'll join special guest Andy Sturgeon in his courtyard garden, where you'll get advice on what to grow in a smaller space. Followed by garden designer Mark Gregory, as he shows you the garden with a special place in his heart.

Google's Nest Sessions
When: Saturday May 23rd to Monday May 25th
How: https://www.youtube.com/channel/UCULkRHBdLC5ZcEQBaL0oYHQ
Jessie Ware and Olly Alexander lead the names of musicians who are set to perform and share their lockdown activities on the Google Nest Sessions.
The popular musicians will be interviewed by Laura Whitmore this Bank Holiday weekend (May 23 to May 25) to talk about how they've been spending their time at home during the coronavirus pandemic and will also perform.
Laura Whitmore is the host of Google's new Nest Sessions, helping listeners to relax over the weekend from May 23. Featuring music, home activities and chat to enjoy from 10am each day. Say "Ok Google, talk to Nest Sessions" or visit the YouTube page to get involved.
Digital Drag Fest
When: All weekend
How: https://www.digitaldragfest.com/
Many of the big names in drag are coming together for a new digital concert festival this bank holiday weekend. Bob The Drag Queen, Nicky Doll and many others will host a once in a lifetime live experience for viewers around the world. Singing, cooking, comedy, lip-syncing and drama are just some of the elements that lucky viewers will get to see.
Amazon Live: John Legend
When: 1pm on Friday 22nd May
How: https://www.amazon.com/live
The R&B superstar's follow album won't drop until June 19. But during this live event, he will perform songs from the forthcoming release, including "Bigger Love," the title track, and "Conversations in the Dark." Legend will also talk with fans, who can submit questions for him on his social media posts before the stream begins or use the platform's chat function to pose them in real time. Tune in on Amazon Live from 1pm on Friday 22nd May.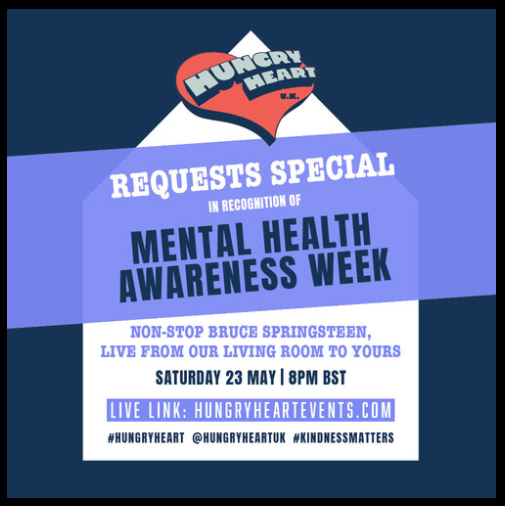 Hungry Hearts Homage to Bruce Springsteen
When: Saturday 23rd May 8pm
How: https://www.hungryheartevents.com/
Hungry Hearts are running a club night dedicated entirely to Bruce Springsteen – an absolute must if you're a big fan of the Boss! Starting Saturday at 8pm and lasting all night long, this live-stream has been scheduled in recognition of Mental Health Awareness week. Bruce has spoken out about struggles with mental health in the past, so this night is designed to use Bruce's music to raise awareness – all whilst bringing fans together for a great night of all-American tunes!

Lyaness Bank Holiday DJ Set
When: 5pm Monday 25th May
Where – https://lyaness.com/

Missing the party right now? If you usually spend your Bank Holiday dancing with your friends at the city's hottest bars, then make sure you check out Lyaness Monday DJ set. The famous Southbank bar is hosting five-hours of non-stop party on its Instagram page – come join resident DJ Martin 2 Smoove as he plays everything from funk to disco, soul to hop-hop, featuring special guests from the scene such as Volatile and DJ Cable. Starts at 5pm Monday night – perfect to end the Bank Holiday on a high!
The Sound of Music – Full Stage Show
When: Friday 22nd May – Sunday 24th May
Where: https://www.youtube.com/watch?v=T5AtR2jJjTs
Watch the Sound of Music live this Friday for free on YouTube.
This Friday 22nd May, Rodgers and Hammerstein's timeless musical classic, starring Carrie Underwood is premiering on The Shows Must Go On. The show will be available from Friday evening in the UK, and be live until Monday, leaving plenty of time for you to watch over the weekend.
The channel is worth bookmarking, as it has already hosted six of Andrew Lloyd Webber's previous musicals – finishing with Cats, of course – and will continue to run with new shows for audiences to enjoy at home.
*This is a guest post by Gousto Table for 1 Million
---
My Travel Tips and Recommendations
Flights
To book flights, I always use flight search engine, Skyscanner, I regularly use the Everywhere tool to find the cheapest places to travel. It's how I get to travel so much all around the world. I find it the easiest way to compare flight prices across airlines and get the best deals.
Accommodation
For accommodation, I usually book most of my hotels or hostels through Booking.com. I love using this platform as it provides me with some amazing deals for accommodation all around the world. Or if you prefer, I also recommend using Airbnb. If you haven't signed up with Airbnb already, you can use this link to get £25 off your first visit!
Photography and Technology
Here is a list of the technology I always travel with:
Travel Insurance
Picking travel insurance that covers you in all eventualities is an essential part of planning a trip for every single person. If you can't afford travel insurance, you can't afford to travel. You never know what's around the corner. World Nomads is an affordable option that I personally recommend. BOOK HERE
Sign up to AirBnB with this link and receive a £23 off your first booking.
To receive my articles and reviews straight to your inbox SUBSCRIBE HERE.
Did you know I also vlog my trips? Make sure you subscribe to my YouTube channel so you get alerted when all my travel videos goes live… CHECK THEM OUT HERE
Thank you for reading and as always happy adventuring! If you have any questions about the destination please leave these in the comments below.
If you've enjoyed this post, please share it for me with all your friends and family!
Sophie X