This year I have been lucky enough to stay in some wonderful hotels all around the world. Whether that has been exploring the souks of Marrakech to a luxury weekend away in The Cotswolds.
I have been impressed by the quality of hotels in general this year, even the budget accommodation options such as Travelodge and Premier Inn. I have stayed in some wonderful hotels, some traditional, some modern, some with exceptional staff and others with winning menus! Here I have listed my top 10 hotels from the year, and those that I would recommend to you guys too…
Ecomama
Ecomama. Green, Quirky, Conscious boutique hostel in the city-centre of Amsterdam. For those travellers looking for some luxury or exploring the world on a budget. Times are changing and so are we. When travelling, we like to feel relaxed, connect and make a positive impact. At Ecomama, you can do just that. We like to bring people together, be responsible about the footprints we leave behind and make you feel right where you belong.
Read my review here.
Rockliffe Hall
A hidden gem in the North East of England, Rockliffe Hall is a five star luxury golf and spa hotel offering an award-winning spa, an 18 hole championship golf course and a wide range of restaurant options which cater for all palates and purse strings. Whether you are looking for a romantic break, somewhere to celebrate a special occasion, a unique wedding venue or a place to do business, this world-class resort is a memorable destination.
Read my review here.
Ellenborough Park
Ellenborough Park is an impressive luxury hotel in Cheltenham and is a quintessentially British destination, with a unique streak of individuality. It is synonymous with fine-dining, relaxation & opulence. Lose yourself in the distinct luxury of Ellenborough Park, a sumptuous Cotswold manor house hotel in The Cotswolds, situated on the outskirts of Cheltenham Spa. The main house of the estate dates back to the 15th Century, when it was erected from iconic Cotswold stone, steeping the manor in layers of history and intriguing tales.
Read my review here.
Daios Cove
Daios Cove Resort in Agios Nikolaos is a luxury 5 star beach hotel in Crete that offers more than lavish surroundings and a luxury holiday experience. Set on the tranquil Vathi beach in Crete, the Daios Cove Resort and Luxury Villas is one of the finest 5 star hotels in Agios Nikolaos. In a private cove amidst blue skies, a crescent of sand and the calm of the Mediterranean, Daios Cove is regarded as the ultimate 5 star beach resort in Crete Island. Its coastal views and beach setting offer an awe-inspiring escape in Agios Nikolaos of Crete.
Read my review here.
Yays Amsterdam
The best way to get to know a city is not to visit it, but to live it. With Yays, you're staying in boutique apartments in the most characteristic neighbourhoods, surrounded by shops and restaurants you won't find in any of the tourist guides. Stay with us and before you know it, you'll be dishing out insider tips to the locals.Tucked away to the northwest of Central Station lies Yays' Zoutkeetsgracht location which now offers 31 apartments – around the corner from lively Westerpark – is no exception, except that it's exceptionally amazing of course.
Read my review here.
Travelopo Villa
Luxury Villa Holidays & Villa Rentals From Europe's Largest Villa Rental Agency Travelopo. Villas in Mallorca, Menorca, Ibiza, Balearic Islands, France, Greece and more. Villa Finca Son Rasca is set in large grounds which has uninterrupted views of the outstanding Alcudia / Pollenca countryside and surrounding Son Fe mountains. Finca Son Rasca is located down a country track well back off from the main Alcudia Road. The ground floor opens up into the large open-plan lounge/dining rooms with comfortable sofas with Satellite TV, DVD and CD player.
Read my review here.
Sofitel St James London
Sofitel London St James offers five-star accommodation in the heart of London's West End. This landmark hotel – consistently rated as one of the best in London – combines traditional British design with contemporary style that is unmistakably French. Located in a grade II listed building, the hotel features a restaurant, The Balcon, The Rose Lounge, the St James Bar, a large choice of conference suites and an award-winning spa. Sofitel London St James is an entirely smoke-free hotel.

Read my review here.
Riad Les Yeux Bleus
Recently renovated by a team of talented Marrakech artisans under the direction of interior designer Willem Smit, the new Riad Les Yeux Bleus boutique hotel opens its doors for those keen to experience Moroccan hospitality at its best without giving up a certain flavor of modernity. Riad Les Yeux Bleus' balanced blend of contemporary and traditional styles (with a pop art touch in the choice of colours) reflects upon the current nature of Marrakech, where vibrant urban life and a varied choice of trendy bars, art galleries, and restaurants coexist in friendly symbiosis with the ancient ways of the city.
Read my review here.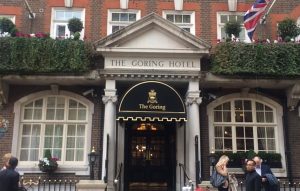 The Goring
The Goring Hotel is an historic luxury hotel in London's Belgravia district, famed for its independent style and modern British cuisine. London's last remaining family-owned luxury hotel. Crafted over a century by one family, The Goring is the genuine article – a grand hotel with impeccable manners and a subtle streak of wit and wonder. Plan a weekend of living it up in London – theatre, shopping, the sights.  Stay at The Goring in London's Belgravia with Champagne and breakfast.
Read my review here.
Renaissance Aruba
In the heart of the cosmopolitan capital of Oranjestad, with stunning Caribbean views and a design and décor to reflect the breathtaking surroundings, the Renaissance Aruba Resort & Casino features 556 totally renovated rooms and suites in two distinct settings — the Renaissance Ocean Suites and the sophisticated, adult-exclusive Renaissance Marina Hotel.
What are your favourite hotels? Let me know in the comments! I am heading to Paris, Budapest and Iceland next year so send me your suggestions!
Follow me on
Twitter | Instagram | YouTube | BlogLovin | Pinterest | Facebook