As you journey through the brick entrance gates, down the long and winding road, you come across a building in the distance, amongst the herds of deer. This is Paris House!
Theo and I were invited to the beautiful Paris House on a foggy day in November to sit at the chef's table. We joined Jo from Girl Eats World and her boyfriend Alex for the experience and an unforgettable 6 course culinary adventure with Executive Chef Phil Fanning and his team.
Originally built in 1878, Paris House was actually simply an exhibition building, as part of The Paris International Exhibition called 'The Streets of Nations' located on the Rue des Nations in Paris. The house was designed by Gilbert Redgrave and built by William Cubitt & Son, and was built with the aim to mimic a half-timbered building from the Cheshire region of England. The 9th Duke of Bedford fell in love with the building when he visited Paris and had it dismantled, shipped piece by piece to its current home and rebuilt in the stunning grounds of Woburn Abbey.
The house is filled with history and has played an important role in British history, becoming a hospital during World War 1 and During the second World War the house played host to many notable guests, including the Queen Mother's brother, King George VI and Queen Elizabeth. Now the building is home to the award-winning Paris House, run by executive chef Phil Fanning and has claimed an abundance of awards including a Michelin Star just 11 months after opening.
The elegant and unique restaurant is set in the stunning deer park of the Woburn Estate in Bedfordshire and offers the perfect setting to enjoy exciting food, fabulous wines and a great atmosphere. The restaurant offers an array of tasting menus ranging from 6 courses to 14 courses, and all of the food is made with natural flavours with seasonal and local ingredients. To go alongside the food, is the wine! And their team of sommeliers have selected a wide and varied selection of wine from all over the world, from classic to eclectic, and they match their wines with every dish that is served. You can enjoy a wine flight with your meal for an additional cost.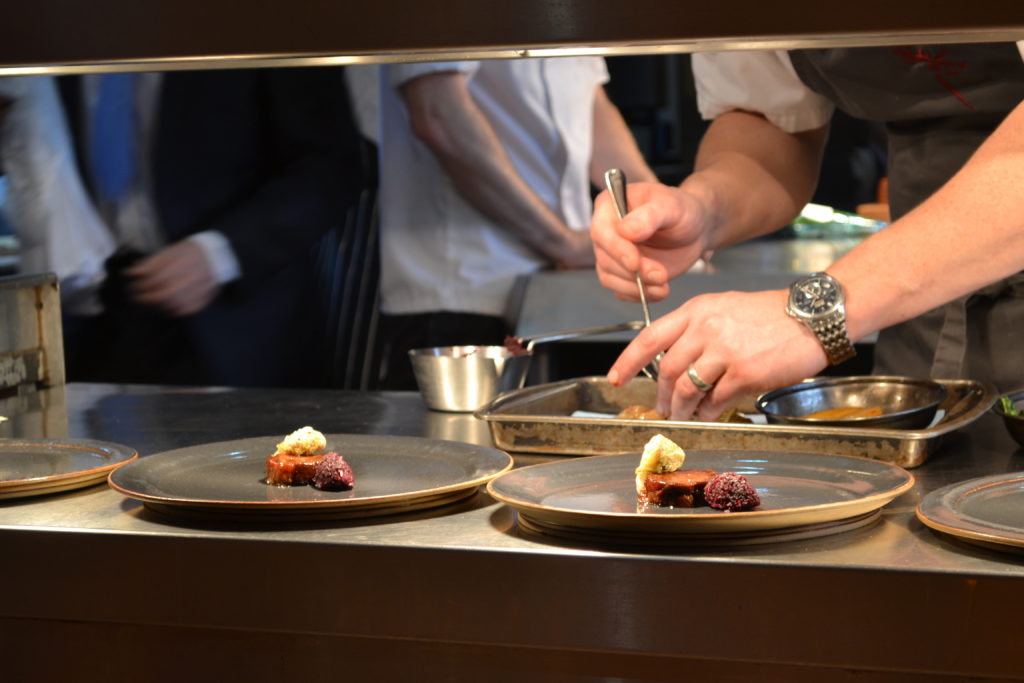 We opted for an intimate experience at the Chef's Table located in the kitchen, literally so close you might as well be cooking the food yourself. After a catch up with fellow blogger Jo we were walked through to lunch in the kitchen, where we met with Phil and his team before being seated in a huge curved red seating area right in front of the kitchen.
Our eyes were instantly following Phil and his team going about their work in the kitchen, taking in every little thing they were doing and what they were cooking. It was fascinating to see this side of a restaurant and be so welcomed by the head chef himself, into his world. At once Phil began by explaining to us how the kitchen worked with the different stations, team members, and the roles for each of them.
Phil was amazing as he entertained and enlightened you about the ingredients and processes within a kitchen and talked you through the various different dishes they were doing both for our table and those sat out in the main seating area. Surprisingly the kitchen was very laid back, and the atmosphere seemed very calm to many kitchens where I have been before. I asked if this was a show for us, but were told in fact, no this was normal. Everyone was aware of their responsibilities and there was organisation and order within the kitchen. A great way to work if you ask me!
And then suddenly as if by magic, our first dish arrived.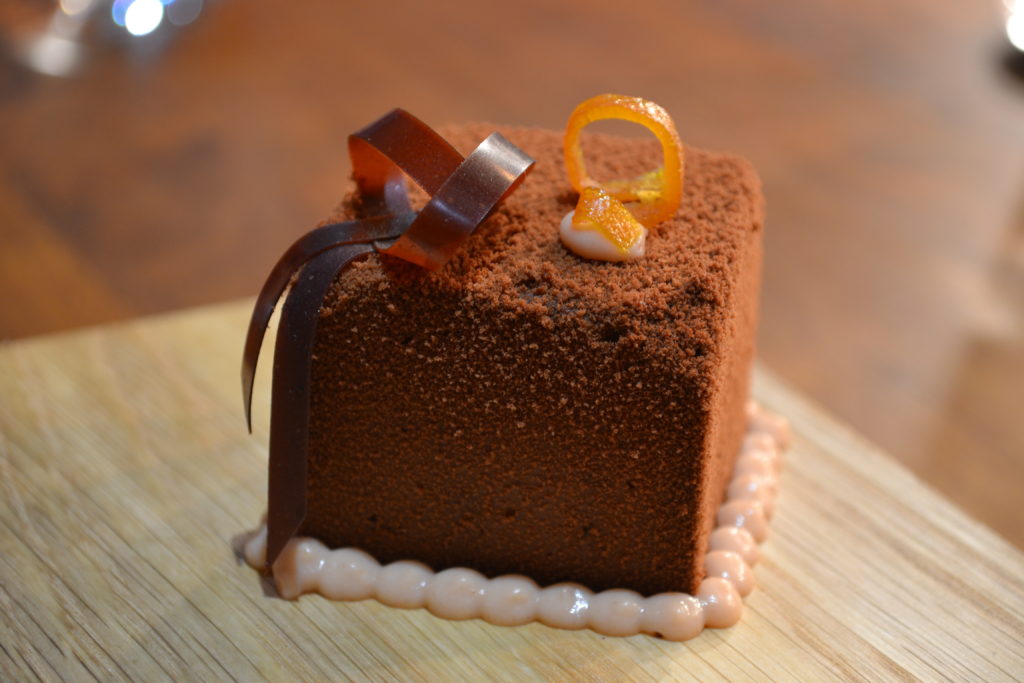 There was a lot of courses, and a lot of food so I won't go through everyone in detail and instead will list our menu alongside some photos from our experience, after all a photo tells a thousand words, or tastes in this matter.
Canapés: Salmon mousse on a cocktail stick with rich mini walnut macarons
Course 1: Tandoori spiced rabbit with mini poppadum's, yoghurt and mango chutney
Course 2: CEP with Black Barley, Cep, Chestnut and Madeira (an ode to the mushroom)
Course 3: Asian inspired steamed pork bun with crispy pork belly, pickled ginger and Foie Gras, otherwise known as "No.63"
Course 4: Soft oxtail, stuffed with bacon and shallots served with a rich gravy and baked celeriac, garlic and red wine
Course 5: Chou Chen, a baklava with discs of layered filo, pistachio and honey
Course 6: Christmas gift – A parcel of rich Santander chocolate mousse coating layers of quince jelly and aerated chocolate.
The experience had been the icing on the cake, alongside the incredible food, and British hospitality from everyone at Paris House. The experience at the Chef's Table really is worth the extra money as it gives you a real insight into a real kitchen, and it also makes you appreciate the effort and skill that goes into meals like ours.
If you'd like to try the festive menu for yourself Paris House are offering my readers 10% off per booking; just quote 'Sophie's Suitcase' when booking! And if you fancy winning a meal for you and your loved one this festive season then head over to my other blog post where I am giving away a meal – enter here.
I also wanted to post my outfit from the day as I love this shirt so much from Zara, and my new loafers from ASOS! 
*Thank you to Paris House for inviting me to dine at the chefs table for one of their tasting menus!
Follow me on
Twitter | Instagram | YouTube | BlogLovin | Pinterest | Facebook