Otherwise known as Morocco's premier mountain retreat, the Kasbah du Toubkal is the number one property of choice for travellers visiting the heart of Morocco, the Atlas Mountains. Located close to the village of Imlil, the Kasbah, located 1,820 metres above sea level within the mountains is only 60 kilometres from Marrakech.
Last month I spent five incredible days in Morocco which included three in Marrakech and two in the Atlas Mountains. This trip was different from the moment I landed; it just seemed different to other trips I have been on. It was an incredible country, with beautiful markets, sensual gardens and an intriguing culture. There was certainly nothing subtle about this beautiful country, as it attacked your senses both through the eyes, ears, and mouth.
Morocco has grown to adapt to the tourism which is brings in every year, but it is still a devout Muslim country and they continue to push their traditions as the city evolves and changes. This mean there are certain things you need to know before travelling to Morocco. Here are my top tips to visiting Morocco and Marrakech.
How to get to Morocco
You can fly to Marrakech from £150 return in peak season. I flew from London Luton in the morning and arrived at 10.30, it was only a four-hour flight, but it felt like another world. I flew with EasyJet, but I think Ryan Air and British Airways etc. also fly there. I tend to use Skyscanner to find the best deals for flights, or one of the other flight comparison websites.
When to go to Morocco
The country is at its most beautiful in spring (mid-March to May) when the landscape is green and lush, making for spectacular mountain hiking. Morocco is also lovely in Autumn (September to October) when temperatures are very pleasant.
On the drive from Marrakech the excitement about what to expect filled me with delight, I was looking forward to another experience like no other but at the same time was anxious about what to expect. As we arrived in Imlil we were dropped off at their reception and then it was a 15-minute walk up the mountain – mules carry your luggage. Had I known about this part I may have worn better shoes and gone for a wee before setting off, neither helped me out as I asthmatically made my way to the hotel.
But as we arrived I forgot all about my breathlessness and was taken aback by the views, not the asthma, as we looked across from the terrace of the Kasbah with 360 degrees of the stunning Atlas Mountains.
The Kasbah sits within the Toubkal National Park and is set dramatically below the towering flanks of Jbel Toubkal, the highest mountain in North Africa standing at 4167 metres. Imlil, and its surrounding valleys, are certainly a world apart from the bustle of Marrakech and provide a place of peace and seclusion.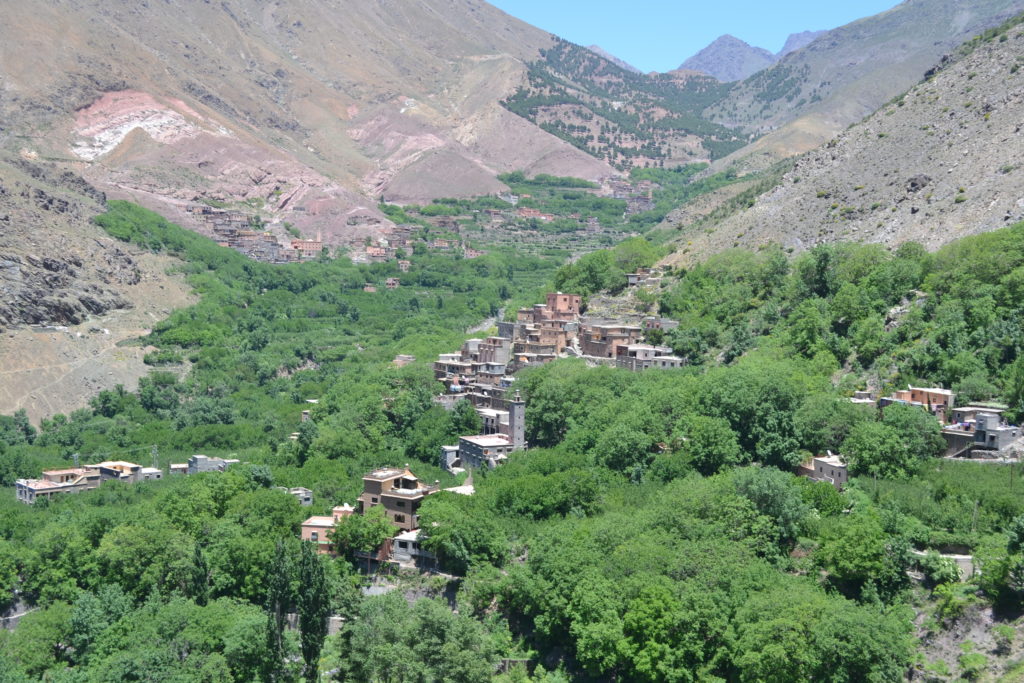 As we checked in we were given mint tea and snacks to recover from our ordeal and we settled in to our room before heading to the terrace once again for lunch which included traditional Moroccan tagine and a rice dish.
Our room was a beautiful Deluxe Room with an en-suite situated just a stone's throw away from the main building. It was a real traditional Moroccan room with wood beams, carvings, thatched ceilings and mint tea on tap (not really, you had to boil the kettle but even so!) But it also had contemporary additions such as Wi-Fi, coffee machine and minibars.
The award-winning hotel offers fourteen comfortable en-suite rooms, three of which can be used as a private self-contained house, alongside other options dependant on budget. They also have a delightful garden and large terraces offering unparalleled views of the surrounding mountains.
The hotel is the perfect retreat and really offered an alternative type of accommodation for my trip to Morocco. The friendly and knowledgeable local Berber staff made me feel very welcome and whether you are visiting for some trekking or to simply take in the views this hotel should be the chosen destination.
Freebies include hot and cold drinks, along with breakfast served in a casual restaurant with a rooftop terrace. There's also a hammam, so get scrubbing!
The only thing I would say is don't stay more than two nights if you aren't going trekking as there isn't a lot to do otherwise. Theo and I didn't go trekking but we went walking one morning and then visited the local village but apart from reading a couple of books there wasn't any evening entertainment meaning we had a lot of spare time.
*Thank you to the Kasbah Toubkal and Discover Ltd for hosting me whilst I was in Morocco. All opinions are my own, obviously. Who else's would I have?
Other posts that may help you:
Festive Things to do in London at Christmas in December
Ultimate Guide to one week in Bali Itinerary
Visit Lisbon: 9 Day Trips from Lisbon
How to spend 5 days in Switzerland Itinerary: Basel, Zurich and Lucerne
Ultimate Guide to Honeymoon in The Maldives
Sign up to AirBnB with this link and receive a £23 off your first booking.
To receive my articles and reviews straight to your inbox SUBSCRIBE HERE.
Did you know I also vlog my trips? Make sure you subscribe to my YouTube channel so you get alerted when all my travel videos goes live… CHECK THEM OUT HERE
Thank you for reading and as always happy adventuring! If you have any questions about the destination please leave these in the comments below.
If you've enjoyed this post, please share it for me with all your friends and family!
Sophie X