I bloody love Thai so when I was invited to try out the new Guildford restaurant Thaikhun I jumped at the chance, especially as I was down near Guildford anyway for a weekend.
Thaikhun is an exciting casual dining experience from the owners of Chaophraya Thai Restaurant group. The interior is authentic of Thailand and offers an interactive dining experience with open kitchens and traditionally rustic surroundings.  It takes you instantly back to Bangkok, especially with the smells!
The atmosphere is also reminiscent of Bangkok with noises of kitchens pans, smells of spices and something to look at, at every corner. It's the place to excite and educate your taste buds; experience real, Thai eating as you would on the streets of Bangkok.
Ever since my travels to South East Asia a few years ago, and multiple trips to Bangkok I have fallen in love with the Thai cuisine and the flavours that I believe no other cuisine has.
I headed to Thaikhun on a Saturday afternoon for a meal filled with vegetables, spices and lots of flavour and that is certainly what I got – it was divine!
I chose the Por Pia also known as vegetable spring rolls to start with chilli sauce, whilst Theo had the Moo Ping, otherwise known as grilled pork skewers. Both were delicious and we enjoy with the traditional Chang beer (I was annoying Theo reminiscing about Thailand for over an hour!)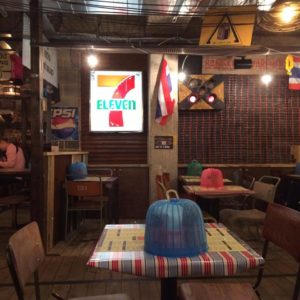 Then ready for our main I had my favourite; Geang Kiew Wan (Thai green curry) with chicken, courgettes, green beans and fresh Thai basil, and Theo went different with Nua Yang 8oz sirloin steak, served with a tangy chilli and tamarind sauce, street food style.
The food was great, the atmosphere was a perfect representation of Thailand and Bangkok and the staff were so attentive.
*Thank you to Thaikhun for the invite to try out their new restaurant, they did not request a review but I was so impressed I wanted to let everybody know how tasty it was. Opinions all my own!