Our first day in New Zealand was spent in Christchurch and then we passed by again twice throughout our trip. It's where we flew in to, went past again on the Kiwi Experience bus and then we flew from there again as we left for Australia.
There's quite a lot I want to say about Christchurch, and therefore I felt like now was the right time!
The February 2011 Christchurch earthquake was a powerful natural event that severely damaged New Zealand's second-largest city, killing 185 people in one of the nation's deadliest peacetime disasters.
It seems the city is still recovering from the earthquake and the city is still rebuilding itself tourism following the quake.  I have however been told so much of this little city. That it was this gorgeous city, with a river running through it and old English-Style colonial buildings, and a great cafe-culture. It had never been on our top 10 places to go in New Zealand but we are now glad we did and experienced the city for ourselves.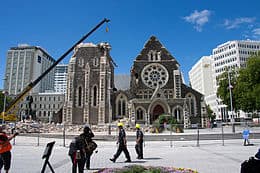 So before we arrived, I wasn't sure what to expect. I knew the earthquake had been a big one that had left a river of devastation throughout the city. I personally have never visited somewhere after a natural disaster, actually I have. I have visited Phuket and various places in Thailand that were affected by the Boxing Day tsunami.
However, even when I visited there it had been 10 years since the disaster so much of the places had been restored and had managed to get back to normal. So I was apprehensive!
From what I can tell as we looked around the city, the entire city has completely changed since the quake and I really couldn't believe how little the city has come since the earthquake and not managed to recover. There is still a lot of restricted access and some parts of the city are completely blocked off still – nearly four years on!!!
We visited to Quake City exhibition and that was really interesting but also saddening to see how the city had changed and the huge amount of lives it had affected!
We couldn't imagine how difficult it must be for those who have grown up in Christchurch or lived here for most of their lives to then see this amazing city be completely destroyed by something so unavoidable!
However, it does have to be said, and after talking to locals, apparently the city is going at a slow pace. The restoration is slow and undergoing reconstruction.
My goal now, and my hope for the city will hopefully see me return again in say 10 years' time so I can visit the city again in and see just how much it has grown!
Let me know in the comments your top tips or share it with the social media links below!
I'd love to keep giving you advice and tips so feel free to follow me on my blog. And don't forget you can follow me on Facebook, Twitter, Instagram & bloglovin'.