As you all already know, I have a huge passion for travel. Look at my bucket list and you'll see that I have many more adventures I want to cross off the list in my lifetime. So, I thought I'd explain to you how my passion for travel grew here and why I believe travel is so important for everyone. But before you even begin, you need to get packing, and that means knowing your weight and size restrictions on the airlines you fly with.
Save yourself a whole lot of cabin luggage allowances stress and potential additional charges when boarding by checking dimensions and weight restrictions before you travel. I've pulled together Europe's major airlines cabin allowances into one easy to read guide below. And if you're fed up with waiting for your luggage at the carousel, and want to maximise what you can get in your cabin bag then check out these great top tips for travelling light with your hand luggage.
We've all experienced the anxiety of arriving at the airport, worrying about how heavy our bags are and whether they'll exceed the cabin luggage allowances at check in. Should I really have packed two jackets for a beach holiday? Will they have a hairdryer at the hotel? Will they let me spread the weight between two bags? Sound familiar?
Airline luggage policies are confusing at the best of times, let alone when they seem to be constantly changing, which is why we've created this cheat sheet to ease the burden of baggage. Regardless of whether you're escaping on a long weekend with just your carry-on bags, or taking the family on a two weeks summer getaway, use our guide below to find out your airline's rates.
BEFORE YOU GO ANYWHERE….
DO YOU HAVE

INSURANCE

?
Picking travel insurance that covers you in all eventualities is an essential part of planning a trip for every single person. If you can't afford travel insurance, you can't afford to travel. You never know what's around the corner. SafetyWing is an affordable option that I personally recommend. SafetyWing is the world's first International Travel Medical Insurance developed to meet the needs of entrepreneurs and remote workers travelling or living abroad worldwide.
SafetyWing has worldwide coverage and limited home country coverage. It is available for purchase in 180 countries and can be purchased when already traveling. People who are location independent fall between the cracks, without proper access to insurance or national safety nets and they know this because they themselves are nomads.
To solve this, they are building a global social safety net tailored to the needs of online freelancers, entrepreneurs, and remote companies. They've starting with travel+medical insurance, then adding comprehensive health insurance to our offering before moving on to disability and pension. They will keep adding products until they have a complete social safety net – fully functioning across borders.
Includes:
Travel medical – Access a qualified global network of hospitals and doctors for unexpected medical problems and accidents. Includes coverage for: Doctors, Hospitals, Emergency medical evacuation.
Travel – Includes coverage for: Travel delay, Lost checked luggage, Emergency response & natural disasters, Personal liability.
Cabin Luggage Allowances
Whether you're attempting to squeeze all of your belongings into hand-luggage for a short city break, or working out how to keep the kids entertained on a long-haul flight, you're definitely going to want to know your cabin baggage allowance. With weights ranging from 7 kg to 23kg, there's a major difference between airlines in terms of what you can carry on.
Top Tip: Keep an eye out for which airlines do and don't allow personal items like handbags and laptop bags to be carried on with you, as these might incur separate charges, or have to be checked in – if they're not included.
Checked In Luggage
When you're heading out for a two week break in the sun, it can be tempting to pack lots of unnecessary items "just in case" – especially when you've got little ones in tow. But with some airlines charging over £250 for overweight bags, it definitely pays to weigh before you go away!
Top Tip: Check in advance which airlines charge for overweight bags on a 'per kilogram' basis, and which providers will make you purchase the full price of another bag.
Child Fare Policy
Travelling with children can often feel like a carefully planned operation, so the last thing you want is an airlines policy making it more expensive, long-winded or tiresome. To find out which airlines are the most family friendly, we looked at both their infant and child policies, to see where you can 'carry on' your kids and where will charge you another full priced ticket.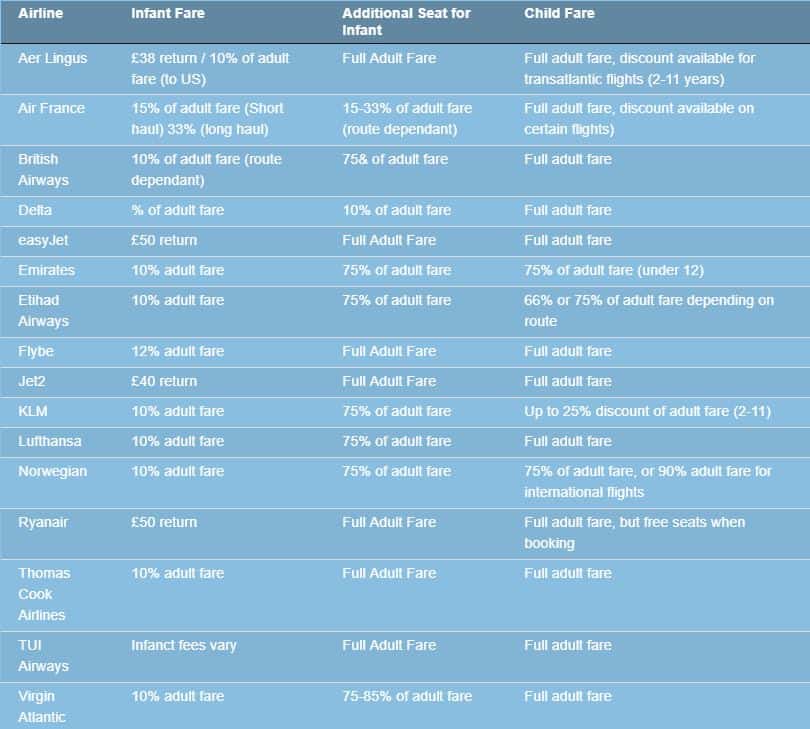 What to Pack for a weekend in Europe
Still struggling to visualise what 23kg looks like in terms of two weeks-worth of clothes and toiletries? Or how much you can really fit into your hand-luggage for a short trip away? And how on earth can you squeeze the kids clothes in there as well!
Taking into account the average items needed for both holiday scenarios, we've done the maths and weighed up how much you can actually squeeze into your suitcase this summer.
City Break Packing List – 3-4 days – 10kg hand luggage
Family Holiday Packing List – 2 weeks – 23kg hold luggage
After years of travelling around Europe from country to country I've pulled together my ultimate packing list for Europe (with printable checklist for your own travels). I love the process of packing, but it can be a hard slog, especially if you're off on a trip which is longer than usual. I have spent weeks pulling together a suitcase before, and often start packing way ahead of my trips. (I have also created a Packing List for Europe which is printable for you!)
The list below is an example of a Europe packing list based around a trip consisting of two weeks of travel, to around five countries. Of course, packing list will change as per the seasons and it's important to bear this in mind when pulling together your items for the trip. The idea is to break down the essential items for your trip and give you an idea of what you should carry in your suitcase or backpack for example. Here is my ultimate packing list for Europe!
SEE MY FULL PACKING LIST GUIDE FOR A TRIP TO EUROPE AND BEYOND
What items have I missed?! Let me know in the comments! Hope you get a lot of use out of my Packing List for Europe.
Other posts that may help you:
The Ultimate Guide to the Christmas Markets in Copenhagen
How I get Paid to Travel The World
10 of the Best places to eat Brunch in London
The Best Weekend Trips in the UK
Thank you for reading and as always happy adventuring!
If you've enjoyed this post, please share it for me with all your friends and family!
Sophie X