Last weekend I drove three hours up the M1 to Richmond in Yorkshire. We were staying at the wonderful Brompton Lakes, part of the Holiday at Home family. We went up there with our best friends Tom and Sophie to celebrate Theo's birthday in style. I thought I would throw together a quick packing post about what I took with me…
Let's start with the obvious, the suitcase. I was recently gifted this sassy suitcase from a favourite brand of mine Radley. I was sent a medium sized four-wheel Speckled Dog suitcase, a design for dog lovers everywhere! I am usually pretty boring when it comes to suitcases, often opting for the black and silver cases but I loved this playful design and it livened up my weekend away. It was super light-weight with internal dividers for separately my outdoors items. And not that I needed it for this trip, but it also had an integrated TSA lock, giving you extra peace of mind.

Next up, clothes! And if you know me, you will already know how much I love FatFace. I am working with them again on a content collaboration this season and I pretty much took all of the items I chose from their new season catalogue with me on this trip. Their new collection is all about simplicity and comfort – something I am all for.
Some of my favourites items from the new collection include, the Sussex Jacket (below), perfect for outdoor pursuits, the Cally Jumper (above) in Navy, perfect for chilly days, their Heritage Gilet in Charcoal, which now uses PrimaLoft® a man-made insulation that's lighter, really tough and (unlike duck down) doesn't lose any of its insulating properties when it gets wet and the Dedee Denim Pinafore Dress (above) made from a soft chambray denim, making it the perfect everyday dress, paired with their classic Organic Cotton Breton Tee. I also grabbed myself a Amy Monodot Skirt Dress (top photo) which was perfect for our lunch out to Rockliffe Hall, the perfect mix of smart casual.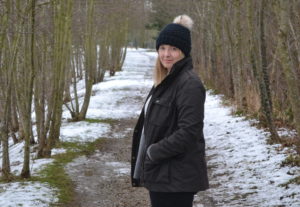 And shoes I opted for my trusty Converse, a pair of my sturdy Muck Boots for muddy walks, my favourite pair of walking boots from M&S (above) and a pair of Newham Chelsea Boots.

Finally, on to toiletries! On every trip I go on I take the following items – face wipes, my makeup kit (which includes items mostly from The Body Shop, but also a couple of Rimmel lipsticks and Bobby Brown concealer), Sure deodorant, my tangle teezer, perfume, NIVEA Q10 plus C day cream and of course, contact lenses from feelgoodcontacts.com.
If you didn't know already, I wear contacts. I am quite simply blind as a bat without glasses or contact lenses. And even though contacts are a necessity to me, as opposed to a want, I still shop around when it comes to buying my lenses. They aren't cheap either so I need to know I am both getting my monies worth but also that they are trustworthy suppliers and a comfortable product. I make sure I pack a box with me everytime I go away as you never know how many you might need for a trip.
They are super easy to transport, and put in whilst on the road. I have backpacked through Asia, skied down mountains with them in, and this weekend relaxed in our cabin in the Yorkshire moors. I also buy mine from feelgoodcontacts.com as they have free delivery, offer a great service and I know what I am ordering is going to do the job. Fancy a discount? Enter the code STAYCOMFI12 for 12% off your next order!
*This post includes gifted products.