It's beginning to look a lot like Christmas in London! The lights are on, the trees are up, the songs are blasting from the office stereo and everyone is beginning to wear their comedy Christmas jumpers. Why not get yourself some festive cheer and head out in London in December to one of the many events happening across the city throughout the month.
Husky Sleigh Rides at London Wetland Centre
Saturday 3rd + Sunday 4th December
Christmas is coming early thanks to a magical Santa's Grotto and free husky and donkey rides for little visitors at the Wetland Centre. Kids will come face to face with Father Christmas who'll be giving out goody bags, before they head off to meet the beautiful huskies waiting to take them for a spin.
Southbank Centre Winter Festival
Friday 11th November onwards
The Southbank Centre Winter Festival returns for 2016 and along with its array of festive shows and performances they will also be celebrating the coldest season with a fistful of fun pop-ups and activities. NoFit State will be bringing contemporary circus to the stage with 'Bianco' performed above, behind and around the audience, plus Christmas will get a rock 'n' roll makeover thanks to the 'Million Dollar Quartet' musical.
The Flavour Rooms
All month
Smith & Sinclair is launching two exciting pop-ups for the festive season, set to capture the imagination of the city and beyond. An emporium of alcoholic and edible wonders, The Flavour Rooms will feature specially created products from the adult play pioneers, including a cocktail sherbet wall, pick 'n' mix, edible perfumes, twisted 'salt & pepper' shakers and alcoholic dib dabs for shoppers to discover, take home and enjoy over the festive season. The Flavour Rooms will launch at Sanderson hotel, November 18th and at Bluewater, Europe's leading retail and leisure destination, November 16th, both running until Christmas Eve.
Winterlights
Tuesday 6th– Sunday 18th December
Wander the gardens of the picture gallery on a dark winter night and discover light installations and lanterns from the same creative crew that makes Christmas at Kew. The mile-long trail will lead visitors past tow huge Christmas trees, a scented garden and all kinds of nature-inspired lights. Santa's Snowflake Grotto returns and there'll be a vintage carousel, Christmas gifts and traditional festive nibbles.
The Urban Makers East Christmas Market
Saturday 10th + Sunday 11th December
This Christmas market returns once again in 2016, bringing over 50 designers to the east London masses. Find locally made jewellery, art, clothing, cards, ceramics, artwork and plenty more alongside workshops in the art of origami.
Hyde Park Winter Wonderland
Friday 18th November onwards
The Grinch would have a real job stealing all the Christmas from Hyde Park's massive tribute to festive fun, which is back for a tenth year in 2016. Entry to Winter Wonderland is free, and a wander past the fairground rides, around child-friendly Santa Land or through the Christmas markets is a real treat for anyone feeling the spirit of the season, as long as you're ready to hear all those songs as you potter.
Skate at Somerset House
Thursday 17th onwards
The grand 18th-century courtyard that is home to Somerset House ice rink provides a stunning location for a skating session this winter – and no matter how unimpressive your skills a trip to this 900-square-metre outdoor rink will look the very definition of festive fun on Instagram. There are lots of tempting extras too: The Fortnum's Lodge will offer champagne, afternoon tea and even private dining.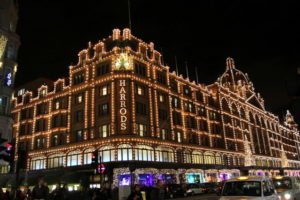 Regent Street Christmas Lights Installation
Thursday 17th November onwards
Named 'The Spirit of Christmas', the scheme unites Regent Street's world-class retailers and restaurants under a grand, sweeping canopy of light that stretches from Langham Place all the way to Waterloo Place at the southern end of Regent Street St James's. With complementary schemes across Jermyn Street and at the newly-completed St James's Market, this will be the largest Christmas lights scheme in Central London this Christmas, and is the largest scheme ever embarked on by Regent Street.
New Year's Eve in London
Saturday 31st December
Whether you're a local or just visiting for the holidays, get ready for one hell of a New Year in London. Always big on celebrations, our city has some spectacular nightlife up its sleeve this year, as well as a host of events and the mighty New Year's Eve firework display over the Thames. Here's our guide to everything you need to know about celebrating the New Year in London – dive in and we'll see you in 2017!
Are you heading in to London in December? Let me know in the comments!
Follow me on
Twitter | Instagram | YouTube | BlogLovin | Pinterest | Facebook