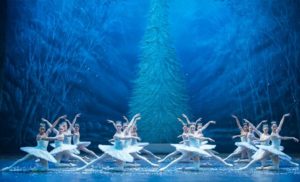 Last week I had a rather cultured week, I went on a fine-dining experience at Paris House (review to come very soon!), I went on a cookery course in London and I then visited Milton Keynes Theatre to see The Nutcracker by the English National Ballet.
The show is the perfect performance to put you in the festive mood with over 100 dancers, stunning backdrops and music so incredibly powerful it takes your breath away. I had never been to the ballet before last week, and I will be honest I was dubious it would be something I would enjoy. However, I was pleasantly shocked when the curtain came down for the half time break and I felt like I had been in there only 10 minutes, I was transformed from the moment the curtain rose.
The performance is in brief based around the limbo between Christmas Eve and the big day itself, the strange middle man between the run-up and the big day. It follows the story of Clara and her enchanted Nutcracker doll on a snowy Christmas Eve in Victorian London. You meet various characters during the gathering at Clara's parents' home and the children are given gifts, one of which Clara takes a liking to and appears later in the performance.
As Clara heads to sleep, the clock strikes midnight and she discovers a magical world, where she battles a mouse and meets a handsome stranger, alongside riding in a hot air balloon and visiting the four corners of the world.
The story was only the beginning of this spectacular performance though, and both the dancers and the incredible orchestra, alongside the set design is what made the show. The ladies danced beautifully, and when they danced, often en pointe, it amazed me at their strength and skill, and the dresses and costumes the dancers wore were stunning with intricate designs and empowered styles to suit the scene. The orchestra played beautifully and helped bring the performances to life to everyone in the auditorium!
I am told this show is already sold out on every date but if you can get a ticket, do it! Or if you are up and down the country maybe try one of their other stops along their journey, including Liverpool and London.
The English National Ballet's The Nutcracker is at Milton Keynes Theatre until Saturday 26th November 2016. Tickets have sold out.  Check for cancellations by calling their Box Office on 0844 871 7652.
Overall: ★★★★★
Follow me on
Twitter | Instagram | YouTube | BlogLovin | Pinterest | Facebook