If you are anything like me you'll love a good book. And I don't just mean a book with a story, I love a book I can learn something from. I love books about destinations, I love a book about history, I love a book about cooking and I love a book about culture.
I couldn't put a Christmas gift guide without a section on books. I have done my research and collated a selection of brilliant and interesting books perfect to pop on your own Christmas list, and buy for your loved ones. There's nothing better than a good book is there? Here is my Christmas gift guide of books that are perfect for the literary lover in you:
Great City Maps
Step onto the streets of cities around the world, and understand the cultures and civilisations that created them with Great City Maps, a beautifully illustrated book which explores the world's most celebrated cities. It is perfect book for the traveller-in-you and gives you more than just a bird's-eye-view, telling the tales behind the city from the hubs of ancient civilisation to modern mega-cities. Publisher: DK Books
£20.00 | BUY HERE
The Forest Feast Gatherings
Erin Gleeson is known for her visually stunning, healthy recipes dishes that are easy enough to prepare after a long day at work, yet impressive enough for a party. The book offers detailed guidance on hosting casual, yet thoughtful gatherings from start to finish from the decor and cocktails to the ideal food pairings. In this new book, more than 100 fresh, innovative vegetarian recipes are arranged in a series of artfully designed menus, tailored to specific occasions like a summer dinner party, a laid-back brunch or holiday cocktails. Publisher: Abrams + Chronicle
£21.99 | BUY HERE
 Just Between Us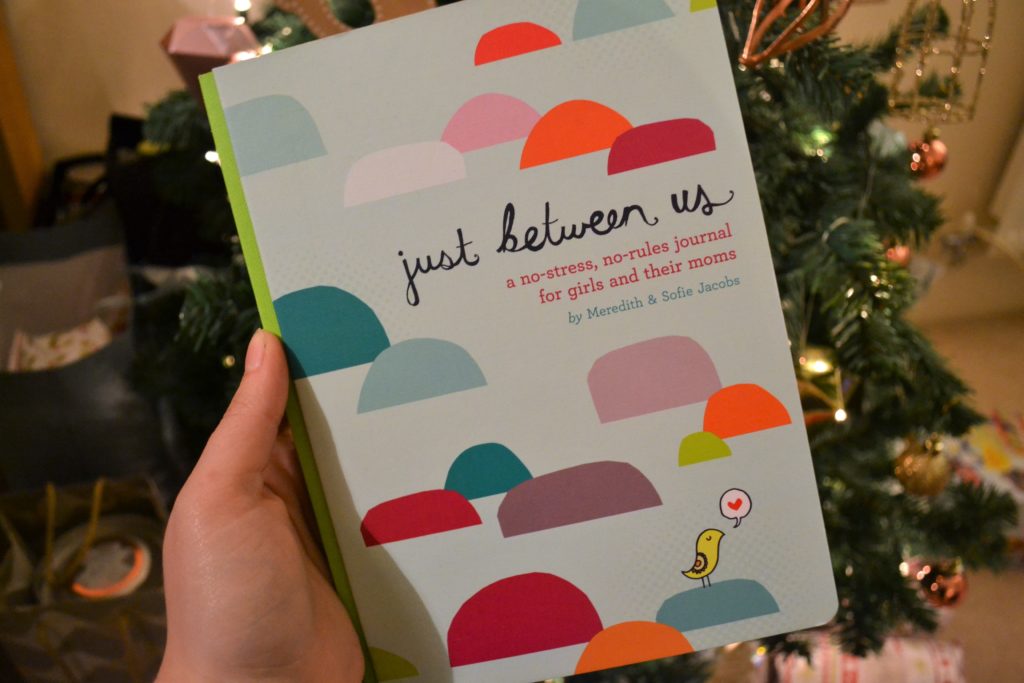 "This journal is such a nice way for moms to strengthen the bonds with their daughters"-People Magazine
£10 | BUY HERE
Chez Moi
Living like a true Parisienne starts at home. Interior designer Sarah Lavoine sees the quintessential Paris apartment as a stylish sanctuary from the stresses of life. Covering each room in the home, Lavoine explains her approach to using colour, highlights the indispensable elements of each space, and suggests how to add unforgettable details in order to create a restful and chic environment. Publisher: Abrams + Chronicle
£15.99 | BUY HERE
Londontown
Londontown is a love letter in pictures to this bustling world capital. Photographer Susannah Conway takes us beyond the familiar sights to capture an authentic local experience of the city. Readers will travel with her as she crisscrosses London, shooting all the hippest, most exciting and most historic neighbourhoods, and sampling the city's effortless cool, vibrant street life, and timeless know-how. Publisher: Abrams + Chronicle
£9.99 | BUY HERE
Cocktails
Learn the art of mixing perfect drinks with Cocktails, the third "Best Cocktail Book in the World." Klaus St. Rainer, an award-winning expert voted "Bartender of the Year" in 2013, shares 70 cocktail recipes for all the key classics as well as his own signature creations. Publisher: DK Books
£9.99 | BUY HERE
Where To Go When
Where to Go When: The World's Best Destinations is the ultimate holiday planner, highlighting the most amazing places in the world and the best time to visit them. It combines informative and inspirational narrative with sumptuous photography to bring over 130 global destinations to life. Explore the Great Barrier Reef, cruise the Galapagos Islands or marvel at the Victoria Falls. Publisher: DK Books
£14.99 | BUY HERE
Letters of Note
Letters of Note is a collection of over one hundred of the world's most entertaining, inspiring and unusual letters. From Virginia Woolf's heart-breaking suicide letter, to Queen Elizabeth II's recipe for drop scones sent to President Eisenhower; from the first recorded use of the expression 'OMG' in a letter to Winston Churchill, to Gandhi's appeal for calm to Hitler and Leonardo da Vinci's remarkable job application letter, Letters of Note is a celebration of the power of written correspondence which captures the humour, seriousness, sadness and brilliance that make up all of our lives. Publisher: Canon Gate Books
£16.99 | BUY HERE
Beatles Moleskine Pocket Notebook
With their psychedelic vibe, The Beatles Limited Edition Notebooks celebrate a band whose groundbreaking approach to music changed a generation. Moleskine pays tribute to their original style with innovative and studied artwork – inspired by the Yellow Submarine movie – that aims to strike a chord with Beatles fans and music lovers alike. Publisher: Moleskine
£14.95 | BUY HERE
Bella Younger's Deliciously Stella
Deliciously Stella is the world's latest Instafoodie to take the chia seed-eating yoga-pant-wearing health world by storm. Here she tells all on how to get that elusive glow without breaking sweat and shares the #cleaneating life hacks she swears by to achieve a #strongnotskinny look and a #blessed outlook on life. Deliciously Stella is not your average superfoodie; she would rather turn her pictures upside down than brave a headstand and she thinks that Fruit Pastilles are one of your five-a-day. Publisher: Penguin Books
£9.99 | BUY HERE
Healthy Speedy Suppers
Bursting with quick, simple and deliciously healthy recipes, Healthy Speedy Suppers will inspire anyone who feels too tired or busy to cook at the end of the day. Katriona MacGregor started her Speedy Weeknight Suppers column for The Telegraph online in 2013, after a move back to exhausting London office life caused a slump in her diet. There are lots of recipes that take no more than 40 minutes to make, are packed with good quality, wholesome ingredients, and taste fantastic. Publisher: Watkins Publishing
£14.99 | BUY HERE
In the Mood for Healthy Food
Full of mouth-watering yet simple dishes, Jo Pratt has created a stunning collection of nutritious recipes for anyone looking to eat well. Start the day with Ginger Berry Muffins or Raspberry Yogurt Pots, enjoy a light meal of Poached Chicken Broth with Spring Greens or a more substantial Beetroot Gnocchi with Walnut & Watercress Pesto then treat yourself to a guilt-free Dairy-Free Vanilla & Blueberry Cheesecake or Chocolate Pumpkin Brownies. Publisher: Watkins Publishing
£16.99 | BUY HERE
50 Ways to Wear Denim
This follow-up to breakout hit 50 Ways to Wear a Scarf celebrates a timeless and universally beloved fabric: denim! 50 Ways to Wear Denim is an illustrated guide to wearing and styling denim in fifty different looks. Each one spotlights an iconic denim garment (think denim shirts and skirts, jeans for every figure, overalls, jean jackets, and more) or suggests unexpected ways to incorporate denim into an outfit, from dressing up denim for a fancy event to mix-and-matching it with leopard print, florals and plaids. Publisher: Abrams + Chronicle
£9.99 | BUY HERE
101 Whiskies to Try Before You Die
101 Whiskies to Try Before You Die is a whisky guide with a difference. It is not an awards list. It is not a list of the 101 'best' whiskies in the world in the opinion of a self-appointed whisky guru. It is simply a guide to the 101 whiskies that enthusiasts must seek out and try in order to complete their whisky education. Publisher: Headline
£13.99 | BUY HERE
*A selection of these books were gifted to me by publishers, however the I would not endorse any products that I did not enjoy using or use myself.