Chinatown Street Party
To celebrate Her Majesty's 90th birthday, the London Chinese Community Centre is throwing a street party in the heart of Chinatown. Tea, the British national drink, is after all, originally Chinese. Enjoy sandwiches and cakes plus live Chinese music and Tai Chi. It's free, but bookings are advised to guarantee a space."
Gerrard Street, Chinatown, WC2H."
12th June 2016
Cahoots:
"This retro Underground-themed bar is holding a Right Royal Squiffy Picnic to celebrate, with a menu of British classics like Eton Mess and teacakes, live entertainment and (amazingly) a bespoke cocktail called 'Windsor is Coming': Bombay Sapphire, raspberry and apple shrub, pumpkin, ginger and lemongrass, served in a coronation mug. Don't forget to raise your pinkie!"
From £46 pp. 13 Kingly Court, W1B 5PW.
11th June 2016. Two sittings, 12pm and 2pm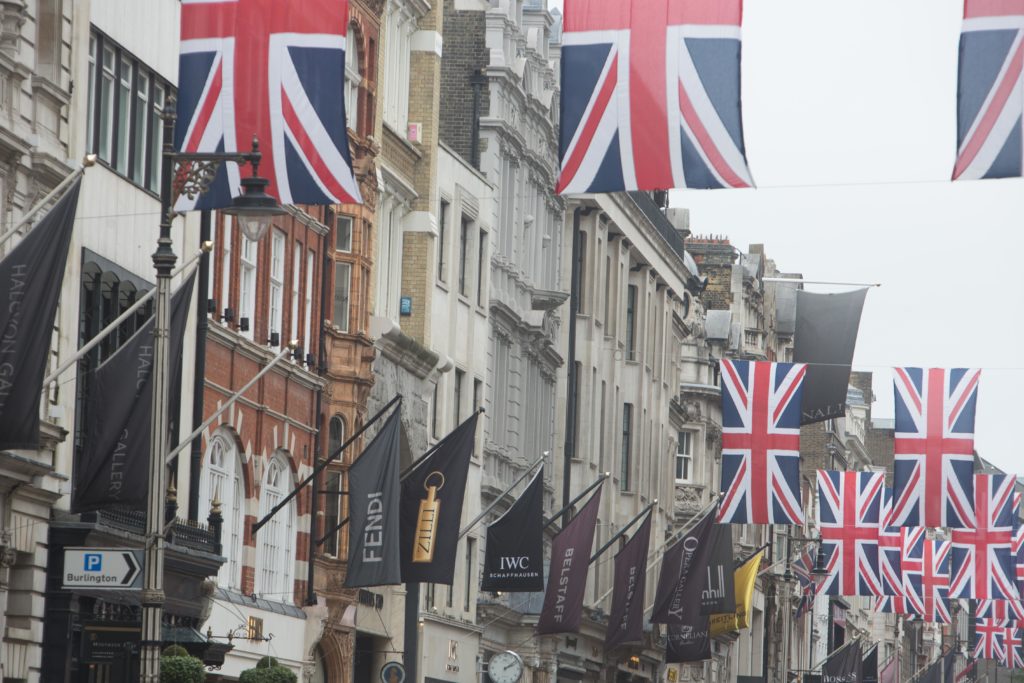 London West End's Union Flags
"Put yourself in the festive frame with hundreds of Union Flags fluttering across the West End in celebration of Her Majesty's big birthday year. The flags will fly high and proud across the West End, including Mount Street, Duke Street and North Audley Street, as well as Oxford Street, Bond Street and Regent Street. Royal bunting
decorations will also line Conduit Street, Kingly Street, Carnaby Street and Seven Dials. Free."
Various locations.
June – October 2016.
House of Fraser
"The Oxford Street department store (and proud Royal Warrant Holder) is teaming up with Sipsmith and launching a pop-up bar serving gin cocktails – Her Majesty's preferred tipple – on its ground floor over the big birthday weekend. All proceeds go to a charity of the Queen's choice and customers can also purchase a beautiful Sipsmith gift set to keep the celebrations going. Prices vary."
318 Oxford Street, London, W1C 1HF.
11th – 12th June 2016
Bentley's Oyster Bar & Grill
"When Michelin-starred chef Richard Corrigan cooked for Queen Elizabeth II on her 80th birthday, the monarch ordered the in-house smoked salmon with fresh-baked Irish soda bread. For Her Majesty's 90th, Corrigan's Swallow Street eatery is serving smoked salmon with a glass of Grand Cru Champagne. £15.
11-15 Swallow Street, Mayfair, W1B 4DG."
Until 15th June 2016
#StyleSaturday at Seven Dials
"The iconic London shopping destination will be closed to traffic on 11th June, with more than 120 shops, bars and restaurants offering a raft of promotions and experiential activities. Look out for the pop-up floral tepee, deck chairs, giant garden games, live music and (best of all) free birthday cake at 3pm.
Various locations, Seven Dials, WC2."
11th June 2016
Smythson
The purveyor of luxury leather goods and stationery has been around for 125 years, and proudly holds three Royal Warrants. Smythson's Bond Street store will mark the big birthday weekend by hosting a Rather British Bash with drinks and biscuits, plus a professional calligrapher will be on hand to inscribe all purchases with a celebratory message."
40 New Bond Street, Mayfair, W1S 2DE.
11th June 2016
Heddon Street Kitchen
"Tuck into a special Queen's Treat at Gordon Ramsay's Heddon Street location. Enjoy majestic cocktail 'Revel with Royal-tea' (iced tea, Bombay Sapphire gin, Dubonnet, apple and quince) plus 'Royal Treacle Tart', served with Earl Grey infused ice-cream and plump strawberries. £9.90 pp."
3-9 Heddon Street, London, W1B 4BN.
11th – 12th June 2016
Mural of the Queen at St. Christopher's Place
"Grab a snap of yourself with the birthday girl at St Christopher's Place, the quintessentially British retail and dining destination. Renowned artist and interior designer Frederick Wimsett spent 150 hours painting a striking chinoiserie-inspired mural of the Queen, which will remain in place until the 23rd October before being auctioned to raise proceeds for Great Ormond Street Hospital. Free."
Barrett St, W1.
www.stchristophersplace.com
Throughout 2016
Brasserie Max at Covent Garden Hotel
"Enjoy a luxurious afternoon tea, or 'birthday platter' featuring Dorset crab, English asparagus and fresh strawberries. Pair with a bespoke 'Lilibet 90' cocktail referencing the Queen's affectionate family nickname; a lush confection of wild berry rum, vermouth, homemade raspberry syrup, topped with prosecco and garnished with a Union Jack butterfly. Prices vary."
10 Monmouth Street, Seven Dials, WC2H 9HB.
Until 12th June 2016