At the moment, during this point of my life, all I do is weekenders and week long trips to European destinations and last weekend was no different as I went for a two day event in Cardiff, Wales for Traverse 2016. Traverse is a conference for travel bloggers in the UK to meet up, connect and learn more about the blogging world.
As soon as work finished on Friday me and Kara from Heels in my Backpack jumped in the car and headed over the sunny Wales, via Oxford, Swindon, Bristol, the Severn Bridge and then in to Wales. Me and Kara even leaped with joy as we crossed over the bridge and shrieked "We're in Wales!"
ACCOMMODATION: YHA Cardiff Central
To begin the weekend me and Kara checked in to the brand new Cardiff Central YHA! I have stayed in many a YHA hostel all over the world so there wasn't any other option when it came to picking my hostel for the weekend. It has recently been renovated, and I was checked in to a dorm room with two bunk beds which I shared with Hayley from  Love Puffin and Melissa from Footsteps on the Globe. Kara got her own large double room!
The best bit was definitely the cost; a large glass of wine was £3.75, breakfast was £5.25(and it was unlimited!) and dinner on the Saturday night cost me only £10 for a large glass of wine and burger! DEAAAAAAAL.
 

TRAVERSE CONFERENCE
I attended Traverse last year when it was located in London at Kingston University and I am so glad I went back this year. Last year I felt very new, it was one of the first conferences I had been to for my blog and I didn't know many people. However after meeting some great people last year and then at WTM, and Blogstock last September I felt armed and ready for my next event!
WHAT I LEARN'T FROM TRAVERSE
1. Its about time I started filming my travels
Probably my biggest takeaway from the event was Greg Brand's workshop on travel filmmaking. He is a great person, a funny guy and also taught the whole group a massive amount during his session as the weekend. Greg Brand works for Travizeo, a travel video company specialised in creating video campaigns for the travel, leisure and tourism sector. I currently have some stuff WIP – so keep your eyes peeled!
2. You get a lot for your money
Don't let the ticket price put you off! Its such a great event and you'll learn a lot, but not only that you get a meal (a huge meal) on the Friday night when you arrive, lunch during the conference, tea and coffee throughout, lots of freebies, a Twitter bar at the end of the Saturday and drinks behind the bar on the Saturday night. Basically everything free!
3. You don't need to be an advanced blogger 
Whether you are a newbie or have been doing it years Traverse suits everyone. Last year when I was fairly new I found it really useful and learn't a lot, and even this year after a year of progression I loved the fact this year they split the sessions in to beginner, intermediate and advanced. No session felt too high above your stature or too low for your level.
4. Order wine with your Twitter account
Yes, I did say you could order a glass (well plastic cup) of white wine with your Twitter account. All you had to do was tweet with the drink preference hashtag (#traversebeer, #traversewhitewine or #traverseredwine), your seat row and a description of what you look like and within minutes the lovely Traverse staff delivered you your chosen beverage!
5. The best bit is the friends you make!
You may attend conferences to make business connections, but you also go to these events to make wonderful friends. It was great to get advice off everyone, talk to fellow bloggers and get support from people in similar situations to you.  It loved seeing old friends and meeting new friends including Kara (Heels in my Backpack), Hayley (Love Puffin), Melissa (Footsteps on the Globe), Lucy (Faraway Lucy), Jessica (Journeys with Jessica), Kirsten (Kooky Traveller), Emma (Paper Planes & Caramel Waffles), and Sabina (Girl vs Globe).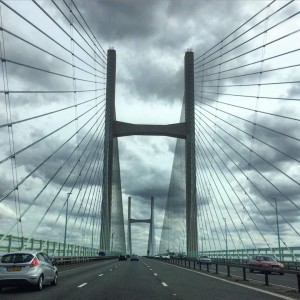 After a fun-filled day and a great weekend filled with lots of wonderful people we headed home!
I will be back Wales! Have you been to Cardiff? Let me know in the comments below or tweet me @sophiessuitcse!
Sophie is a blogger and freelance writer based in the UK. She writes about all things travel on her blog over at Sophie's Suitcase and in her spare time writes for Huffington Post, Elite Daily and The Culture Trip. You can also find her on social media; Facebook, Twitter and Instagram.