As both a PR Account Executive and as a Travel Blogger I get to see both sides of the blogger outreach sphere on a daily basis. I get to see the brand we work with wanting to reach out to bloggers and how those bloggers can work alongside our brand across social media and blog posts. But I also get contacted a lot by PR execs and marketing managers who want their brand to work alongside me, and my blog Sophie's Suitcase.
Over the next few months I will produce a series of advice and tips articles for bloggers wanting to work for brands, PR agencies and tourism companies. The series will look at all things blogging, including advice on content curation, how to pitch to a PR and how to create an amazing media pack. Keep an eye on this series and let me know what you think. If you want some advice/tips on something in particular let me know and I will look in to creating an article.
This invaluable experience has provided me with great insight in to how brands can work with bloggers – whether its content creation, press trips, product reviews, accommodation reviews, social seeding, Twitter parties and much, much more.
There are any types of brands working with travel bloggers today and they often come in a variety of forms. They use well used successful techniques and can integrate their brand into a bloggers daily life, journeys or trips of a lifetime. Among the many verticals that may be relevant to your brand, studies and trends are showing that travel bloggers are surprisingly effective partners for many types of brands.
Before you start make sure you check out their social reach, traffic data, visual appeal of their blog, non-controversial content, niche topics, etc. Also remember when working with bloggers that a lot of brands work with an average of 20 travel bloggers per campaign so that they can maintain a variety of strong relationships for ongoing mentions and engagement.
Make sure you are unique in the way you use your relationship with bloggers in order to engage your end user. Instead of having them post a photo of them wearing the cool shirt you sent them, create ways for the bloggers to incorporate your product into their journey or specific day of travel. By introducing the product or brand as an addition to the article, the brand will flow in line with the blogger and their audience and in turn creates more engagement. It also doesn't seem too pushy then and forced.
A campaign cycle can be lengthy because there are a few logistical components to working with travel bloggers. The time between pitching and earning a post can be long and also keep in mind travel bloggers plan ahead a lot. They may plan a trip six months in advance and therefore you placing your product or brand may need time and attention. But fortunately when these posts are scored they are so worth it!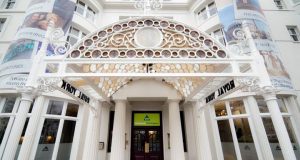 Types of Brands Working with Travel Bloggers
Tourist boards: It may be obvious but more than ever tourist boards are reaching out to bloggers – for them it is an easy way to host bloggers in return for coverage on their blog about their country, why people should travel there and curation of beautiful images across social media.
Hotels and Booking agents: The way destination locations are working with travel bloggers is advancing quickly. Some hotels even offer discounts and free rooms to influencers with large followings in exchange for social media and blog posts!
Experiences: Every travel blogger loves an experience so offer them a personal tour of Rome, or tickets to a great festival in Europe. Look at their upcoming trip and if it fits your brand offer them a complimentary 'experience' because if its great they'll talk about it and maybe even blog about it.
Fashion: Fashion brands have jumped on the travel bloggers band wagon and the most popular strategy is to send bloggers clothing or accessories specific for a blogger's upcoming trip.  This strategy leads to authentic and visual content from admired influencers.
Restaurants/Cafes: Restaurants, who have a country wide location, have teamed up with travel bloggers to highlight new food and strategies. From gluten free menus to image revamping—connecting with travel bloggers has helped restaurant chains get their message across to many people. After all, who doesn't go out to eat?
Brands for people on a budget: One of the more popular niches within the travel blogging genre is traveling on a budget. Therefore, sending items to these bloggers is a great way for brands that appeal to budget savvy consumers to spread their message.
Tech brands: A growing sector appealing to travel bloggers is tech, as more and more technology appears aimed at the traveller and journeys of all types. You can place your brand or product as an integrated technology into their "on the go" way of living.
But why should you work with Travel Bloggers?
Their posts show an authentic experience with the product they are integrating into their trip. By having a travel blogger write about how they use a product in a practical and entertaining way is word of mouth marketing gold.
They are followed by a variety of people. Whether your brand appeals to active vacationers or consumers who follow travel bloggers for entertainment reasons—travel bloggers are not only some of the most followed influencers but they are also a genre that creates more consumer engagement than other groups.
They produce visual content. Whether you blame it on a short attention span or a draw to pretty shiny things—consumers are digesting content visually now more than ever. Travel bloggers include a ton of photos of their experiences, and this grabs people's attention pushing them towards the brands their audience want to see.
They are active on a variety of social channels. In order to promote their blogs, travel bloggers are a lot like marketers in the sense they are active on a variety of digital channels. Team up with travel bloggers to score a lot of Instagram and Facebook posts.
How do I contact with bloggers?
Be unique: Keep in mind that travel bloggers are contacted a lot by brands so offer them something they will want to do, promote or experience. You want to be strategic and specific in the way you go about identifying and reaching out to the right bloggers.
Travel blogger conferences: Conferences are a great way to connect brand and influencers. Many conferences are geared toward bloggers in different genres and brands can represent their company and make personal connections.
Blogger outreach tool: There are a handful of blogger outreach tools that help marketers identify bloggers based on content topics, social presence, traffic data and more.
Twitter: Use hashtags #bloggerwanted #prrequest or #bloggerrequest and many bloggers will be keeping an eye out for these opportunities
I have worked with lots of brands over the years, to name a few: GoApe, Cruise Whitsundays, Nomads Hostels, STA Travel, Kiwi Experience, Sir Cedrics, Hobbiton, Base Backpackers, Generator Hostels. To see who else I have worked with visit my blog.
Now how do you feel about your brand working with bloggers? Drop me an email if you want more tips and advice on how to start working with bloggers.