Recently I have been looking at days out for this time of year. I have never been a big fan of the winter season and find that my mood is often determined by the weather outside. The rain, snow, and wind can often put you off even stepping outside the house, so I decided to start planning some days out in order to get me excited for the next few months.
Here are my top tips for days out in spring for 2o somethings.
1. A visit to the seaside
Why not brave the cold and take on the great outdoors by going to the seaside this spring. On my agenda are Brighton, Bournemouth and Southampton. Just make sure you wrap up warm!
2. Climb through the trees at GoApe
GoApe is something I have always wanted to try. In New Zealand I tried zip-lining and absolutely loved it. The adrenaline was scary but not terrifying! I would love to climb amongst the trees and zip-line through the forests.
3. A trip to the zoo or safari
Another must-do for me this year is going to the zoo or safari. The last zoo I went to was ZSL London Zoo and it was a great experience. I went with my niece and she loved it. Especially the penguins. However I would love to go to a safari park with her as she has reached the age now where she will love being surrounded by the animals.
4. A relaxing spa day
The picture alone sends me in to a deep relaxing sleep. I have visited a few spas over the years with my mum but there are a few I would love to give a go. Over the last few years I have suffered with anxiety and I am always looking for ways to control my anxiety and calm my mind when the world is just that little bit too chaotic.
5. A trip to London
I am a big fan of London, and visit on a regular basis, however this year I want to visit some of the places I have never been too. I would love to see more of Camden, visit some of the hundreds of museums and take a stroll through many of the beautiful parks.
6. A rural retreat in the woods
I mentioned this before on a previous post, but again this is a big one for me. I have wanted to stay in a rural retreat in the woods for a long time now and finally may have the chance.
7. Ski at a snow centre
Again, I have done this before but I would like to try out another centre this year. I love skiing and at the moment being a graduate I can't afford the real experience so a snow centre is the next best thing.
8. A magical trip to Harry Potter Studios
I know I am late with this one, and everyone I know seems to have been but I haven't and I want to make sure this is the year I do go on down to Watford and see the Harry Potter Studios myself. I want to relive my younger years and feel like I am 10 all over again.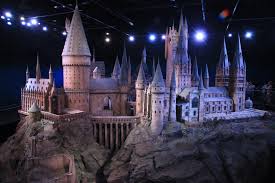 9. Cream tea at a fancy cafe
I think this may be rolled in to one in London, but I will look locally for a well-regarded one. Sketch in London has always been a favourite of mine after my friend took me there on a day trip to London a few years ago.
10. A walk around your local area
I am a massive fan of walking at the moment, I try to walk everywhere and ditch the car where possible. This weekend we visited the National Trust property at Waddesdon Manor and walked around the gardens.
What are your favourite things to do in Spring? Do you find yourself wanting to snuggle back in to bed every Saturday? I hope I am not the only one! 
I'd love to keep giving you advice and tips so feel free to follow me on my blog. And don't forget you can follow me on Facebook, Twitter, Instagram & bloglovin'.