WE ARE GOING TO BERLIN!
Day one was extremely tiring. We were up at 4am to go to the airport in London and then we jumped on a plane to Berlin, landing at 10am in Berlin. We then made our way over to the city centre and checked our bags in to our hostel, Generator Hostel Mitte. As we couldn't check in till 3pm we put our bags in the storage room downstairs and decided to go and check out Berlin for a few hours.
At first we wandered down towards Alexanderplatz and grabbed a Starbucks. After that we decided to go in search of a flea market called Markethalle 9. This however ended up being a disaster as we wandered around Kreuzberg not being able to find this market in the middle of nowhere. As we were tired and getting grouchy we decided to head back in to the city instead and look at some of the art work that lines the streets there.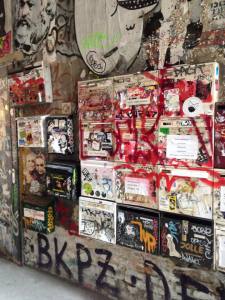 Some of the art work was incredible and even though there is some graffiti around the city that looks messy and dirty, the majority is artistic and portrays a message of the city, its history and the people that live within the area. We then went down to the hostel to check in and had a lovely afternoon nap.
After a lovely day of wandering we decided to go to a Thai/Singapore restaurant on Orienburger Strasse which was incredible. I can't remember the name of the restaurant off the top of my head but if anyone wants the name I will be more than happy to look it up. The food was incredible, there was plenty of it and the bill came to under £30!
I'd love to keep giving you advice and tips so feel free to follow me on my blog. And don't forget you can follow me on Facebook, Twitter, Instagram & bloglovin'.