When I think about backpacking, I think about South East Asia and Australia – and for me Australia was always the one to do! I had dreamed of travelling to Australia but had just never made it far enough. I went to Vietnam volunteering, then I went back for 2 months of backpacking and I even went back again and got as far as Bali. But I never made it to Australia, so for me, this trip was my dream come true!
Since being here it has been clear to me why so many Brits want to travel to Australia – and the more you see, the more you fall in love. I can hardly believe actually that we've been here eight weeks now. It's gone so fast, and we've seen so much!
1. The weather
Being a British resident, I would be lying if I said I didn't love the weather far too much. I am so much of a beach babe, and love the sun. The weather can often change mymood; the sun makes me happy. Australia makes me happy!
2. The beaches
The beaches here are so unbelievable. I had seen the pictures, but nothing prepares you for quite how amazing they are. They are huge and span miles and miles across the coast. And my god, the views are incredible! Hiring a campervan was the best decision we made, being able to stop where and when you wanted. From the tropical beaches of The Whitsundays, the golden sands of Noosa, clear waters of Surfers Paradise and thesurfing culture in Byron Bay.
3. The cities
There are so many big cities down the East Coast and each one is so different and varied. There is a huge amount of culture to experience and see and each has its own personality. I loved Sydney, Cairns and Brisbane all the same!
4. The activities
There is just so much to do in Australia, from shark diving, to paragliding, to scuba diving, to sailing, the list is endless. And I love that there is so much on offer. At home I am constantly trying to find stuff to do and in Australia I didn't even have to try. In fact there just wasn't enough time!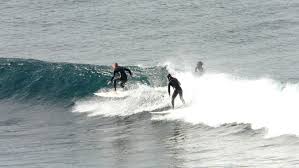 5. The atmosphere
What we loved about Australia is that the place is so relaxed. We felt safe in almost all the places we visited both during the daytime and during the night-time and this was surprising considering the size of the cities. Nothing is too much hassle and people are so friendly from the start right until the end. The atmosphere is so amazing and it constantly lifts your mood.
What do you love about Australia? I would love to know!
Let me know in the comments your top tips or share it with the social media links below!
I'd love to keep giving you advice and tips so feel free to follow me on my blog. And don't forget you can follow me on Facebook, Twitter, Instagram & bloglovin'.